Facebook LIVE with Bestselling Author Dr. Jen Gunter

by
SheSpeaksTeam
is this the date @ED : BlogVO [categoryId=70162, blogId=145873, blogTitle=Facebook LIVE with Bestselling Author Dr. Jen Gunter, publishingDate=June 16, 2021 12:00 AM, maxResponses=null, noOfComments=null, fileId=40997, blogClosingDate=null, blogCommentClosed=null, blogCategoryId=70162, queryId=0, blogCategoryIdIndex=0, sharedCategoriesList=null, blogStatusId=34, commentsClosedFlag=false, categoryIdForLog=0, blogModuleCategoryId=0, blogFileVo=null, latestCommentsList=null, verticalCatSeoURL=null, currentDate=03/25/2023, blogLink=null, authorName=SheSpeaksTeam, authorLognId=SheSpeaksTeam, authorAcctId=67580, vosTypeid=3, searchTestId=0, searchStatusId=0, searchAuthorType=0, authorBlogNumber=0, surveyData1=null, surveyData1Desc=null, surveyData2=null, surveyData2Desc=null, pullQuoteMemberId=null, filePath=null, fileName=null, vosType=0, subhead=null, offerSubhead=null, description=null, creationTime=null, authorFname=SheSpeaks, verticalCategoryId=null, sectionId=0, imageFileVO=FilesVO [fileId=40997, filePath=null, fileName=null, fileLength=0, fileWidth=0, createdBy=0, createByUser=null, creationTime=null, lastModifiedBy=0, lastModifiedByUser=null, lastModifiedTime=null, mimeType=null, fileRef=null, fileSize=0, extension=null, title=null, body=null, completeFilePath=/pages/img/redesign/blogs/Summer (3)_06152021190828.jpg, height=385, width=685, maxHeight=480, maxWidth=360, displayWidth=360, displayHeight=202, fileStatusId=0, searchKeyword=null, searchFlag=false, queryId=0, isExists=true], seoURL=Menopause-Manifesto-Dr-Jen-Gunter, seoTitle=null, pullQuotesList=null, pullQuote=null, pullQuoteId=0, searchFlag=false, authorByLine=null, authorDesc=null, authorLink=null, authorFileVO=FilesVO [fileId=42371, filePath=null, fileName=null, fileLength=0, fileWidth=0, createdBy=0, createByUser=null, creationTime=null, lastModifiedBy=0, lastModifiedByUser=null, lastModifiedTime=null, mimeType=null, fileRef=null, fileSize=0, extension=null, title=null, body=null, completeFilePath=/pages/img/membersnaps/SheSpeaks_Logo_Symbol_Only_10182021080530.jpg, height=1777, width=1777, maxHeight=50, maxWidth=50, displayWidth=50, displayHeight=50, fileStatusId=0, searchKeyword=null, searchFlag=false, queryId=0, isExists=true], authorFileId=42371, authorType=0, storyImgFileVO=null, storyImgFileId=0, videoHtml=, authorImageFileId=0, authorImageFileVO=null, previousCategoryId=null, previousBlogStatusId=0, fromBlogDetails=0, blogCategoryName=Entertainment, blogCategoryUrl=null, blogCategoryDesc=null, defaultImage=false, tags=null, optionIds=null, tagOptionId=null, tagId=null, tag=null, tagID=0, tagDetails=null, tagIds=null, testId=0, extBlogURL=null, extBlogStatus=0, bloggerSince=null, extBlogLimit=0, authorTestsList=[], blogURL=, blogName=, bloggerProfileId=0, sliderBlog=false, eventonHome=false, vosonHome=false, partyAndGiveawayDate=06/24/2021, imageCredit=null, pullQuoteMemId=null, offerSubHead=null, subHead=null, displayOrder=0,includeInGoogleSearch=false]
Jun 16, 2021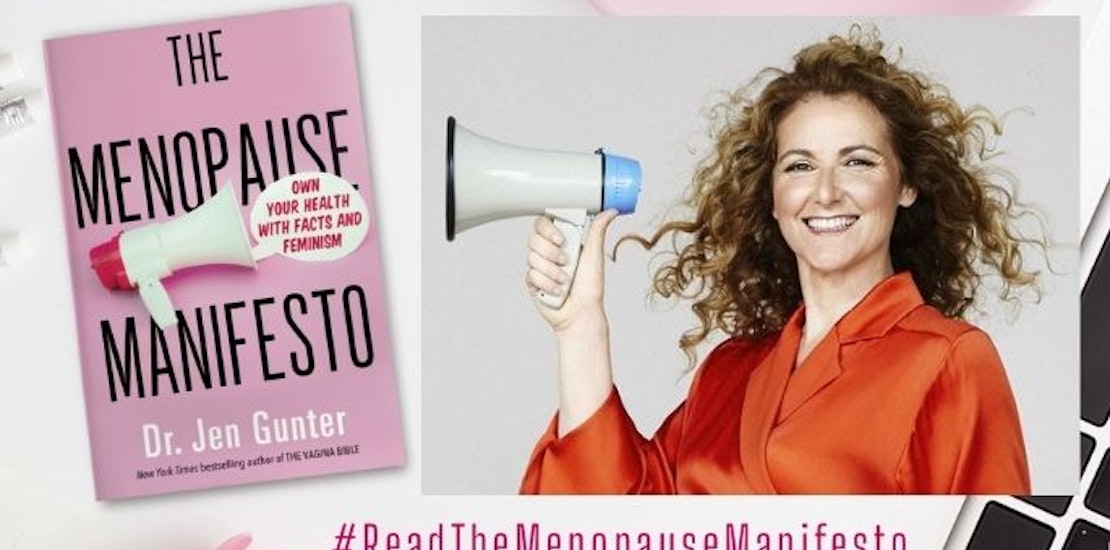 We had the opportunity to sit down for a Facebook Live Conversation with the author of the bestselling NEW book, The Menopause Manifesto, Dr. Jen Gunter. In this conversation, you'll hear more about why she wrote this book and why it is important for EVERY woman to read.

Dr. Gunter shares with us how women can use this book as one way to get the knowledge and FACTS they need to take charge of their health, while breaking down the misconceptions about Menopause. You can learn more about the book HERE.


Share this important conversation!

Click here

to Tweet:
"Check out this important conversation with @SheSpeaksUp & best-selling author, @drjengunter about her new book, #ReadTheMenopauseManifesto: https://bit.ly/3zqj0hb"

*Four lucky participants who comment on or shares the #ReadTheMenopauseManifesto Facebook Live video from the SheSpeaks Facebook page through June 23, 2021 will be chosen at random to win. Prizes: Three winners (3): One (1) copy of the book, The Menopause Manifesto; One Winner (Grande Prize): $100 Amazon Gift Card & Two Copies of The Menopause Manifesto. Giveaways are open to U.S. residents at least 18 years of age. Entrants must be a member of SheSpeaks. If you are not a member, click here to join.
Disclosure: This is a sponsored post for Kensington Books.