It's Women's History Month: What Women Have Inspired You? Win a $75 gift card

by
SheSpeaksTeam
is this the date @ED : BlogVO [categoryId=70165, blogId=145840, blogTitle=It's Women's History Month: What Women Have Inspired You? Win a $75 gift card, publishingDate=March 10, 2021 12:00 AM, maxResponses=null, noOfComments=null, fileId=40151, blogClosingDate=null, blogCommentClosed=null, blogCategoryId=70165, queryId=0, blogCategoryIdIndex=0, sharedCategoriesList=null, blogStatusId=34, commentsClosedFlag=false, categoryIdForLog=0, blogModuleCategoryId=0, blogFileVo=null, latestCommentsList=null, verticalCatSeoURL=null, currentDate=06/10/2023, blogLink=null, authorName=SheSpeaksTeam, authorLognId=SheSpeaksTeam, authorAcctId=67580, vosTypeid=3, searchTestId=0, searchStatusId=0, searchAuthorType=0, authorBlogNumber=0, surveyData1=null, surveyData1Desc=null, surveyData2=null, surveyData2Desc=null, pullQuoteMemberId=null, filePath=null, fileName=null, vosType=0, subhead=null, offerSubhead=null, description=null, creationTime=null, authorFname=SheSpeaks, verticalCategoryId=null, sectionId=0, imageFileVO=FilesVO [fileId=40151, filePath=null, fileName=null, fileLength=0, fileWidth=0, createdBy=0, createByUser=null, creationTime=null, lastModifiedBy=0, lastModifiedByUser=null, lastModifiedTime=null, mimeType=null, fileRef=null, fileSize=0, extension=null, title=null, body=null, completeFilePath=/pages/img/redesign/blogs/Maya Angelou quote_03092021132913.jpg, height=385, width=685, maxHeight=480, maxWidth=360, displayWidth=360, displayHeight=202, fileStatusId=0, searchKeyword=null, searchFlag=false, queryId=0, isExists=true], seoURL=It-s-Women-s-History-Month-What-Women-Have-Influenced-You-Win-a-gift-card, seoTitle=null, pullQuotesList=null, pullQuote=null, pullQuoteId=0, searchFlag=false, authorByLine=null, authorDesc=null, authorLink=null, authorFileVO=FilesVO [fileId=42371, filePath=null, fileName=null, fileLength=0, fileWidth=0, createdBy=0, createByUser=null, creationTime=null, lastModifiedBy=0, lastModifiedByUser=null, lastModifiedTime=null, mimeType=null, fileRef=null, fileSize=0, extension=null, title=null, body=null, completeFilePath=/pages/img/membersnaps/SheSpeaks_Logo_Symbol_Only_10182021080530.jpg, height=1777, width=1777, maxHeight=50, maxWidth=50, displayWidth=50, displayHeight=50, fileStatusId=0, searchKeyword=null, searchFlag=false, queryId=0, isExists=true], authorFileId=42371, authorType=0, storyImgFileVO=null, storyImgFileId=0, videoHtml=, authorImageFileId=0, authorImageFileVO=null, previousCategoryId=null, previousBlogStatusId=0, fromBlogDetails=0, blogCategoryName=Living, blogCategoryUrl=null, blogCategoryDesc=null, defaultImage=false, tags=null, optionIds=null, tagOptionId=null, tagId=null, tag=null, tagID=0, tagDetails=null, tagIds=null, testId=0, extBlogURL=null, extBlogStatus=0, bloggerSince=null, extBlogLimit=0, authorTestsList=[], blogURL=, blogName=, bloggerProfileId=0, sliderBlog=false, eventonHome=false, vosonHome=false, partyAndGiveawayDate=03/31/2021, imageCredit=null, pullQuoteMemId=null, offerSubHead=null, subHead=null, displayOrder=0,includeInGoogleSearch=false]
Mar 10, 2021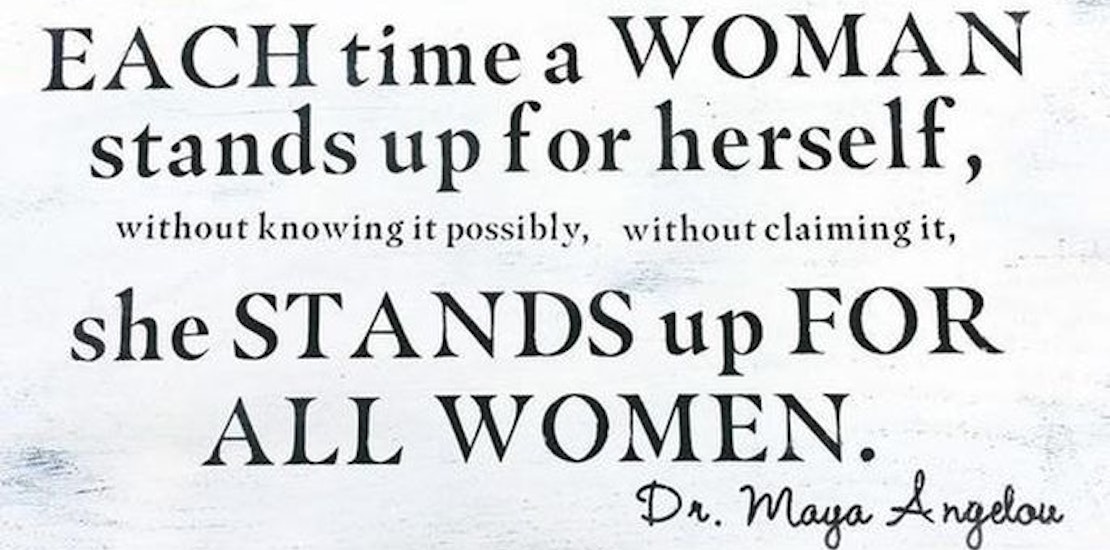 This Women's History Month, we're celebrating all of the women who have changed the world, either on a global scale or on a personal one.

Check out the women who have inspired our members below. Then tell us what women have inspired you. You could win a $75 gift card to your favorite woman-owned business!
Women Making Their Mark

"Ruth Bader Ginsburg
was inspirational to me in so many ways. My Dad was an attorney, so I was always aware of law and the judicial system, generally. Obviously she helped women in multiple ways and I think that her death this past year brought her again to the news and highlighted just how important and influential she has been to women's rights". -
kpayne1027
"There are so many but the first one that comes to mind is
Michelle Obama
. She just seemed to take the whole First Lady thing in stride. She was always so poised and just always made me proud to be an American every time I heard her speak. Such a wonderful role model." -
wendy106
"Barbara Jordan
was always an inspiration to me, working on the committee that investigated Richard Nixon. She was so impressive." -
SueG907
"Alice Wong
is an incredible disability rights advocate who founded the
Disibility Visabilty Project
, which is dedicated to sharing the stories of people with disabilities. She also fights to see more people with disabilities in leadership positions and politics. The work she does is so incredible and the more I read her work, the more I am impressed. Though her name isn't so well known, it should be." -
jerseygirl1
Women the World Should Know

"My mother
passed away in the fall of 2009. She inspires me daily... She wanted to go to college in the late 50s to become a doctor. In those days, you couldn't. The choice was to become a Nurse or get married. She married my father, and became a nurse. She was a Nurse for over 10 years until the doctor retired. She raised four children and also my sister's kid when my sister got sick. When my nephew got Leukemia at 2 years old, he went to Sloan Kettering in 1983. My mother, Margaret Joan Outeiral, created the first Parents Room there in 1983…" -
Kissmekatedelta88
"My grandmother
inspired me. She did what she could in the face of adversity. She forged her own path and showed my cousins she could do things they never thought she could." -
klassic
"The person I choose is
my best friend Debbie
. … Debbie does and has helped so many strangers with so many things, buying groceries, or a quick meal, a kind word or advice on where to go for any needed help…. This woman never stops, her energy and will and desire to help and impact this world to make it a better place is amazing. Debbie is my choice for someone who has inspired me and I'm sure many others. She may not be history now, however, I believe one day many will remember her for all she did to help. She will not make national news, but in her community she will." -
allene7
What women have inspired you? Enter to win a $75 gift card to your favorite women-owned business!

Women's History Month Giveaway
One winner will be chosen at random to receive a $75 gift card to the business of their choice, provided that the gift card can easily be bought online. . Giveaway is open through March 31, 2021 to U.S. residents at least 18 years of age. Entrants must be a member of SheSpeaks. If you are not a member, click here to join. Winner will be notified by email.

Update: Thank you to all who entered. Congratulations to the winner, SheSpeaks member paminny!