Win a Copy of Parent Up by Kelly Rippon, Mom of Olympic Champion

by
SheSpeaksTeam
is this the date @ED : BlogVO [categoryId=70160, blogId=145818, blogTitle=Win a Copy of Parent Up by Kelly Rippon, Mom of Olympic Champion, publishingDate=January 14, 2021 12:00 AM, maxResponses=null, noOfComments=null, fileId=39717, blogClosingDate=null, blogCommentClosed=null, blogCategoryId=70160, queryId=0, blogCategoryIdIndex=0, sharedCategoriesList=null, blogStatusId=34, commentsClosedFlag=false, categoryIdForLog=0, blogModuleCategoryId=0, blogFileVo=null, latestCommentsList=null, verticalCatSeoURL=null, currentDate=10/28/2021, blogLink=null, authorName=SheSpeaksTeam, authorLognId=SheSpeaksTeam, authorAcctId=67580, vosTypeid=3, searchTestId=0, searchStatusId=0, searchAuthorType=0, authorBlogNumber=0, surveyData1=null, surveyData1Desc=null, surveyData2=null, surveyData2Desc=null, pullQuoteMemberId=null, filePath=null, fileName=null, vosType=0, subhead=null, offerSubhead=null, description=null, creationTime=null, authorFname=SheSpeaks, verticalCategoryId=null, sectionId=0, imageFileVO=FilesVO [fileId=39717, filePath=null, fileName=null, fileLength=0, fileWidth=0, createdBy=0, createByUser=null, creationTime=null, lastModifiedBy=0, lastModifiedByUser=null, lastModifiedTime=null, mimeType=null, fileRef=null, fileSize=0, extension=null, title=null, body=null, completeFilePath=/pages/img/redesign/blogs/Untitled design (3)_01132021133736.png, height=385, width=685, maxHeight=480, maxWidth=360, displayWidth=360, displayHeight=202, fileStatusId=0, searchKeyword=null, searchFlag=false, queryId=0, isExists=true], seoURL=How-to-Raise-Confident-and-Driven-Children, seoTitle=null, pullQuotesList=null, pullQuote=null, pullQuoteId=0, searchFlag=false, authorByLine=SheSpeaksTeam, authorDesc=Powered by women who love to share what's HOT in reviews, deals & recipes., authorLink=null, authorFileVO=FilesVO [fileId=42371, filePath=null, fileName=null, fileLength=0, fileWidth=0, createdBy=0, createByUser=null, creationTime=null, lastModifiedBy=0, lastModifiedByUser=null, lastModifiedTime=null, mimeType=null, fileRef=null, fileSize=0, extension=null, title=null, body=null, completeFilePath=/pages/img/membersnaps/SheSpeaks_Logo_Symbol_Only_10182021080530.jpg, height=1777, width=1777, maxHeight=50, maxWidth=50, displayWidth=50, displayHeight=50, fileStatusId=0, searchKeyword=null, searchFlag=false, queryId=0, isExists=true], authorFileId=42371, authorType=0, storyImgFileVO=null, storyImgFileId=0, videoHtml=, authorImageFileId=0, authorImageFileVO=null, previousCategoryId=null, previousBlogStatusId=0, fromBlogDetails=0, blogCategoryName=Parenting, blogCategoryUrl=null, blogCategoryDesc=null, defaultImage=false, tags=null, optionIds=null, tagOptionId=null, tagId=null, tag=null, tagID=0, tagDetails=null, tagIds=null, testId=0, extBlogURL=null, extBlogStatus=0, bloggerSince=null, extBlogLimit=0, authorTestsList=[], blogURL=, blogName=, bloggerProfileId=0, sliderBlog=false, eventonHome=false, vosonHome=false, partyAndGiveawayDate=01/28/2021, imageCredit=https://nepascene.com/, pullQuoteMemId=null, offerSubHead=null, subHead=null, displayOrder=0]
Jan 14, 2021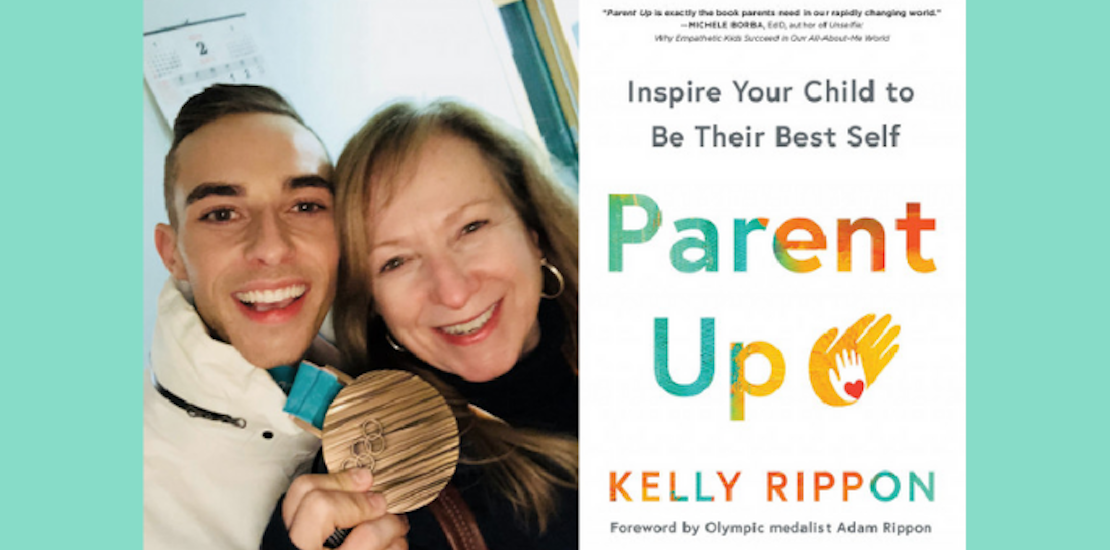 On Episode 17 of the #SheSpeaksPodcast, we sat down with Kelly Rippon, mother of Olympian Adam Rippon, to talk about raising champions!
As a single mother of six amazing kids, including a figure skating champion who was also the first openly gay athlete to win a medal at the Winter Olympics, she was often asked how she raised confident and driven children. This inspired her to write her book, Parent Up: Inspire Your Child To Be Their Best Self.
Kelly is funny, wise, humble, relatable, confident & honest. Her parenting philosophy is simple, yet inspiring, and you'll hear how she put those beliefs into practice and came about her own self-awareness and core principles of parenthood.
Don't miss out on our conversation with Kelly. You can listen to the podcast episode here.
Listen a Kelly recounts a defining moment for her and her children. Fourteen years before Adam's Olympic win, Kelly wrote a declaration for her children on the porch of the family home - a roll call for who lived there, assigning each of them a moniker, a role, for who she already saw them as:

"In this home lives:
- Adam, a Champion
- Tyler, a Creator
- Brady, a Genius
- Jordan, a Master Teacher
- Dagny, a Leader
- Sawyer, a Multitude of Joy"
Once you listen, let us know what you think by reviewing the podcast here. Then enter to WIN one of two author autographed copies of the book below!

Praise for the Book
"Parent Up is exactly the book parents need in our rapidly changing world. It reminds today's teachers, parents, and caregivers that leadership requires empathy, and the better we understand others, the better we understand ourselves." ―Michele Borba, EdD, author of Unselfie: Why Empathetic Kids Succeed in Our All-About-Me World
"Kelly shares relatable personal experiences in Parent Up that show us sometimes the difficult path leads to the best parenting. Not always protecting our kids, but allowing them to own the consequences of their actions, helps them learn to be confident, empathetic, accountable, and ultimately empowered to live their best lives. It's no wonder her oldest son, Adam, achieved his Olympic dream and is a beloved sports figure." ―Kristi Yamaguchi, Olympic champion and New York Times bestselling author.

Two lucky participants will be chosen at random to receive an author autographed copy of the book Parent Up ($16.99 Value). This giveaway is open through January 28, 2021 to U.S. residents at least 18 years of age. Entrants must be a member of SheSpeaks. If you are not a member, click here to join. Winner will be notified by email.