by
SheSpeaksTeam
is this the date @ED : BlogVO [categoryId=70160, blogId=146349, blogTitle=Prepare for Cold, Cough & Flu Season with MUCINEX® Children's at Walmart, publishingDate=November 15, 2023 12:00 AM, maxResponses=null, noOfComments=null, fileId=48845, blogClosingDate=null, blogCommentClosed=null, blogCategoryId=70160, queryId=0, blogCategoryIdIndex=0, sharedCategoriesList=null, blogStatusId=34, commentsClosedFlag=false, categoryIdForLog=0, blogModuleCategoryId=0, blogFileVo=null, latestCommentsList=null, verticalCatSeoURL=null, currentDate=12/02/2023, blogLink=null, authorName=SheSpeaksTeam, authorLognId=SheSpeaksTeam, authorAcctId=67580, vosTypeid=3, searchTestId=0, searchStatusId=0, searchAuthorType=0, authorBlogNumber=0, surveyData1=null, surveyData1Desc=null, surveyData2=null, surveyData2Desc=null, pullQuoteMemberId=null, filePath=null, fileName=null, vosType=0, subhead=null, offerSubhead=null, description=null, creationTime=null, authorFname=SheSpeaks, verticalCategoryId=null, sectionId=0, imageFileVO=FilesVO [fileId=48845, filePath=null, fileName=null, fileLength=0, fileWidth=0, createdBy=0, createByUser=null, creationTime=null, lastModifiedBy=0, lastModifiedByUser=null, lastModifiedTime=null, mimeType=null, fileRef=null, fileSize=0, extension=null, title=null, body=null, completeFilePath=/pages/img/redesign/blogs/4_11152023043905.jpg, height=5400, width=10800, maxHeight=480, maxWidth=360, displayWidth=360, displayHeight=180, fileStatusId=0, searchKeyword=null, searchFlag=false, queryId=0, isExists=true], seoURL=Prepare-for-Cold-Cough-Flu-Season-with-MUCINEX-Children-s-at-Walmart, seoTitle=null, pullQuotesList=null, pullQuote=null, pullQuoteId=0, searchFlag=false, authorByLine=null, authorDesc=null, authorLink=null, authorFileVO=FilesVO [fileId=42371, filePath=null, fileName=null, fileLength=0, fileWidth=0, createdBy=0, createByUser=null, creationTime=null, lastModifiedBy=0, lastModifiedByUser=null, lastModifiedTime=null, mimeType=null, fileRef=null, fileSize=0, extension=null, title=null, body=null, completeFilePath=/pages/img/membersnaps/SheSpeaks_Logo_Symbol_Only_10182021080530.jpg, height=1777, width=1777, maxHeight=50, maxWidth=50, displayWidth=50, displayHeight=50, fileStatusId=0, searchKeyword=null, searchFlag=false, queryId=0, isExists=true], authorFileId=42371, authorType=0, storyImgFileVO=null, storyImgFileId=0, videoHtml=, authorImageFileId=0, authorImageFileVO=null, previousCategoryId=null, previousBlogStatusId=0, fromBlogDetails=0, blogCategoryName=Parenting, blogCategoryUrl=null, blogCategoryDesc=null, defaultImage=false, tags=null, optionIds=null, tagOptionId=null, tagId=null, tag=null, tagID=0, tagDetails=null, tagIds=null, testId=0, extBlogURL=null, extBlogStatus=0, bloggerSince=null, extBlogLimit=0, authorTestsList=[], blogURL=, blogName=, bloggerProfileId=0, sliderBlog=false, eventonHome=true, vosonHome=true, partyAndGiveawayDate=11/24/2023, imageCredit=null, pullQuoteMemId=null, offerSubHead=, subHead=, displayOrder=0,includeInGoogleSearch=false]
Nov 15, 2023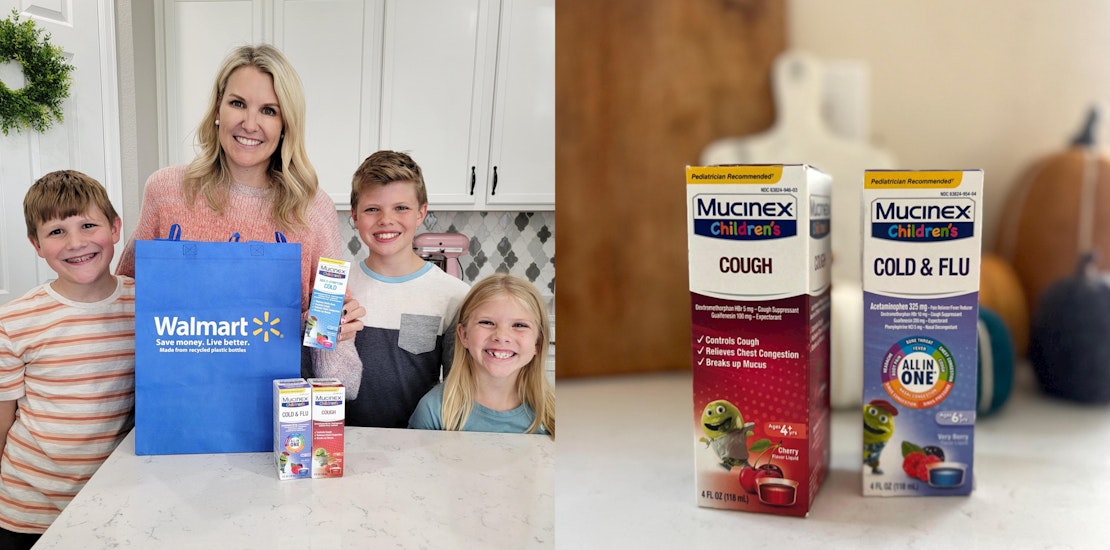 As the weather turns colder and the days get shorter, it's time to get ready for cold, cough and flu season. To stay healthy, it's important to take some simple steps like washing your hands regularly and avoiding close contact with sick people. However, even with our best efforts, children can sometimes get sick. That's where having MUCINEX® Children's Cold & Flu, MUCINEX® Children's Multi-Symptom Cold and MUCINEX® Children's Cough on hand can be a great help. MUCINEX® Children's offers effective relief for symptoms like congestion and coughing, providing comfort for your little ones as they recover. By being prepared you can help protect your family from getting sick and make the cold and flu season a bit easier to manage, we love that! Click here to add these products to your Walmart cart.

See how SheSpeaks influencers have been using MUCINEX® Children's!

Enter our giveaway below for a chance to win a $50 Walmart Gift Card!

Mucinex® Children's at Walmart Giveaway
One lucky winner will be chosen at random to receive a $50 Walmart Gift Card. Giveaway is open to U.S. residents 18 years or older. Enter through November 24, 2023. Winner will be chosen randomly and notified by email. Entrants must be a member of SheSpeaks. If you are not a member, click here to join.
-->