12 Days of SheSpeaks, Day 7: Win $150 Worth of RXBAR Protein Bars

by
SheSpeaksTeam
is this the date @ED : BlogVO [categoryId=70164, blogId=145466, blogTitle=12 Days of SheSpeaks, Day 7: Win $150 Worth of RXBAR Protein Bars, publishingDate=December 11, 2018 12:00 AM, maxResponses=null, noOfComments=null, fileId=32025, blogClosingDate=null, blogCommentClosed=null, blogCategoryId=70164, queryId=0, blogCategoryIdIndex=0, sharedCategoriesList=null, blogStatusId=34, commentsClosedFlag=false, categoryIdForLog=0, blogModuleCategoryId=0, blogFileVo=null, latestCommentsList=null, verticalCatSeoURL=null, currentDate=12/07/2023, blogLink=null, authorName=SheSpeaksTeam, authorLognId=SheSpeaksTeam, authorAcctId=67580, vosTypeid=3, searchTestId=0, searchStatusId=0, searchAuthorType=0, authorBlogNumber=0, surveyData1=null, surveyData1Desc=null, surveyData2=null, surveyData2Desc=null, pullQuoteMemberId=null, filePath=null, fileName=null, vosType=0, subhead=null, offerSubhead=null, description=null, creationTime=null, authorFname=SheSpeaks, verticalCategoryId=null, sectionId=0, imageFileVO=FilesVO [fileId=32025, filePath=null, fileName=null, fileLength=0, fileWidth=0, createdBy=0, createByUser=null, creationTime=null, lastModifiedBy=0, lastModifiedByUser=null, lastModifiedTime=null, mimeType=null, fileRef=null, fileSize=0, extension=null, title=null, body=null, completeFilePath=/pages/img/redesign/blogs/Day 7 blog post_12052018132526.png, height=350, width=350, maxHeight=480, maxWidth=360, displayWidth=350, displayHeight=350, fileStatusId=0, searchKeyword=null, searchFlag=false, queryId=0, isExists=true], seoURL=12-Days-of-SheSpeaks-Day-7-Win-150-Worth-of-RXBAR-Protein-Bars, seoTitle=null, pullQuotesList=null, pullQuote=null, pullQuoteId=0, searchFlag=false, authorByLine=null, authorDesc=null, authorLink=null, authorFileVO=FilesVO [fileId=42371, filePath=null, fileName=null, fileLength=0, fileWidth=0, createdBy=0, createByUser=null, creationTime=null, lastModifiedBy=0, lastModifiedByUser=null, lastModifiedTime=null, mimeType=null, fileRef=null, fileSize=0, extension=null, title=null, body=null, completeFilePath=/pages/img/membersnaps/SheSpeaks_Logo_Symbol_Only_10182021080530.jpg, height=1777, width=1777, maxHeight=50, maxWidth=50, displayWidth=50, displayHeight=50, fileStatusId=0, searchKeyword=null, searchFlag=false, queryId=0, isExists=true], authorFileId=42371, authorType=0, storyImgFileVO=null, storyImgFileId=0, videoHtml=, authorImageFileId=0, authorImageFileVO=null, previousCategoryId=null, previousBlogStatusId=0, fromBlogDetails=0, blogCategoryName=Food, blogCategoryUrl=null, blogCategoryDesc=null, defaultImage=false, tags=null, optionIds=null, tagOptionId=null, tagId=null, tag=null, tagID=0, tagDetails=null, tagIds=null, testId=0, extBlogURL=null, extBlogStatus=0, bloggerSince=null, extBlogLimit=0, authorTestsList=[], blogURL=, blogName=, bloggerProfileId=0, sliderBlog=false, eventonHome=false, vosonHome=false, partyAndGiveawayDate=12/19/2018, imageCredit=null, pullQuoteMemId=null, offerSubHead=null, subHead=null, displayOrder=0,includeInGoogleSearch=false]
Dec 11, 2018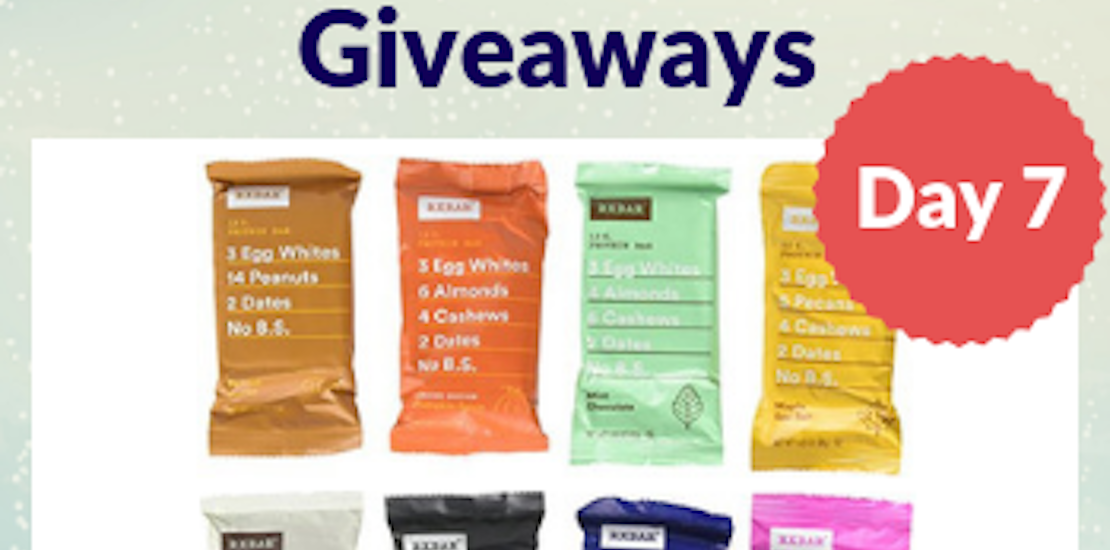 It's the middle of the afternoon and there's still a few hours before dinner time. How do you satisfy your hunger without giving in to the junk-food craving? With today's prize!
Welcome to day 7 of our 12 Days of SheSpeaks giveaways. Enter to win $150 worth of RXBAR protein bars!
RXBARs are a no-nonsense - and delicious - snack. They're made with clean-food ingredients, like egg whites, almonds, cashews and dates. Plus, there's no artificial colors, artificial flavors, preservatives or fillers and they are high in protein so they'll keep you satisfied much longer than any chips or cookies would.
These protein bars come in so many great flavors. Our favorites are the Gingerbread, Peanut Butter & Berries, and the Chocolate Sea Salt. Yum!
Enter Day 7 of our giveaway by answering the question in the box below. Then you'll unlock more ways to enter!
12 Days of SheSpeaks 2018, Day 7
Remember that for every entry, $1 (up to $1,000) will be donated to American Humane, an organization that promotes the safety and welfare of animals. Find out more info here.
Make sure to click here to enter all our giveaways! And check back every weekday thru December 18th for even more!
*One lucky contestant will be chosen at random to receive $150 worth of RXBAR protein bars. Giveaway is open through December 19th, 2018, 12 noon ET to U.S. residents at least 18 years of age. Entrants must be a member of SheSpeaks. If you are not a member, click here to join. Winner will be notified by email.
Note: RXBAR provided this gift for free.