#12DaysOfSheSpeaks Day 11: Get Cozy with $200 @KarenNeuburger Pajama Set with Robe Giveaway

by
SheSpeaksTeam
is this the date @ED : BlogVO [categoryId=70165, blogId=144936, blogTitle=#12DaysOfSheSpeaks Day 11: Get Cozy with $200 @KarenNeuburger Pajama Set with Robe Giveaway, publishingDate=December 15, 2016 12:00 AM, maxResponses=null, noOfComments=null, fileId=28766, blogClosingDate=null, blogCommentClosed=null, blogCategoryId=70165, queryId=0, blogCategoryIdIndex=0, sharedCategoriesList=null, blogStatusId=34, commentsClosedFlag=false, categoryIdForLog=0, blogModuleCategoryId=0, blogFileVo=null, latestCommentsList=null, verticalCatSeoURL=null, currentDate=12/06/2021, blogLink=null, authorName=SheSpeaksTeam, authorLognId=SheSpeaksTeam, authorAcctId=67580, vosTypeid=3, searchTestId=0, searchStatusId=0, searchAuthorType=0, authorBlogNumber=0, surveyData1=null, surveyData1Desc=null, surveyData2=null, surveyData2Desc=null, pullQuoteMemberId=null, filePath=null, fileName=null, vosType=0, subhead=null, offerSubhead=null, description=null, creationTime=null, authorFname=SheSpeaks, verticalCategoryId=null, sectionId=0, imageFileVO=FilesVO [fileId=28766, filePath=null, fileName=null, fileLength=0, fileWidth=0, createdBy=0, createByUser=null, creationTime=null, lastModifiedBy=0, lastModifiedByUser=null, lastModifiedTime=null, mimeType=null, fileRef=null, fileSize=0, extension=null, title=null, body=null, completeFilePath=/pages/img/redesign/blogs/blog post day 11 copy_12132016130849.jpg, height=350, width=350, maxHeight=480, maxWidth=360, displayWidth=350, displayHeight=350, fileStatusId=0, searchKeyword=null, searchFlag=false, queryId=0, isExists=true], seoURL=-12DaysOfSheSpeaks-Day-11-Get-Cozy-with-Karen-Neuberger-Pajama-Set-with-Robe-Giveaway, seoTitle=null, pullQuotesList=null, pullQuote=null, pullQuoteId=0, searchFlag=false, authorByLine=SheSpeaksTeam, authorDesc=Powered by women who love to share what's HOT in reviews, deals & recipes., authorLink=null, authorFileVO=FilesVO [fileId=42371, filePath=null, fileName=null, fileLength=0, fileWidth=0, createdBy=0, createByUser=null, creationTime=null, lastModifiedBy=0, lastModifiedByUser=null, lastModifiedTime=null, mimeType=null, fileRef=null, fileSize=0, extension=null, title=null, body=null, completeFilePath=/pages/img/membersnaps/SheSpeaks_Logo_Symbol_Only_10182021080530.jpg, height=1777, width=1777, maxHeight=50, maxWidth=50, displayWidth=50, displayHeight=50, fileStatusId=0, searchKeyword=null, searchFlag=false, queryId=0, isExists=true], authorFileId=42371, authorType=0, storyImgFileVO=null, storyImgFileId=0, videoHtml=, authorImageFileId=0, authorImageFileVO=null, previousCategoryId=null, previousBlogStatusId=0, fromBlogDetails=0, blogCategoryName=Living, blogCategoryUrl=null, blogCategoryDesc=null, defaultImage=false, tags=null, optionIds=null, tagOptionId=null, tagId=null, tag=null, tagID=0, tagDetails=null, tagIds=null, testId=0, extBlogURL=null, extBlogStatus=0, bloggerSince=null, extBlogLimit=0, authorTestsList=[], blogURL=, blogName=, bloggerProfileId=0, sliderBlog=false, eventonHome=false, vosonHome=false, partyAndGiveawayDate=12/18/2016, imageCredit=null, pullQuoteMemId=null, offerSubHead=null, subHead=null, displayOrder=0]
Dec 15, 2016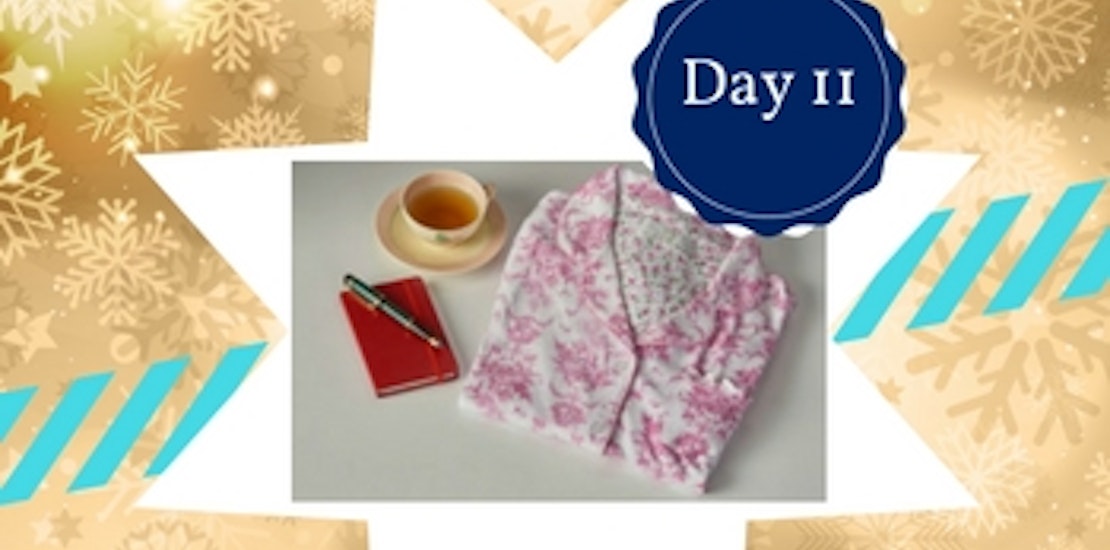 The eleventh prize in our 2016 #12DaysofSheSpeaks giveaways is perfect for relaxing and getting cozy this winter. It's fit for a dream!
The prize is a Karen Neuburger package, including a set of pajamas, a sleep shirt and a robe, valued at $200! Winner's choice of size.
Do you have trouble sleeping? According to Buzzfeed News, more than $50 million Americans struggle with sleep disorders. But it's no surprise that in today's world, there are many tools to help alleviate that. There are sleep masks to shut out any light, smart watches and fitness bands to measure your sleep patterns, and machines that create white noise. There are even several apps to help, include a new one called Calm that reads bedtime stories.
But more than anything else, to get a good night's sleep, you must be comfortable. And Karen Neuburger is an industry leader among the women's sleepwear category. The company offers fun, colorful prints in the most luxurious fabrics, bringing comfort, happiness, and hopefully(!) a good night's sleep.
Are you ready to win a Karen Neuburger pajama set and robe? Tell us in the comments below what you do to get a good night's sleep!
Plus, enter below.
#12DaysofSheSpeaks, Day 11 Giveaway
Have you entered all of our previous giveaways? Click here to enter them all. But there's just one day left! So come back tomorrow, and throughout the weekend for more chances to win. Giveaways are open until Sunday, December 18th, midnight, ET.
Also, Don't forget that for every entry during the duration of this giveway, we are donating $1, up to $1,000 total, to V-Day, a global activist movement to end violence against women and girls. You can find out more about the charity and our social good campaign here.
And now... here is your hint for Day #12: Awaken your senses with one sip.
* One lucky participant will be chosen at random to receive a Karen Neuburger pajama set, a sleep shirt and a robe, valued at $200. Winner selects the size. Enter through December 18th. Giveaway is open to U.S. residents only and must be a member of SheSpeaks. If you are not a member, click here to join.
Update: Thanks to all who entered! Congratulations to our winner, SheSpeaks member michellewentworth.