Teriyaki Salmon Steaks
submitted by cherylie {1 Recipe}
Prep Time:
30 Mins
Cook Time:

Total Prep + Cook Time:
30 Mins
Level:
Easy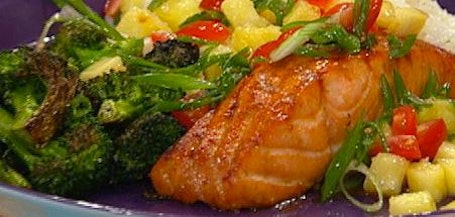 Makes: 4 0
Description: i like to make my meals simple, so i make my family salmon steaks with veggies in foil packets. Quick and easy, but a tasty meal with minimum clean up. For variety, you can also make this same recipe with tuna steaks.
Ingredients:
2 salmon steaks
1 can 8 ounce pineapples
2 tablespoons teriyaki sauce
1/2 teaspoon grated ginger
1/4 teaspoon salt
1 1/2 cup frozen stir fry or mixed veggies any combo

Instructions: Preheat your oven to 450. You will need a cookie sheet and 2 pieces non stick aluminum foil. Center one salmon steak on each sheet of aluminum foil, dull side up. Top with pineapple chunks. In a bowl combine your teriyaki sauce, ginger, salt, and then spoon that over your salmon and pineapples. Arrange your vegetables on either side of the salmon and spoon the remaining teriyaki sauce over the veggies. Bring up foil side and fold at the top and the ends to seal foil pack, but you have to tent the foil in order to leave room for heat circulation inside the packet. You can make this in an oven or on a grill.
Other recipes in main dishes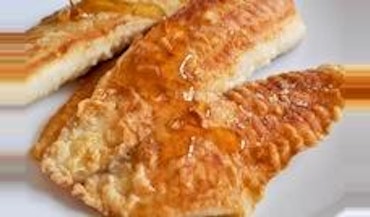 By
Futuredoctormom
Aug 26, 2014
Cinnamon sugar crusted tilapia baked to sweet perfection.
Read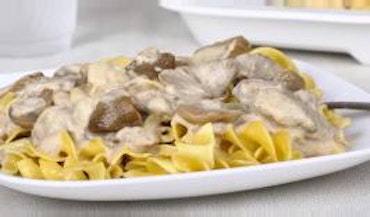 By
cookinggirl27
Jul 16, 2014
Running out of ideas for Thanksgiving leftovers? Use your leftover turkey in a creative and delicious Turkey Stroganoff recipe that takes only 20 minutes…
Read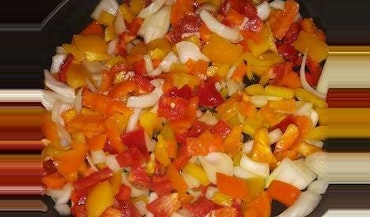 By
kasie34k
Apr 19, 2018
Crock pot fajitas - A combination of crock pot and skillet cooking for a fast week night meal for the whole family!
Read