Next Level Burgers for Summer Grilling

by
SheSpeaksTeam
is this the date @ED : BlogVO [categoryId=70164, blogId=146044, blogTitle=Next Level Burgers for Summer Grilling, publishingDate=May 09, 2022 12:00 AM, maxResponses=null, noOfComments=null, fileId=43864, blogClosingDate=null, blogCommentClosed=null, blogCategoryId=70164, queryId=0, blogCategoryIdIndex=0, sharedCategoriesList=null, blogStatusId=34, commentsClosedFlag=false, categoryIdForLog=0, blogModuleCategoryId=0, blogFileVo=null, latestCommentsList=null, verticalCatSeoURL=null, currentDate=08/10/2022, blogLink=null, authorName=SheSpeaksTeam, authorLognId=SheSpeaksTeam, authorAcctId=67580, vosTypeid=3, searchTestId=0, searchStatusId=0, searchAuthorType=0, authorBlogNumber=0, surveyData1=null, surveyData1Desc=null, surveyData2=null, surveyData2Desc=null, pullQuoteMemberId=null, filePath=null, fileName=null, vosType=0, subhead=null, offerSubhead=null, description=null, creationTime=null, authorFname=SheSpeaks, verticalCategoryId=null, sectionId=0, imageFileVO=FilesVO [fileId=43864, filePath=null, fileName=null, fileLength=0, fileWidth=0, createdBy=0, createByUser=null, creationTime=null, lastModifiedBy=0, lastModifiedByUser=null, lastModifiedTime=null, mimeType=null, fileRef=null, fileSize=0, extension=null, title=null, body=null, completeFilePath=/pages/img/redesign/blogs/Blog Header (2)_05092022124653.jpg, height=500, width=1000, maxHeight=480, maxWidth=360, displayWidth=360, displayHeight=180, fileStatusId=0, searchKeyword=null, searchFlag=false, queryId=0, isExists=true], seoURL=HeinzGiveaway, seoTitle=null, pullQuotesList=null, pullQuote=null, pullQuoteId=0, searchFlag=false, authorByLine=null, authorDesc=null, authorLink=null, authorFileVO=FilesVO [fileId=42371, filePath=null, fileName=null, fileLength=0, fileWidth=0, createdBy=0, createByUser=null, creationTime=null, lastModifiedBy=0, lastModifiedByUser=null, lastModifiedTime=null, mimeType=null, fileRef=null, fileSize=0, extension=null, title=null, body=null, completeFilePath=/pages/img/membersnaps/SheSpeaks_Logo_Symbol_Only_10182021080530.jpg, height=1777, width=1777, maxHeight=50, maxWidth=50, displayWidth=50, displayHeight=50, fileStatusId=0, searchKeyword=null, searchFlag=false, queryId=0, isExists=true], authorFileId=42371, authorType=0, storyImgFileVO=null, storyImgFileId=0, videoHtml=, authorImageFileId=0, authorImageFileVO=null, previousCategoryId=null, previousBlogStatusId=0, fromBlogDetails=0, blogCategoryName=Food, blogCategoryUrl=null, blogCategoryDesc=null, defaultImage=false, tags=null, optionIds=null, tagOptionId=null, tagId=null, tag=null, tagID=0, tagDetails=null, tagIds=null, testId=0, extBlogURL=null, extBlogStatus=0, bloggerSince=null, extBlogLimit=0, authorTestsList=[], blogURL=, blogName=, bloggerProfileId=0, sliderBlog=false, eventonHome=false, vosonHome=false, partyAndGiveawayDate=06/11/2022, imageCredit=Teresa Gonzalez @withlove_tere, pullQuoteMemId=null, offerSubHead=, subHead=, displayOrder=0,includeInGoogleSearch=false]
May 09, 2022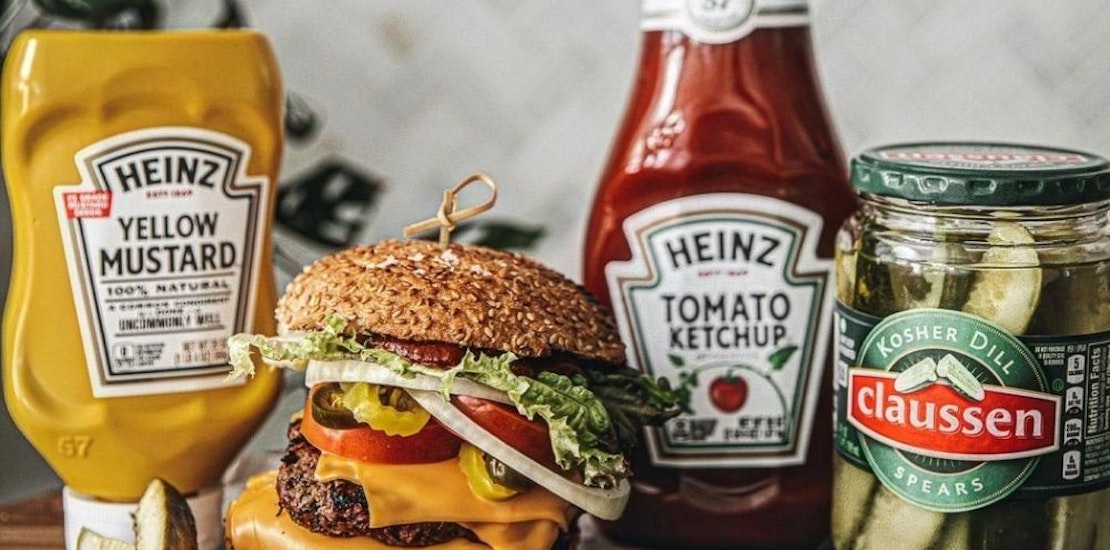 Teresa Gonzalez @withlove_tere

Next Level Burgers for Summer Grilling
There are so many ways to burger: from grabbing classic patties for a family BBQ to making cute sliders, burgers are our go-to all summer long, and beyond. With tasty condiments and sauces from Heinz, you can take your usual burger game up to the next level and turn burger night into a fun activity for the whole family. Check out a few of our favorite burger creations from SheSpeaks influencers:
Click
here
to add Heinz condiments to your Walmart cart for an inspired family burger night.
Right now, you can enter the Heinz Art of the Burger contest by submitting your burger creation for a chance to win some awesome prizes.
Click here
to learn more.
Enter our giveaway below for a chance to win a $50 Walmart gift card:
Heinz Art of the Burger at Walmart
One lucky winner will be chosen at random to receive a $50 Walmart gift card. Giveaway is open to U.S. residents 18 years or older. Enter through June 11, 2022. Winner will be chosen randomly by June 13, 2022 and notified by email. Entrants must be a member of SheSpeaks. If you are not a member, click here to join. Winner will be notified by email.
Thanks to all who entered! Congrats to our winner SheSpeaks member edmooch
.