Our Most Popular Podcast Episodes & Chance to WIN a Snack Bundle

by
SheSpeaksTeam
is this the date @ED : BlogVO [categoryId=70162, blogId=145889, blogTitle=Our Most Popular Podcast Episodes & Chance to WIN a Snack Bundle, publishingDate=July 31, 2021 12:00 AM, maxResponses=null, noOfComments=null, fileId=41215, blogClosingDate=null, blogCommentClosed=null, blogCategoryId=70162, queryId=0, blogCategoryIdIndex=0, sharedCategoriesList=null, blogStatusId=34, commentsClosedFlag=false, categoryIdForLog=0, blogModuleCategoryId=0, blogFileVo=null, latestCommentsList=null, verticalCatSeoURL=null, currentDate=05/22/2022, blogLink=null, authorName=SheSpeaksTeam, authorLognId=SheSpeaksTeam, authorAcctId=67580, vosTypeid=3, searchTestId=0, searchStatusId=0, searchAuthorType=0, authorBlogNumber=0, surveyData1=null, surveyData1Desc=null, surveyData2=null, surveyData2Desc=null, pullQuoteMemberId=null, filePath=null, fileName=null, vosType=0, subhead=null, offerSubhead=null, description=null, creationTime=null, authorFname=SheSpeaks, verticalCategoryId=null, sectionId=0, imageFileVO=FilesVO [fileId=41215, filePath=null, fileName=null, fileLength=0, fileWidth=0, createdBy=0, createByUser=null, creationTime=null, lastModifiedBy=0, lastModifiedByUser=null, lastModifiedTime=null, mimeType=null, fileRef=null, fileSize=0, extension=null, title=null, body=null, completeFilePath=/pages/img/redesign/blogs/Email Header_07312021103142.jpg, height=385, width=685, maxHeight=480, maxWidth=360, displayWidth=360, displayHeight=202, fileStatusId=0, searchKeyword=null, searchFlag=false, queryId=0, isExists=true], seoURL=Popular-Podcast-Episodes, seoTitle=null, pullQuotesList=null, pullQuote=null, pullQuoteId=0, searchFlag=false, authorByLine=SheSpeaksTeam, authorDesc=Powered by women who love to share what's HOT in reviews, deals & recipes., authorLink=null, authorFileVO=FilesVO [fileId=42371, filePath=null, fileName=null, fileLength=0, fileWidth=0, createdBy=0, createByUser=null, creationTime=null, lastModifiedBy=0, lastModifiedByUser=null, lastModifiedTime=null, mimeType=null, fileRef=null, fileSize=0, extension=null, title=null, body=null, completeFilePath=/pages/img/membersnaps/SheSpeaks_Logo_Symbol_Only_10182021080530.jpg, height=1777, width=1777, maxHeight=50, maxWidth=50, displayWidth=50, displayHeight=50, fileStatusId=0, searchKeyword=null, searchFlag=false, queryId=0, isExists=true], authorFileId=42371, authorType=0, storyImgFileVO=null, storyImgFileId=0, videoHtml=, authorImageFileId=0, authorImageFileVO=null, previousCategoryId=null, previousBlogStatusId=0, fromBlogDetails=0, blogCategoryName=Entertainment, blogCategoryUrl=null, blogCategoryDesc=null, defaultImage=false, tags=null, optionIds=null, tagOptionId=null, tagId=null, tag=null, tagID=0, tagDetails=null, tagIds=null, testId=0, extBlogURL=null, extBlogStatus=0, bloggerSince=null, extBlogLimit=0, authorTestsList=[], blogURL=, blogName=, bloggerProfileId=0, sliderBlog=false, eventonHome=false, vosonHome=false, partyAndGiveawayDate=08/15/2021, imageCredit=null, pullQuoteMemId=null, offerSubHead=null, subHead=null, displayOrder=0,includeInGoogleSearch=false]
Jul 31, 2021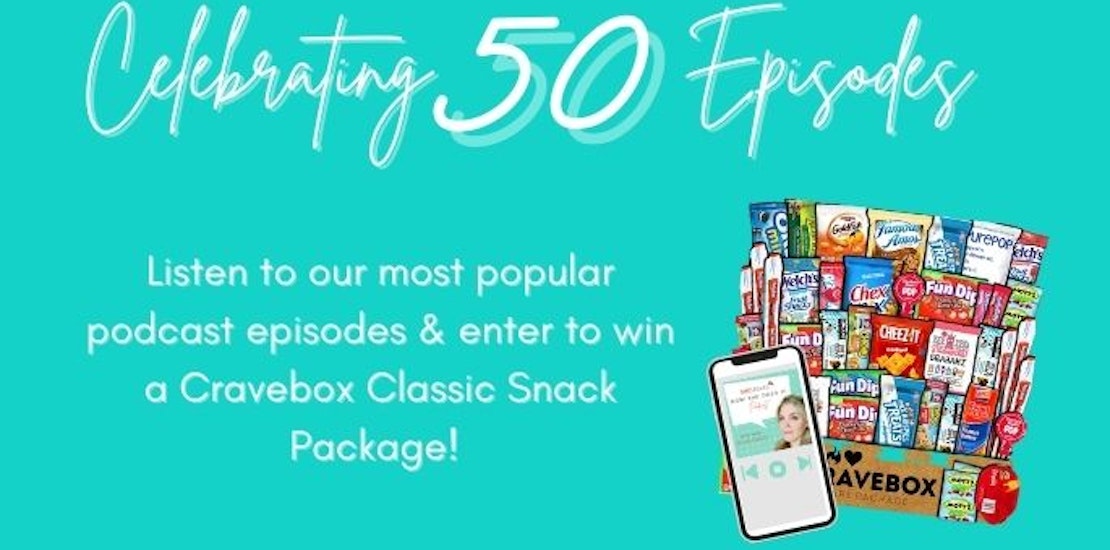 Recently, we celebrated our 50th episode of the How She Does It Podcast. We are so proud of all the inspiring stories that women have shared with us and our community. It seems like the perfect time to take look back at some of our most popular episodes. Whether you're a new listener, want to catch up or you're in the mood to hear these inspiring stories again, these episodes are all a must-listen. And nothing goes better with a good episode than your favorite snacks!
Keep reading to see how you can enter to win a Cravebox Classic 45 ct. Classic Snack Package - filled with the best, crave-worthy snacks!
Our Most Popular Episodes
Which episode is your favorite? Tell us and you could win a Cravebox Classic 45CT Snack Care Package. Enter in the widget below!

Podcast Giveaway: Cravebox Snack Package

One lucky participant will be chosen at random to win a Cravebox Classic Snack Package ($24 value). This giveaway is open through August 14 to U.S. residents at least 18 years of age. Entrants must be a member of SheSpeaks. If you are not a member, click here to join. Winner will be notified by email.

Update: Thanks to all who entered. Congrats to our winner, SheSpeaks member plong22!