Join us LIVE on Twitter to Chat about Kate Clayborn's new 'Love At First' book: Thu, Mar 11, 2pm ET

by
SheSpeaksTeam
is this the date @ED : BlogVO [categoryId=70162, blogId=145837, blogTitle=Join us LIVE on Twitter to Chat about Kate Clayborn's new 'Love At First' book: Thu, Mar 11, 2pm ET, publishingDate=March 09, 2021 12:00 AM, maxResponses=null, noOfComments=null, fileId=40149, blogClosingDate=null, blogCommentClosed=null, blogCategoryId=70162, queryId=0, blogCategoryIdIndex=0, sharedCategoriesList=null, blogStatusId=34, commentsClosedFlag=false, categoryIdForLog=0, blogModuleCategoryId=0, blogFileVo=null, latestCommentsList=null, verticalCatSeoURL=null, currentDate=01/27/2023, blogLink=null, authorName=SheSpeaksTeam, authorLognId=SheSpeaksTeam, authorAcctId=67580, vosTypeid=3, searchTestId=0, searchStatusId=0, searchAuthorType=0, authorBlogNumber=0, surveyData1=null, surveyData1Desc=null, surveyData2=null, surveyData2Desc=null, pullQuoteMemberId=null, filePath=null, fileName=null, vosType=0, subhead=null, offerSubhead=null, description=null, creationTime=null, authorFname=SheSpeaks, verticalCategoryId=null, sectionId=0, imageFileVO=FilesVO [fileId=40149, filePath=null, fileName=null, fileLength=0, fileWidth=0, createdBy=0, createByUser=null, creationTime=null, lastModifiedBy=0, lastModifiedByUser=null, lastModifiedTime=null, mimeType=null, fileRef=null, fileSize=0, extension=null, title=null, body=null, completeFilePath=/pages/img/redesign/blogs/Love at First twitter header_03092021095129.png, height=385, width=685, maxHeight=480, maxWidth=360, displayWidth=360, displayHeight=202, fileStatusId=0, searchKeyword=null, searchFlag=false, queryId=0, isExists=true], seoURL=Join-us-LIVE-on-Twitter-with-Kate-Clayborn-new-book-Love-At-First, seoTitle=null, pullQuotesList=null, pullQuote=null, pullQuoteId=0, searchFlag=false, authorByLine=null, authorDesc=null, authorLink=null, authorFileVO=FilesVO [fileId=42371, filePath=null, fileName=null, fileLength=0, fileWidth=0, createdBy=0, createByUser=null, creationTime=null, lastModifiedBy=0, lastModifiedByUser=null, lastModifiedTime=null, mimeType=null, fileRef=null, fileSize=0, extension=null, title=null, body=null, completeFilePath=/pages/img/membersnaps/SheSpeaks_Logo_Symbol_Only_10182021080530.jpg, height=1777, width=1777, maxHeight=50, maxWidth=50, displayWidth=50, displayHeight=50, fileStatusId=0, searchKeyword=null, searchFlag=false, queryId=0, isExists=true], authorFileId=42371, authorType=0, storyImgFileVO=null, storyImgFileId=0, videoHtml=, authorImageFileId=0, authorImageFileVO=null, previousCategoryId=null, previousBlogStatusId=0, fromBlogDetails=0, blogCategoryName=Entertainment, blogCategoryUrl=null, blogCategoryDesc=null, defaultImage=false, tags=null, optionIds=null, tagOptionId=null, tagId=null, tag=null, tagID=0, tagDetails=null, tagIds=null, testId=0, extBlogURL=null, extBlogStatus=0, bloggerSince=null, extBlogLimit=0, authorTestsList=[], blogURL=, blogName=, bloggerProfileId=0, sliderBlog=false, eventonHome=false, vosonHome=false, partyAndGiveawayDate=03/11/2021, imageCredit=https://www.instagram.com/ohmymichie/, pullQuoteMemId=null, offerSubHead=null, subHead=null, displayOrder=0,includeInGoogleSearch=false]
Mar 09, 2021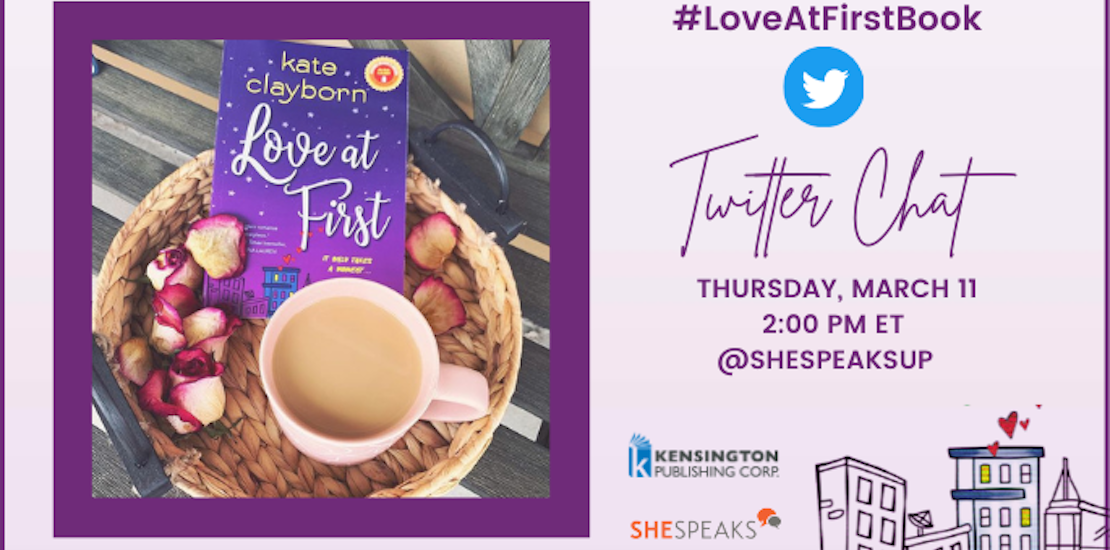 https://www.instagram.com/ohmymichie/
Calling all romantic book lovers! One of the year's must-reads, Love At First by Kate Clayborn, has dropped - and we're having a Twitter Chat to celebrate its launch.

Love At First is a love story that will have you turning the pages non-stop. It will keep you on your toes until the very end, falling in love with the characters, their relationships, and their story along the way.


Join us on Thursday, March 11th, at 2:00 P.M. ET for a fun chat with author Kate Clayborn about all things reading, this book and the characters! You can learn more about the book and get your copy here.

RSVP to be eligible for the door prize by commenting on this post with your Twitter handle (e.g., @SheSpeaksUp)
Details
When
: Thursday, March 11th at 2:00 p.m. ET
Where
: Twitter - follow the hashtag #LoveAtFirstBook
Follow
:
@SheSpeaksUp
and
Panelists:
@TamaraCamPhoto
,
@CensieJ,
and
@pinkninjablogg
Special Guest
: Author Kate Clayborn
Twitter Chat Topics
Join us as we Tweet about the new book Love At First and chat about all things related to reading. Plus, you'll have the amazing opportunity to interact with the author herself! Haven't read the book yet? Don't worry, there won't be any spoilers at this party.
Prizes
We'll be giving away copies of
Love At First
, $25 Amazon Gift Cards, and a door prize - a $100 Goldbelly Gift Card to treat yourself to Chicago Deep Dish Pizza, inspired by the book's Chicago setting.
To get started, click here to Tweet:
"Win over $275 in books & gift cards! Join me at the #LoveAtFirstBook Twitter chat with @SheSpeaksUp 3/11 at 2pm ET https://bit.ly/3syXB0K"
RSVP for the #LoveAtFirstBook Twitter party by commenting below on this post with your Twitter handle.
*Participants must be following @SheSpeaksUp on Twitter and participate in the discussion by using hashtag #LoveAtFirstBook on March 11th between 2:00 and 3:00 p.m. ET to be eligible to win. Open to United States Residents at least 18 years of age only. One prize allowed per winner. No purchase necessary. Twitter party prize winners must complete a form with mailing details within 48 hours of the party. The form will be DM'd if you win a prize.