Our Favorite Design Tips From Our Favorite TV Designers. Plus, Win $75 to Your Favorite Home Store

by
SheSpeaksTeam
is this the date @ED : BlogVO [categoryId=70165, blogId=145406, blogTitle=Our Favorite Design Tips From Our Favorite TV Designers. Plus, Win $75 to Your Favorite Home Store, publishingDate=July 25, 2018 12:00 AM, maxResponses=null, noOfComments=null, fileId=31475, blogClosingDate=null, blogCommentClosed=null, blogCategoryId=70165, queryId=0, blogCategoryIdIndex=0, sharedCategoriesList=null, blogStatusId=34, commentsClosedFlag=false, categoryIdForLog=0, blogModuleCategoryId=0, blogFileVo=null, latestCommentsList=null, verticalCatSeoURL=null, currentDate=03/26/2023, blogLink=null, authorName=SheSpeaksTeam, authorLognId=SheSpeaksTeam, authorAcctId=67580, vosTypeid=3, searchTestId=0, searchStatusId=0, searchAuthorType=0, authorBlogNumber=0, surveyData1=null, surveyData1Desc=null, surveyData2=null, surveyData2Desc=null, pullQuoteMemberId=null, filePath=null, fileName=null, vosType=0, subhead=null, offerSubhead=null, description=null, creationTime=null, authorFname=SheSpeaks, verticalCategoryId=null, sectionId=0, imageFileVO=FilesVO [fileId=31475, filePath=null, fileName=null, fileLength=0, fileWidth=0, createdBy=0, createByUser=null, creationTime=null, lastModifiedBy=0, lastModifiedByUser=null, lastModifiedTime=null, mimeType=null, fileRef=null, fileSize=0, extension=null, title=null, body=null, completeFilePath=/pages/img/redesign/blogs/Photos_ HGTV.com blog post_07232018131807.png, height=350, width=350, maxHeight=480, maxWidth=360, displayWidth=350, displayHeight=350, fileStatusId=0, searchKeyword=null, searchFlag=false, queryId=0, isExists=true], seoURL=Our-Favorite-Design-Tips-and-TV-Designers-Plus-Win-75-Gift-Card, seoTitle=null, pullQuotesList=null, pullQuote=null, pullQuoteId=0, searchFlag=false, authorByLine=null, authorDesc=null, authorLink=null, authorFileVO=FilesVO [fileId=42371, filePath=null, fileName=null, fileLength=0, fileWidth=0, createdBy=0, createByUser=null, creationTime=null, lastModifiedBy=0, lastModifiedByUser=null, lastModifiedTime=null, mimeType=null, fileRef=null, fileSize=0, extension=null, title=null, body=null, completeFilePath=/pages/img/membersnaps/SheSpeaks_Logo_Symbol_Only_10182021080530.jpg, height=1777, width=1777, maxHeight=50, maxWidth=50, displayWidth=50, displayHeight=50, fileStatusId=0, searchKeyword=null, searchFlag=false, queryId=0, isExists=true], authorFileId=42371, authorType=0, storyImgFileVO=null, storyImgFileId=0, videoHtml=, authorImageFileId=0, authorImageFileVO=null, previousCategoryId=null, previousBlogStatusId=0, fromBlogDetails=0, blogCategoryName=Living, blogCategoryUrl=null, blogCategoryDesc=null, defaultImage=false, tags=null, optionIds=null, tagOptionId=null, tagId=null, tag=null, tagID=0, tagDetails=null, tagIds=null, testId=0, extBlogURL=null, extBlogStatus=0, bloggerSince=null, extBlogLimit=0, authorTestsList=[], blogURL=, blogName=, bloggerProfileId=0, sliderBlog=false, eventonHome=false, vosonHome=false, partyAndGiveawayDate=08/12/2018, imageCredit=null, pullQuoteMemId=null, offerSubHead=null, subHead=null, displayOrder=0,includeInGoogleSearch=false]
Jul 25, 2018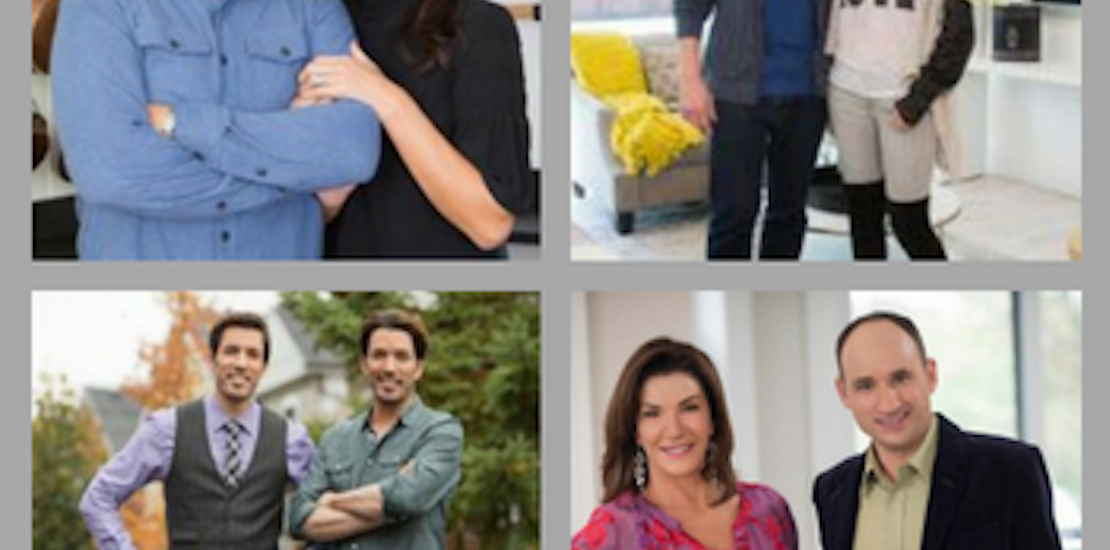 "Whether you are in an eight-hundred-square-foot home or living in a dream house on a lake, contentment is found on the way." ― Joanna Gaines, The Magnolia Story
We love this quote, but we also believe that we may be able to find contentment more easily if our home was beautifully designed by Joanna Gaines, or her fellow reality TV designers, Christina El Moussa, Bobby Berk, or Drew & Jonathan Scott.
While we can't promise a personalized home transformation from our favorite reality TV design stars, we can give you insider tips. And a chance to win a $75 gift card to your favorite home store.
Drew & Jonathan Scott, Property Brothers
What's the first room you walk into when you enter your house? How does that look? If your entry way is cluttered, that's the first thing guests - and you - will notice. Tackling that would be a good first priority in improving the whole feel of your home. Looking at a cluttered foyer, Drew tells realtor.com, "All you're saying in this house is 'There's no storage, there's no room.'" Improving your entry space will make you feel more welcome when you come into your house each day.
Christina & Tarek El Moussa, Flip or Flop
Christina is all about making a statement, especially in the kitchen, where you both cook and entertain. The backsplash is the best place to use something bold since it's often the kitchen's focal point. If you're worried that a big design is too overwhelming and too expensive, Christina recommends using it on part of the wall. "Say you find a backsplash that you love but you can't afford it, an option is to do a cutout of it," She told PopSugar.com, "The rest of the backsplash, you can do more of an inexpensive tile." Don't be afraid to pick something that is out of your comfort zone.
Bobby Berk, Queer Eye
A big mistake many people make, according to Bobby, is to ignore the importance of lighting. "People don't realize that lighting can change the whole look of a place and the feel, " he tells FastCompany.com. "A lot of people spend all this time painting their house, picking out rugs, and then they put fluorescent lighting in there. It totally ruins the mood." Bobby recommends thinking about the use of the room before choosing the lighting. For example, warm-hued lights are good for cozy spaces like the bedroom.
Hilary Farr, Love It or List It
To transform a room, you might be looking at the furniture or walls. But Hilary suggests looking down. She tells The Star Tribune, "A brand-new area rug, flooring or even wall-to-wall carpet can make open spaces feel more cohesive." She also suggests thinking about what color palate is used throughout your space. "Color can change the way a home feels." Make sure to be thoughtful about how everything looks together.
Vern Yip, Trading Spaces
We love that TLC brought back Trading Spaces this year, and while the designs are often over-the-top, we have still learned a lot from their variety of designers. One of our favorites, Vern Yip, says that before you even begin a design project, really think about how each of the rooms are used in your house. He tells Good Morning America, "Have an honest conversation with yourself and the people who live in your house and determine what makes sense for you as a family," Yip said. "Make designations about rooms and what they're really used for." For example. do you really want a formal dining room, or can you use the space for something else?
Chip & Joanna Gaines, Fixer Upper
We still miss Fixer Upper, but we'll always love Joanna's design savvy. We especially appreciate how she puts her own unique style onto new trends. And encourages us to do the same. She tells People magazine, "You don't need to follow a specific set of rules with your own home. Do what speaks to you and be unapologetic about it. I always feel most comfortable in a house I can tell is well-loved." Well said!
What home project do you dream of doing? Tell us and win a $75 gift card to your favorite home store!
There are three ways to enter:
Comment below by telling us the home project you'd like to tackle.
Click here to tweet: "I'm dreaming of new home projects & entering to win a $75 gift card in the #SheSpeaksHome giveaway, thx to @SheSpeaksUp bit.ly/2uHeYku"
Post a picture on Instagram (worth 5 entries) of a home project you've done, or a project you'd like to do. Use the hashtags #SheSpeaksHome, #SheSpeaks and #entry.
*One lucky commenter, Tweeter or Instagrammer will be chosen at random to receive a $75 gift card to the winner's choice of home store, provided that the gift card can be easily purchased online. Giveaway is open through August 12th, 2018 to U.S. residents at least 18 years of age. Entrants must be a member of SheSpeaks. If you are not a member, click here to join. Winner will be notified by email.
Update: Thanks to all who entered! Congrats to our winner, SheSpeaks member dacotahsgirl!