12 Days of SheSpeaks Day 3: Win a $200 Crate & Barrel Gift Card! #thankFULL

by
SheSpeaksTeam
is this the date @ED : BlogVO [categoryId=70165, blogId=145266, blogTitle=12 Days of SheSpeaks Day 3: Win a $200 Crate & Barrel Gift Card! #thankFULL , publishingDate=December 05, 2017 12:00 AM, maxResponses=null, noOfComments=null, fileId=30541, blogClosingDate=null, blogCommentClosed=null, blogCategoryId=70165, queryId=0, blogCategoryIdIndex=0, sharedCategoriesList=null, blogStatusId=34, commentsClosedFlag=false, categoryIdForLog=0, blogModuleCategoryId=0, blogFileVo=null, latestCommentsList=null, verticalCatSeoURL=null, currentDate=10/24/2021, blogLink=null, authorName=SheSpeaksTeam, authorLognId=SheSpeaksTeam, authorAcctId=67580, vosTypeid=3, searchTestId=0, searchStatusId=0, searchAuthorType=0, authorBlogNumber=0, surveyData1=null, surveyData1Desc=null, surveyData2=null, surveyData2Desc=null, pullQuoteMemberId=null, filePath=null, fileName=null, vosType=0, subhead=null, offerSubhead=null, description=null, creationTime=null, authorFname=SheSpeaks, verticalCategoryId=null, sectionId=0, imageFileVO=FilesVO [fileId=30541, filePath=null, fileName=null, fileLength=0, fileWidth=0, createdBy=0, createByUser=null, creationTime=null, lastModifiedBy=0, lastModifiedByUser=null, lastModifiedTime=null, mimeType=null, fileRef=null, fileSize=0, extension=null, title=null, body=null, completeFilePath=/pages/img/redesign/blogs/day3_blogpost_12042017141259.png, height=350, width=350, maxHeight=480, maxWidth=360, displayWidth=350, displayHeight=350, fileStatusId=0, searchKeyword=null, searchFlag=false, queryId=0, isExists=true], seoURL=12-Days-of-SheSpeaks-Day-3-Win-200-Crate-Barrel-Gift-Card-thankFULL, seoTitle=null, pullQuotesList=null, pullQuote=null, pullQuoteId=0, searchFlag=false, authorByLine=SheSpeaksTeam, authorDesc=Powered by women who love to share what's HOT in reviews, deals & recipes., authorLink=null, authorFileVO=FilesVO [fileId=42371, filePath=null, fileName=null, fileLength=0, fileWidth=0, createdBy=0, createByUser=null, creationTime=null, lastModifiedBy=0, lastModifiedByUser=null, lastModifiedTime=null, mimeType=null, fileRef=null, fileSize=0, extension=null, title=null, body=null, completeFilePath=/pages/img/membersnaps/SheSpeaks_Logo_Symbol_Only_10182021080530.jpg, height=1777, width=1777, maxHeight=50, maxWidth=50, displayWidth=50, displayHeight=50, fileStatusId=0, searchKeyword=null, searchFlag=false, queryId=0, isExists=true], authorFileId=42371, authorType=0, storyImgFileVO=null, storyImgFileId=0, videoHtml=, authorImageFileId=0, authorImageFileVO=null, previousCategoryId=null, previousBlogStatusId=0, fromBlogDetails=0, blogCategoryName=Living, blogCategoryUrl=null, blogCategoryDesc=null, defaultImage=false, tags=null, optionIds=null, tagOptionId=null, tagId=null, tag=null, tagID=0, tagDetails=null, tagIds=null, testId=0, extBlogURL=null, extBlogStatus=0, bloggerSince=null, extBlogLimit=0, authorTestsList=[], blogURL=, blogName=, bloggerProfileId=0, sliderBlog=false, eventonHome=false, vosonHome=false, partyAndGiveawayDate=12/18/2017, imageCredit=null, pullQuoteMemId=null, offerSubHead=null, subHead=null, displayOrder=0]
Dec 05, 2017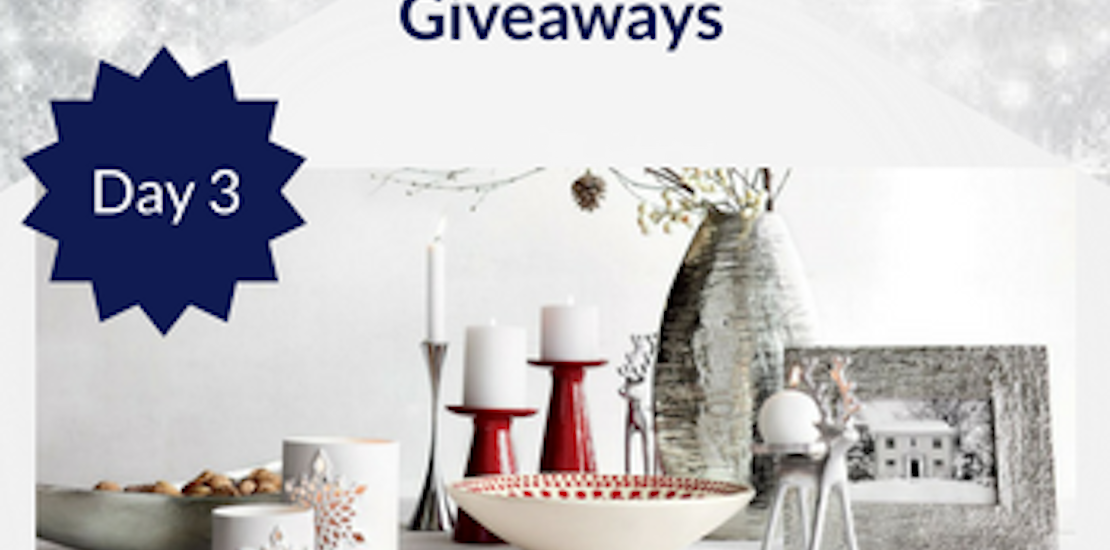 You may live in an apartment, a condo, a house or an igloo. It's the people inside and the love you put into it that makes where you live feel like home.
Welcome to Day 3 of our 12 Days of SheSpeaks giveaway! Treat yourself and your home with a $200 gift card to Crate & Barrel!
Crate & Barrel is a wonderful store to shop for everything from cookwear to furniture, decor to small appliances, bedding to bath. You can find something to spruce up any room in your house.
What part of your home are you most #thankFULL for? Enter Day 3 of our giveaway by answering the question in the box below. Then you'll unlock more ways to enter!
Remember that for every entry, $1 will be donated to our charity partner, Feeding America, to help fight hunger in this country (up to $1,000). Find out more info here.
Don't forget to check back daily here between now and December 18th, on weekdays, for more giveaways!
Note: Comments on this blog post will not count as entries. Crate & Barrel, a partner of Feeding America, provided this gift card for free.