Our #12DaysOfSheSpeaks Holiday Giveaways Line-Up

by
SheSpeaksTeam
is this the date @ED : BlogVO [categoryId=70165, blogId=144536, blogTitle=Our #12DaysOfSheSpeaks Holiday Giveaways Line-Up, publishingDate=December 04, 2015 12:00 AM, maxResponses=null, noOfComments=null, fileId=24955, blogClosingDate=null, blogCommentClosed=null, blogCategoryId=70165, queryId=0, blogCategoryIdIndex=0, sharedCategoriesList=null, blogStatusId=34, commentsClosedFlag=false, categoryIdForLog=0, blogModuleCategoryId=0, blogFileVo=null, latestCommentsList=null, verticalCatSeoURL=null, currentDate=03/26/2023, blogLink=null, authorName=SheSpeaksTeam, authorLognId=SheSpeaksTeam, authorAcctId=67580, vosTypeid=3, searchTestId=0, searchStatusId=0, searchAuthorType=0, authorBlogNumber=0, surveyData1=null, surveyData1Desc=null, surveyData2=null, surveyData2Desc=null, pullQuoteMemberId=null, filePath=null, fileName=null, vosType=0, subhead=null, offerSubhead=null, description=null, creationTime=null, authorFname=SheSpeaks, verticalCategoryId=null, sectionId=0, imageFileVO=FilesVO [fileId=24955, filePath=null, fileName=null, fileLength=0, fileWidth=0, createdBy=0, createByUser=null, creationTime=null, lastModifiedBy=0, lastModifiedByUser=null, lastModifiedTime=null, mimeType=null, fileRef=null, fileSize=0, extension=null, title=null, body=null, completeFilePath=/pages/img/redesign/blogs/NEWholiday350x350 copy_11162015164735_11292015214408.jpg, height=350, width=350, maxHeight=480, maxWidth=360, displayWidth=350, displayHeight=350, fileStatusId=0, searchKeyword=null, searchFlag=false, queryId=0, isExists=true], seoURL=Our-12DaysOfSheSpeaks-Holiday-Giveaways-Line-Up, seoTitle=null, pullQuotesList=null, pullQuote=null, pullQuoteId=0, searchFlag=false, authorByLine=null, authorDesc=null, authorLink=null, authorFileVO=FilesVO [fileId=42371, filePath=null, fileName=null, fileLength=0, fileWidth=0, createdBy=0, createByUser=null, creationTime=null, lastModifiedBy=0, lastModifiedByUser=null, lastModifiedTime=null, mimeType=null, fileRef=null, fileSize=0, extension=null, title=null, body=null, completeFilePath=/pages/img/membersnaps/SheSpeaks_Logo_Symbol_Only_10182021080530.jpg, height=1777, width=1777, maxHeight=50, maxWidth=50, displayWidth=50, displayHeight=50, fileStatusId=0, searchKeyword=null, searchFlag=false, queryId=0, isExists=true], authorFileId=42371, authorType=0, storyImgFileVO=null, storyImgFileId=0, videoHtml=, authorImageFileId=0, authorImageFileVO=null, previousCategoryId=null, previousBlogStatusId=0, fromBlogDetails=0, blogCategoryName=Living, blogCategoryUrl=null, blogCategoryDesc=null, defaultImage=false, tags=null, optionIds=null, tagOptionId=null, tagId=null, tag=null, tagID=0, tagDetails=null, tagIds=null, testId=0, extBlogURL=null, extBlogStatus=0, bloggerSince=null, extBlogLimit=0, authorTestsList=[], blogURL=, blogName=, bloggerProfileId=0, sliderBlog=false, eventonHome=false, vosonHome=false, partyAndGiveawayDate=12/21/2015, imageCredit=null, pullQuoteMemId=null, offerSubHead=null, subHead=null, displayOrder=0,includeInGoogleSearch=false]
Dec 04, 2015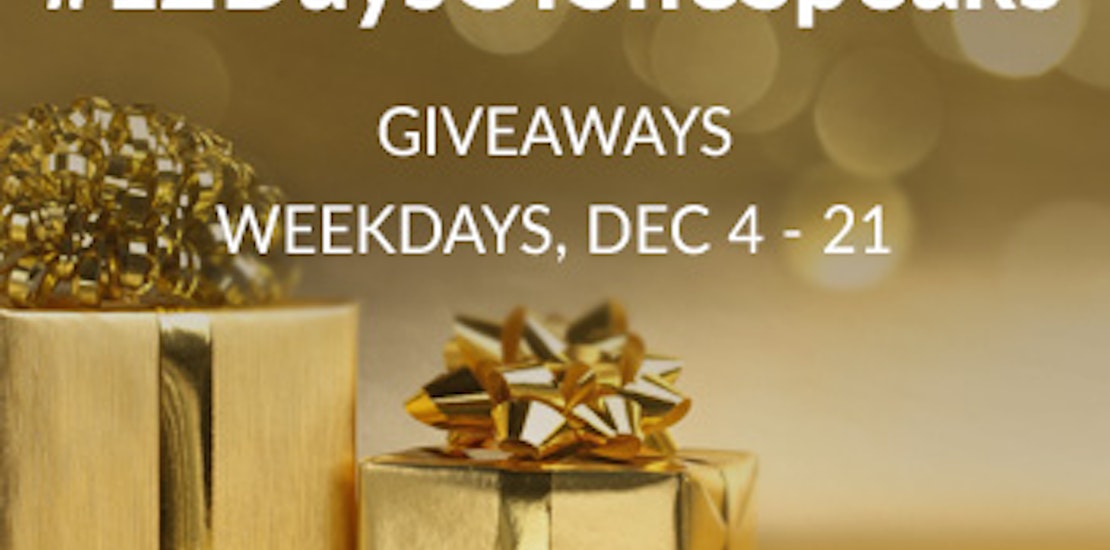 Today is the last day of our #12DaysOfSheSpeaks Holiday Giveaways! Since December 4th, we have been giving away incredible prizes. You can still enter all 12 giveaways until midnight tonight! Every SheSpeaks member has the chance to win.
It's simple, really: See below to find information on our latest giveaway and instructions on how to enter. Winners will be chosen at random on Tuesday, December 22nd.
#12DaysOfSheSpeaks also has a giving component, with an opportunity to give back to Feeding America, a nationwide network of food banks that feeds more than 46 million people. For every giveaway entry, $1 will be donated to this worthy charity, up to $1,000. What better way to spend the holiday season than giving back to people who need it most? Find out more about our holiday giving campaign here.
And be sure to use hashtag #12DaysOfSheSpeaks when sharing.
Happy holidays! We truly enjoyed giving to you, giving back and celebrating #12DaysofSheSpeaks.
Update: We have chosen our lucky winners! Please find their SheSpeaks user names below. Congrats to all!
Day 1 Giveaway info: Win a KitchenAid Mixer!
Winner: goldeyjana
Day 2 Giveaway info: Win a Designer Handbag!
Winner: shellbonelover143
Day 3 Giveaway info: Win a COVERGIRL Star Wars Prize Pack!
Winner: jerah20
Day 4 Giveaway info: Win a Keurig Brewer and Folgers Gourmet Selections!
Winner: Marilou70
Day 5 Giveaway info: Win an Oral-B Professional Deep Sweep 4000 Electric Toothbrush!
Winner: mimitastic
Day 6 Giveaway info: Win an LM StyleBar Dress!
Winner: candries
Day 7 Giveaway info: Win a Fitbit!
Winner: kaglizard
Day 8 Giveaway info: Win Procter & Gamble (P&G) Holiday Packs!
Winner: wenrom31
Day 9 Giveaway info: Win Three Duracell Mobile Battery Backups!
Winner: ironram1
Day 10 Giveaway info: Win a Star Wars Episode 7 Remote Control BB-8!
Winner: rebecca1111
Day 11 Giveaway info: Win a UNT Beauty Basket!
Winner: Byrdy1999
Day 12 Giveaway info: Win a Saeco Espresso Machine!
Winner: karenymorse
NOTE: Comments on this blog post will not count as an entry. Please follow instructions in the blog post for each #12DaysOfSheSpeaks giveaway day.