Podcast Giveaway : Myths in Women's Health with Dr. Jen Gunter

by
SheSpeaksTeam
is this the date @ED : BlogVO [categoryId=70165, blogId=145879, blogTitle=Podcast Giveaway : Myths in Women's Health with Dr. Jen Gunter, publishingDate=June 24, 2021 12:00 AM, maxResponses=null, noOfComments=null, fileId=41059, blogClosingDate=null, blogCommentClosed=null, blogCategoryId=70165, queryId=0, blogCategoryIdIndex=0, sharedCategoriesList=null, blogStatusId=34, commentsClosedFlag=false, categoryIdForLog=0, blogModuleCategoryId=0, blogFileVo=null, latestCommentsList=null, verticalCatSeoURL=null, currentDate=09/26/2023, blogLink=null, authorName=SheSpeaksTeam, authorLognId=SheSpeaksTeam, authorAcctId=67580, vosTypeid=3, searchTestId=0, searchStatusId=0, searchAuthorType=0, authorBlogNumber=0, surveyData1=null, surveyData1Desc=null, surveyData2=null, surveyData2Desc=null, pullQuoteMemberId=null, filePath=null, fileName=null, vosType=0, subhead=null, offerSubhead=null, description=null, creationTime=null, authorFname=SheSpeaks, verticalCategoryId=null, sectionId=0, imageFileVO=FilesVO [fileId=41059, filePath=null, fileName=null, fileLength=0, fileWidth=0, createdBy=0, createByUser=null, creationTime=null, lastModifiedBy=0, lastModifiedByUser=null, lastModifiedTime=null, mimeType=null, fileRef=null, fileSize=0, extension=null, title=null, body=null, completeFilePath=/pages/img/redesign/blogs/Add a heading (1)_06242021170156.jpg, height=383, width=680, maxHeight=480, maxWidth=360, displayWidth=360, displayHeight=202, fileStatusId=0, searchKeyword=null, searchFlag=false, queryId=0, isExists=true], seoURL=Womens-Health-Dr-Jen-Gunter, seoTitle=null, pullQuotesList=null, pullQuote=null, pullQuoteId=0, searchFlag=false, authorByLine=null, authorDesc=null, authorLink=null, authorFileVO=FilesVO [fileId=42371, filePath=null, fileName=null, fileLength=0, fileWidth=0, createdBy=0, createByUser=null, creationTime=null, lastModifiedBy=0, lastModifiedByUser=null, lastModifiedTime=null, mimeType=null, fileRef=null, fileSize=0, extension=null, title=null, body=null, completeFilePath=/pages/img/membersnaps/SheSpeaks_Logo_Symbol_Only_10182021080530.jpg, height=1777, width=1777, maxHeight=50, maxWidth=50, displayWidth=50, displayHeight=50, fileStatusId=0, searchKeyword=null, searchFlag=false, queryId=0, isExists=true], authorFileId=42371, authorType=0, storyImgFileVO=null, storyImgFileId=0, videoHtml=, authorImageFileId=0, authorImageFileVO=null, previousCategoryId=null, previousBlogStatusId=0, fromBlogDetails=0, blogCategoryName=Living, blogCategoryUrl=null, blogCategoryDesc=null, defaultImage=false, tags=null, optionIds=null, tagOptionId=null, tagId=null, tag=null, tagID=0, tagDetails=null, tagIds=null, testId=0, extBlogURL=null, extBlogStatus=0, bloggerSince=null, extBlogLimit=0, authorTestsList=[], blogURL=, blogName=, bloggerProfileId=0, sliderBlog=false, eventonHome=false, vosonHome=false, partyAndGiveawayDate=07/08/2021, imageCredit=null, pullQuoteMemId=null, offerSubHead=null, subHead=null, displayOrder=0,includeInGoogleSearch=false]
Jun 24, 2021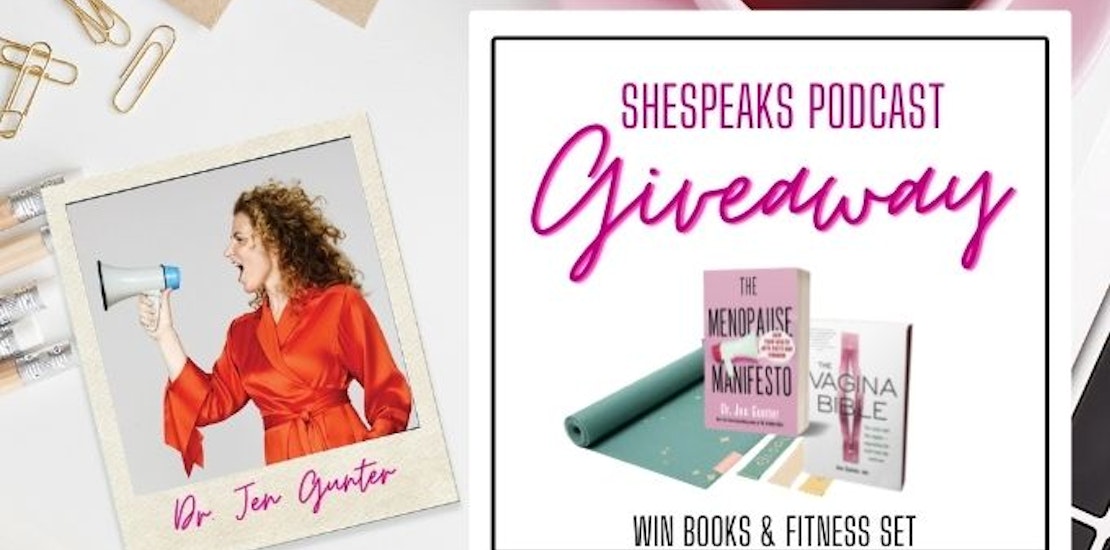 Episode 47 of the SheSpeaks: How She Does It Podcast features guest, Dr. Jen Gunter, author, OB/GYN, speaker and advocate for women's health. Dr. Gunter's new book, The Menopause Manifesto became a quick New York Times Bestseller, like her previous book, The Vagina Bible.
Read on to see how you can WIN a fitness starter pack and a copy of Dr. Jen Gunter's books to put you on the path to improving your health, inspired by Dr. Gunter's tips.
In this episode, we touch on how Dr. Gunter became a health advocate for women and how & why Menopause became a stigmatized topic. You'll learn more about how her latest book is meant to start a conversation about menopause and educate women to take control of their health with knowledge and facts. This book and conversation is for women of all ages who want to own their health, so listen in and enter for the chance to win!


You can listen to the full episode and
subscribe to our podcast here.
You can win one copy of The Vagina Bible, one copy of The Menopause Manifesto AND a Blogilates Fitness Starter Set ($39.99 value). To enter, listen to the podcast episode and then in the gleam widget, tell us one takeaway you had.
If you like what you hear, consider following the podcast or leaving a review. We can't wait to hear what you think!
Jen Gunter Podcast Giveaway
* One lucky participant will be chosen at random to win a Fitness Starter Pack ($39.99 value), one copy of The Vagina Bible & one copy of The Menopause Manifesto. This giveaway is open through July 8th to U.S. residents at least 18 years of age. Entrants must be a member of SheSpeaks. If you are not a member, click here to join. Winner will be notified by email.