Win $75 in Tix to Watch The Summer's Hottest Movies in Our #SheSpeaksMovieTix Giveaway

by
SheSpeaksTeam
is this the date @ED : BlogVO [categoryId=70162, blogId=145361, blogTitle=Win $75 in Tix to Watch The Summer's Hottest Movies in Our #SheSpeaksMovieTix Giveaway, publishingDate=May 17, 2018 12:00 AM, maxResponses=null, noOfComments=null, fileId=31161, blogClosingDate=null, blogCommentClosed=null, blogCategoryId=70162, queryId=0, blogCategoryIdIndex=0, sharedCategoriesList=null, blogStatusId=34, commentsClosedFlag=false, categoryIdForLog=0, blogModuleCategoryId=0, blogFileVo=null, latestCommentsList=null, verticalCatSeoURL=null, currentDate=11/27/2022, blogLink=null, authorName=SheSpeaksTeam, authorLognId=SheSpeaksTeam, authorAcctId=67580, vosTypeid=3, searchTestId=0, searchStatusId=0, searchAuthorType=0, authorBlogNumber=0, surveyData1=null, surveyData1Desc=null, surveyData2=null, surveyData2Desc=null, pullQuoteMemberId=null, filePath=null, fileName=null, vosType=0, subhead=null, offerSubhead=null, description=null, creationTime=null, authorFname=SheSpeaks, verticalCategoryId=null, sectionId=0, imageFileVO=FilesVO [fileId=31161, filePath=null, fileName=null, fileLength=0, fileWidth=0, createdBy=0, createByUser=null, creationTime=null, lastModifiedBy=0, lastModifiedByUser=null, lastModifiedTime=null, mimeType=null, fileRef=null, fileSize=0, extension=null, title=null, body=null, completeFilePath=/pages/img/redesign/blogs/movie350x350_05152018124857.png, height=350, width=350, maxHeight=480, maxWidth=360, displayWidth=350, displayHeight=350, fileStatusId=0, searchKeyword=null, searchFlag=false, queryId=0, isExists=true], seoURL=Win-75-in-Tix-Giveaway-to-Watch-The-Hottest-Summer-Movies, seoTitle=null, pullQuotesList=null, pullQuote=null, pullQuoteId=0, searchFlag=false, authorByLine=null, authorDesc=null, authorLink=null, authorFileVO=FilesVO [fileId=42371, filePath=null, fileName=null, fileLength=0, fileWidth=0, createdBy=0, createByUser=null, creationTime=null, lastModifiedBy=0, lastModifiedByUser=null, lastModifiedTime=null, mimeType=null, fileRef=null, fileSize=0, extension=null, title=null, body=null, completeFilePath=/pages/img/membersnaps/SheSpeaks_Logo_Symbol_Only_10182021080530.jpg, height=1777, width=1777, maxHeight=50, maxWidth=50, displayWidth=50, displayHeight=50, fileStatusId=0, searchKeyword=null, searchFlag=false, queryId=0, isExists=true], authorFileId=42371, authorType=0, storyImgFileVO=null, storyImgFileId=0, videoHtml=, authorImageFileId=0, authorImageFileVO=null, previousCategoryId=null, previousBlogStatusId=0, fromBlogDetails=0, blogCategoryName=Entertainment, blogCategoryUrl=null, blogCategoryDesc=null, defaultImage=false, tags=null, optionIds=null, tagOptionId=null, tagId=null, tag=null, tagID=0, tagDetails=null, tagIds=null, testId=0, extBlogURL=null, extBlogStatus=0, bloggerSince=null, extBlogLimit=0, authorTestsList=[], blogURL=, blogName=, bloggerProfileId=0, sliderBlog=false, eventonHome=false, vosonHome=false, partyAndGiveawayDate=06/03/2018, imageCredit=null, pullQuoteMemId=null, offerSubHead=null, subHead=null, displayOrder=0,includeInGoogleSearch=false]
May 17, 2018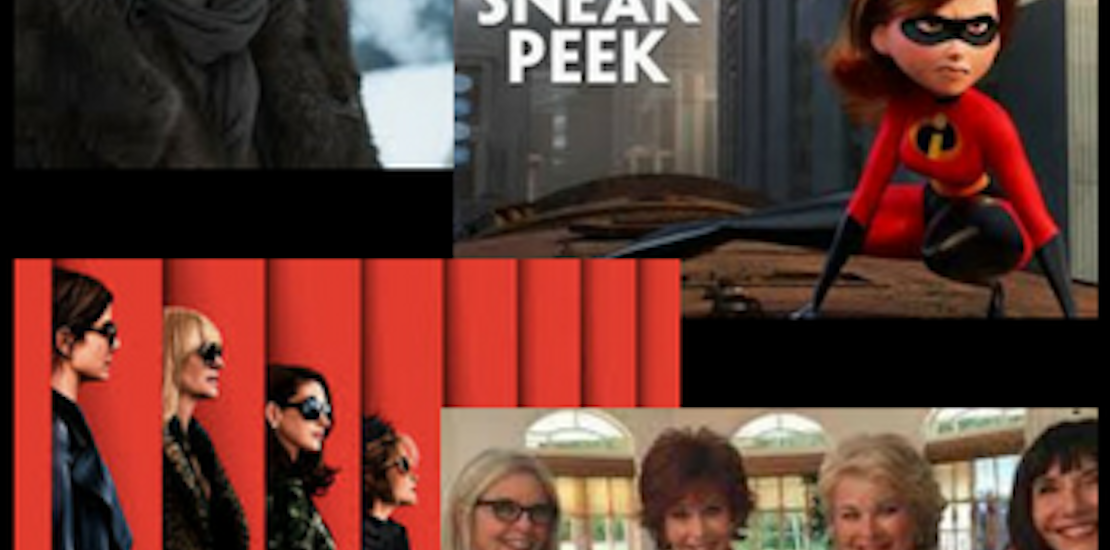 From Black Panther to Avengers: Infinity War, 2018 is already proving to be a big year for the movies. But just wait, the summer is about to begin, and there's a lot about to be released that you will not want to miss.
Check out the movies everyone will be talking about this summer. Plus, enter to win a $75 gift card to the movie theater of your choice to watch your favorites!
Book Club, May 18
Four friends read the infamous 50 Shades of Grey in their book club, inspiring them to rekindle old flames and search for new ones. Starring Diane Keaton, Jane Fona, Candice Bergen and Mary Steenburgen, this film is sure to make you smile, and try for a little romance of your own.
Solo: A Star Wars Story, May 25
This movie is for all the Star Wars fans out there. Directed by Ron Howard, Solo is the back story of Hans Solo, showing how he meets copilot Chewbacca and deals with Lando Calrissian, long before he joins the Rebellion.
Ocean's 8, June 8
Similar to its predecessor Oceans 11, Oceans 8 uses an all-star cast try to pull off an impossible heist. In this one, the crew, lead by Sandra Bullock, attempts to steal a $150 million necklace from the annual New York City Met Gala.
Won't You Be My Neighbor, June 8
If you're in the mood for a documentary this summer, check out Won't You Be My Neighbor, the film about Mr. Rogers' Neighborhood and its star, Fred Rogers. It explores the hugely popular TV series and the messages of kindness and love it displayed for more than 30 years.
Incredibles 2, June 15
In a fun role-reversal for the Incredible family, mom Elastigirl is needed to save the world, while Mr. Incredible stays at home with their three children, including Jack-Jack who has is clearly still learning how to control his powers.
Crazy Rich Asians, August 17
Based on the best-selling novel of the same name, Crazy Rich Asians is a fun take on what happens when an American girl visits her fiance's family, only to discover that he is one of the wealthiest and most eligible bachelors in Asia.
But wait, there's more...
Like action movies? Jurassic World: Fallen Kingdom will be out on June 22 and Mission Impossible - Fallout will be in theaters a month later on July 27. Are you a superhero fan? Check out Deadpool 2 on May 18 and Ant-Man and the Wasp on July 6. These big blockbusters will all be fighting to earn the summer's big bucks.
What summer movie are you looking forward to? Tell us and you could win a $75 gift card to your favorite movie theater!
There are two ways to enter:
Simply comment below and tell us what movie you are excited to watch. It could be on this list or not.
AND/OR
Tweet about the giveaway!
Click here to Tweet: "Excited for this year's summer movies so I'm entering the @SheSpeaksUp $75 #SheSpeaksMovieTix #giveaway! bit.ly/2IF7k2D"
*One lucky commenter or Tweeter will be chosen at random to receive the $75 gift card to the movie theater of their choice, provided that gift cards can be bought online for that location. Giveaway is open through June 3rd, 2018 to U.S. residents at least 18 years of age. Entrants must be a member of SheSpeaks. If you are not a member, click here to join. Winner will be notified by email.