Why the Short Wedding Dress is More Popular Than Ever

By
SheSpeaksTeam
Dec 03, 2014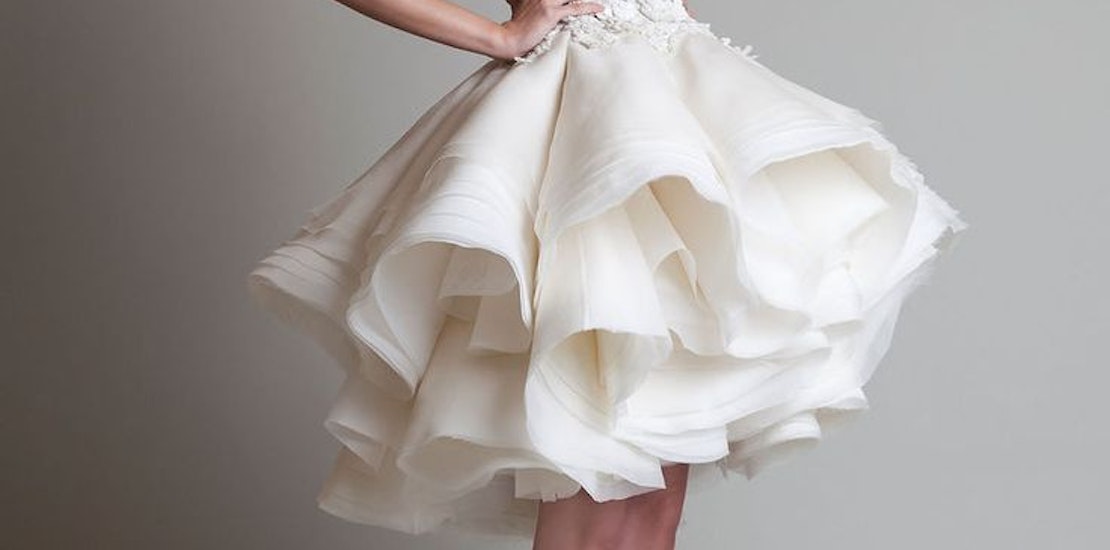 A bride's ankles and knees are not something we're used to seeing traipsing down the aisle on the big day. But as more and more take to the short wedding dress trend, there's a good chance we'll be seeing a lot more leg at future nuptials.
ABC News reports via the AP about the short dress look that is becoming more popular among brides. In the past, we became familiar with the short wedding dress at more casual affairs like when brides were tying the knot for the second time or just going for a quicky marriage at the courthouse. But as a variety of styles has become available, more women are attracted to the look and choosing a shorter length as their ultimate fairytale dress. David's Bridal executive vice president of design Anne Acierno reveals that of the 75 gowns launched for the 2015 Spring line, 26 of them are short.
The length of the dress varies from minis to just below the knee and a lot of gowns are now coming with the option to be both short and long. The "transformer" gown comes with a detachable train that when taken off turns the dress into a shorter version. Designer Zac Posen made a very non-traditional red wedding gown for his sister that came with a detachable train. Posen explains how the bride managed to make a big statement with the gown. He says, "Her huge train came off to become a mini and she took it off to Judy Garland's 'Zing! Went the Strings of My Heart. It covered the grandeur of the ceremony and the fun of the party."
Part of the reason why brides may be going shorter these days is because their ceremonies and receptions are more on the intimate side, rather than grand affairs held in ballrooms. Wedding gown designer Monique Lhuillier explains how brides are simply trying to fit in with the vibe of their wedding by choosing shorter styles. She says, "A lot of people are doing more intimate settings, so a shorter dress just feels more appropriate. If they do the big wedding, some change into a shorter dress so they can dance and have a good time."
What do you think of the short wedding dress look?
What's your favorite style wedding dress?