Why Some Moms Choose Virtual Reality Over an Epidural

By
SheSpeaksTeam
Sep 16, 2019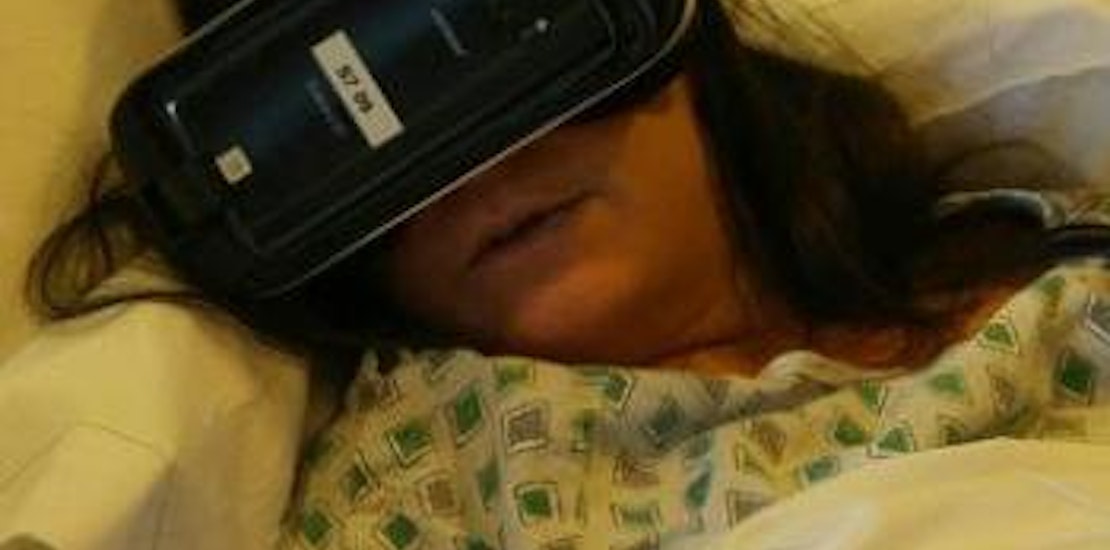 Michael Martucci
For moms who want a drug-free "natural" birth, there may be an answer that will get them through the strongest of contractions a little more smoothly. With the help of new tech, moms can now breathe through labor pains by strapping on a pair of VR goggles and being whisked away to a tropical beach, far from the beeping and buzzing of their hospital room.
CNN reports about one New Hampton, New York mom's experience with a VR headset while in labor that has her asking her doctor for a repeat experience for the birth of her next child. Back in 2016, Erin Martucci was getting ready to give birth to her second child. She was determined to deny the epidural, but still had a lot of anxiety about the pain of giving birth.
When Martucci's doctor suggested she try out wearing the VR headset to get through her contractions, she was a little hesitant but gave it a try anyway. For the next couple of hours Martucci listened to a disembodied, soothing voice that guided her breathing and took her away to a beach scene. Though she admits she was still 100% aware she was in labor the whole time, she says the experience was "surreal" and helped to shift her focus away from the pain she was having.
After two hours, which she says felt like a lot less, her doctor removed the headset and told Martucci it was time to push. Martucci explains, "It was surreal Holy cow are you kidding me? I did it; how did this equipment help me?' But it really did." This is precisely why, as Martucci gets ready to have her third child this fall, she has already told her doctor that she will be using VR tech to help her through delivery.
Hospitals and doctor's offices are just now starting to see the benefit of pain management through VR. At Santa Rosa Memorial Hospital in Santa Rosa, California, patients can use one of their dozen VR headsets they keep on hand to get them through early stages of labor and even some common in-office gynecological procedures. Jonathan Kurrs is an ob-gyn at Santa Rosa Memorial and explains how he is very happy that his hospital is exploring the option of VR to manage patient's pain. He says, "Even just helping them relax or have certain breathing techniques they can perform during difficult situations is a great avenue that I'm glad that we've started walking down."
What do you think of the idea of using VR tech to manage pain during child birth?
Do you think more hospitals and doctor offices should explore the possibility of using this type of technology to help their patients?