When Parents Experience Halloween Costume Confusion

By
SheSpeaksTeam
Oct 26, 2012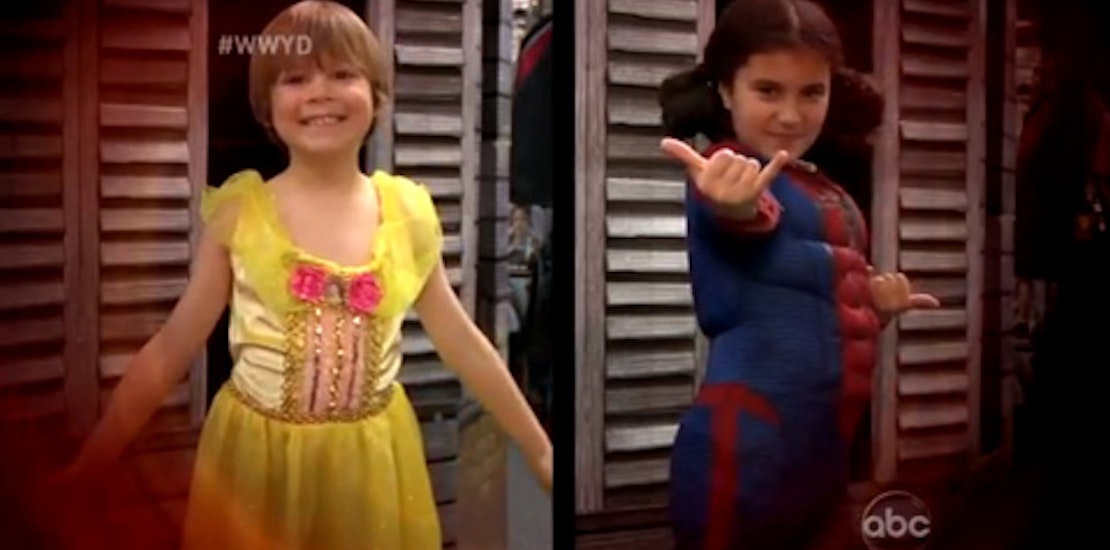 Many moms have encountered the son who wants to be Cinderella or the daughter who would like a Spiderman costume for Halloween. Some parents will flat out deny their kids the opportunity to dress in costumes that are often associated with the other gender. Whether it be out of fear that the child will be picked on while trick-or-treating or embarrassment over what neighbors will think, sometimes parents feel they have to put their foot down and not allow the child to dress this way.
A recent episode of ABC's hidden camera show "What Would You Do?" shows how other moms react in a costume shop when an actor mom gets into an argument with her son who say he wants to dress like a princess. In most instances, the bystanders agree with the mom and feel she should talk her son out of wearing the costume.
In another segment the actor mom's child is a little girl requesting to be Spiderman for Halloween. Though most shoppers side with the mom in the issue and try to talk the children into wearing more "gender appropriate costumes" one young woman does try to talk the mom into allowing her daughter to be herself and choose whatever costume she wants.
Parents seem to be mixed on the issue of whether they should allow their kids to dress as a different gender on Halloween. Some feel that there is less of a stigma when it comes to girls donning traditional male costumes. One ABC News poll finds that slightly more parents agree that they should allow their young sons to dress in Halloween costumes traditionally worn by girls.
What do you think? Has your son or daughter ever wanted to dress in a costume not traditionally worn by their gender?
Would you allow your son to dress as a princess or your daughter to be Spiderman on Halloween?