What Would You Trade For a Pound of Bacon?

By
drodriguez
Sep 11, 2012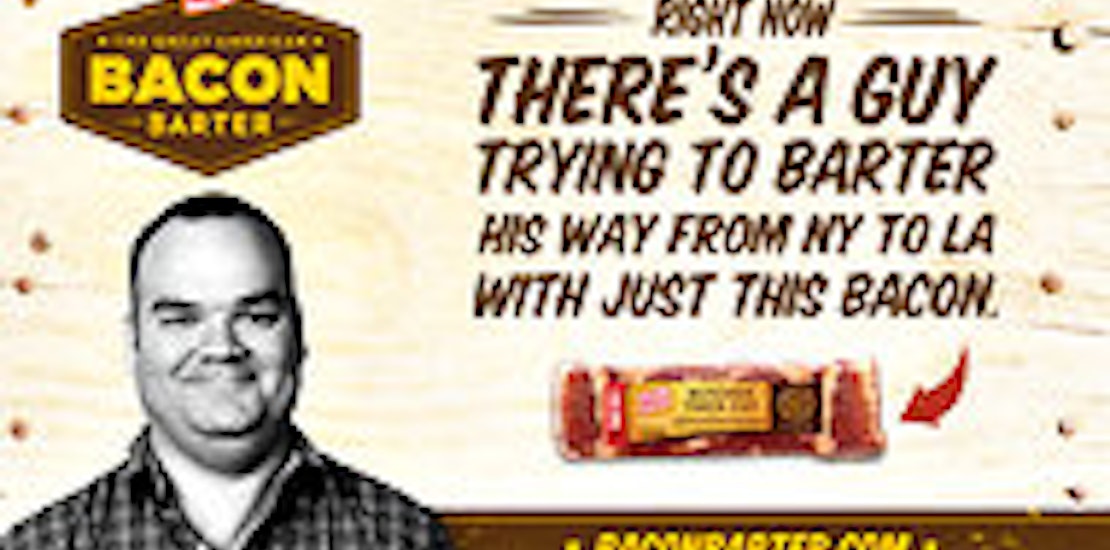 In what some would call a genius marketing campaign Oscar Meyer is sending actor, comedian, and writer, Josh Sankey, on a mission to find out just how deep America's love for bacon goes. Sankey will be driving across the country from New York to Los Angeles without a dollar to his name or a credit card to fall back on. Though the actor will be penniless, he will never want for bacon on his travels - Oscar Meyer is loading his trailer with 3,000 pounds of their new Butcher Thick Cut bacon.
The New York Times reports about the promotion in which Sankey will attempt to trade bacon for fuel, food, a place to spend the night and anything else he needs along the journey. During his travels, folks will be able to keep up with Sankey via social media like Twitter and his very own YouTube channel.
Oscar Meyer is counting on the already-present bacon craze to lend success to the imaginative promotional tour. Tom Bick, director for integrated marketing communications and advertising at Oscar Mayer, explains why Sankey's journey will help sell their new higher end bacon product that will retail for about $8.99 a pound (a good $4.00 higher than their Center Cut bacon). Bick says, "There's this fever for bacon in this country. How do we tap into that? If we don't do something to put Oscar Mayer in its rightful place, then shame on us."
The success of the barter-for-bacon journey is yet to be seen, but if all goes well it may cause other companies to think more outside the box when it comes to marketing strategies. Bick explains, "We have to think beyond the traditional means we've used, shooting a commercial for $500,000 and airing it for $5 million." When compared to the cost of this bacon tour, which Bick says will be "a couple hundred thousand dollars", this type of marketing could be the way of the future.
What do you think of the upcoming barter-for-bacon tour?
Do you think this will prove to be a successful way to market bacon?