What Luck! A New Recipe for St. Patrick's Day

By
Erin Coopey
Mar 14, 2011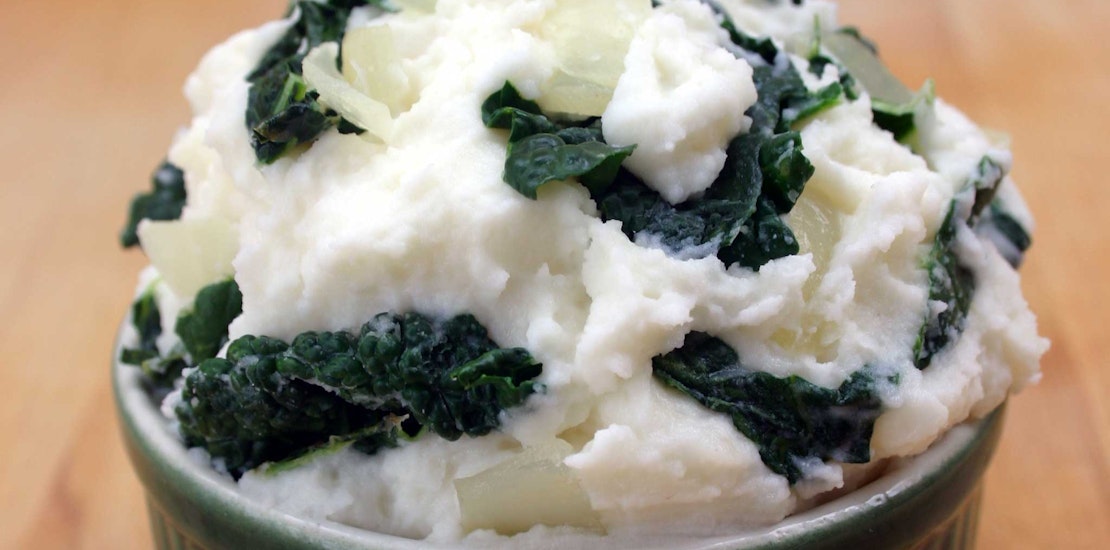 St Patrick's Day is just around the corner. Americans of all ethnicities embrace their inner leprechauns by wearing green and raising a pint to celebrate. Many partake in the ubiquitous Irish-American tradition of eating corned beef and cabbage, as well. But do we really like it? Good corned beef? Yes! But tasteless, cottony potatoes and wilted cabbage? Probably not. (Although the starch might keep the ghoulies at bay after too much green beer.)
Admittedly, potatoes and cabbage have been sustenance foods in Ireland for ages. I'm not knocking that, but they don't have to be bland and boring! I suggest you shake up your menu and try a flavorful, classic Irish side dish ? Potatoes Colcannon.
Colcannon, Irish for "white-headed cabbage," consists mainly of mashed potatoes with kale or cabbage though there are many variations. It's commonly served on St. Patrick's Day and Halloween but once you've tried it, you'll want to serve it year-round. It's terrific with grilled sausages, roasted pork and ham.
Potatoes Colcannon
Serves 8
Ingredients:
2 lbs (about 6) russet potatoes, peeled and quartered
8 tbsp (1 stick) butter, cut into small cubes
1/2 cup milk or cream
1 onion, finely chopped
3 cups coarsely chopped green cabbage
1/8 tsp grated nutmeg
salt and freshly ground pepper, to taste
Directions:
Put the potatoes in a large pot, add water to cover the potatoes by 2 inches and generously salt the water. Bring to a boil over medium-high heat and cook until the potatoes are tender when pierced with a knife, about 15 minutes.
While potatoes are cooking melt 2 tbsp of the butter in a heavy pot or Dutch oven over medium heat. Add the onion and cook, stirring occasionally, until softened, about 5 minutes. Add the cabbage and toss until tender-crisp, about 8 minutes. (If you are substituting kale for the cabbage, cook it a little longer to ensure that it's tender ? about 15 minutes.) Sprinkle with nutmeg and season with salt and pepper.

Drain the tender-cooked potatoes, return them to the pot and mash well. Add the remaining 6 tbsp of butter, allow to melt, and stir to combine. Slowly stir in milk. Season with salt and pepper. Fold the potatoes into the cabbage mixture and serve warm.
*You can substitute 1 bunch curly kale (about 3/4 lb), stemmed and coarsely chopped
What do you serve on St. Patrick's Day? Are there any traditional dishes you'd like to share?
May you have warm words on a cold evening, a full moon on a dark night, and the road downhill all the way to your door. Happy St. Patrick's Day!