We're so #thankFULL for our 12 Days of SheSpeaks Charity Partner, @FeedingAmerica

by
SheSpeaksTeam
is this the date @ED : BlogVO [categoryId=70165, blogId=145253, blogTitle=We're so #thankFULL for our 12 Days of SheSpeaks Charity Partner, @FeedingAmerica, publishingDate=December 01, 2017 12:00 AM, maxResponses=null, noOfComments=null, fileId=30530, blogClosingDate=null, blogCommentClosed=null, blogCategoryId=70165, queryId=0, blogCategoryIdIndex=0, sharedCategoriesList=null, blogStatusId=34, commentsClosedFlag=false, categoryIdForLog=0, blogModuleCategoryId=0, blogFileVo=null, latestCommentsList=null, verticalCatSeoURL=null, currentDate=01/20/2022, blogLink=null, authorName=SheSpeaksTeam, authorLognId=SheSpeaksTeam, authorAcctId=67580, vosTypeid=3, searchTestId=0, searchStatusId=0, searchAuthorType=0, authorBlogNumber=0, surveyData1=null, surveyData1Desc=null, surveyData2=null, surveyData2Desc=null, pullQuoteMemberId=null, filePath=null, fileName=null, vosType=0, subhead=null, offerSubhead=null, description=null, creationTime=null, authorFname=SheSpeaks, verticalCategoryId=null, sectionId=0, imageFileVO=FilesVO [fileId=30530, filePath=null, fileName=null, fileLength=0, fileWidth=0, createdBy=0, createByUser=null, creationTime=null, lastModifiedBy=0, lastModifiedByUser=null, lastModifiedTime=null, mimeType=null, fileRef=null, fileSize=0, extension=null, title=null, body=null, completeFilePath=/pages/img/redesign/blogs/FAblogpost2_12012017084201.png, height=350, width=350, maxHeight=480, maxWidth=360, displayWidth=350, displayHeight=350, fileStatusId=0, searchKeyword=null, searchFlag=false, queryId=0, isExists=true], seoURL=We-re-so-thankFULL-for-our-12-Days-of-SheSpeaks-Charity-Partner-Feeding-America, seoTitle=null, pullQuotesList=null, pullQuote=null, pullQuoteId=0, searchFlag=false, authorByLine=SheSpeaksTeam, authorDesc=Powered by women who love to share what's HOT in reviews, deals & recipes., authorLink=null, authorFileVO=FilesVO [fileId=42371, filePath=null, fileName=null, fileLength=0, fileWidth=0, createdBy=0, createByUser=null, creationTime=null, lastModifiedBy=0, lastModifiedByUser=null, lastModifiedTime=null, mimeType=null, fileRef=null, fileSize=0, extension=null, title=null, body=null, completeFilePath=/pages/img/membersnaps/SheSpeaks_Logo_Symbol_Only_10182021080530.jpg, height=1777, width=1777, maxHeight=50, maxWidth=50, displayWidth=50, displayHeight=50, fileStatusId=0, searchKeyword=null, searchFlag=false, queryId=0, isExists=true], authorFileId=42371, authorType=0, storyImgFileVO=null, storyImgFileId=0, videoHtml=, authorImageFileId=0, authorImageFileVO=null, previousCategoryId=null, previousBlogStatusId=0, fromBlogDetails=0, blogCategoryName=Living, blogCategoryUrl=null, blogCategoryDesc=null, defaultImage=false, tags=null, optionIds=null, tagOptionId=null, tagId=null, tag=null, tagID=0, tagDetails=null, tagIds=null, testId=0, extBlogURL=null, extBlogStatus=0, bloggerSince=null, extBlogLimit=0, authorTestsList=[], blogURL=, blogName=, bloggerProfileId=0, sliderBlog=false, eventonHome=false, vosonHome=false, partyAndGiveawayDate=12/18/2017, imageCredit=null, pullQuoteMemId=null, offerSubHead=null, subHead=null, displayOrder=0,includeInGoogleSearch=false]
Dec 01, 2017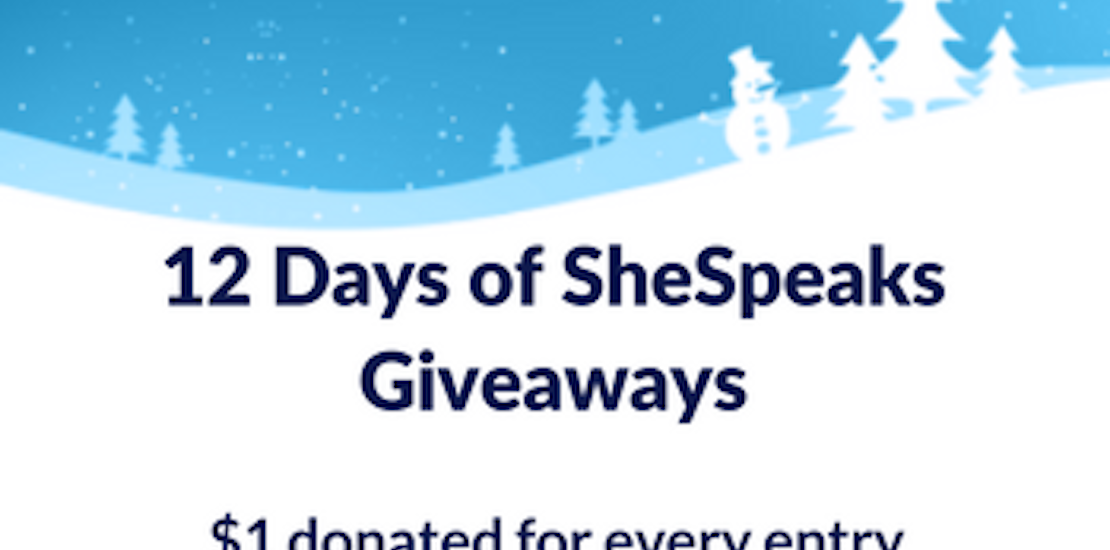 We're thrilled to be working with Feeding America as our charity partner of 12 Days of SheSpeaks Giveaways, so we can showcase the wonderful work of this organization and their #thankFULL holiday program.
For every 12 Days of SheSpeaks entry, $1 will be donated to Feeding America to help fight hunger in this country (up to $1,000).
Feeding America, through its network of food banks, helps 46 million people who struggle with hunger each year. Hunger knows no boundaries — it touches every community in the U.S., including your own.
This holiday season, Feeding America is celebrating gifts that matter through a new campaign, #thankFULL.
Here's how you can help...
Visit the Feeding America message board here where you can share what you are #thankFULL for this holiday season. A partner is generously providing 10 meals for every message posted, up to 100,000 meals!
Share the #thankFULL content with your friends
Record a video of you and/or your family showing what you're #thankFULL for and share it with the hashtag
Record a video about a misguided gift you've received and share it with the hashtag #thankFULL
Create a post about what you're #thankFULL for this holiday season and encourage your audience to do the same
Enlist the help of your followers to provide meals for families in need this holiday season, promote the #thankFULL message board as an easy way to give back
Gifts are stressful; it's hard to know exactly what someone wants. But a donation to Feeding America is the perfect solution: the giver and receiver are thankful that no one got stuck with a bad gift, and a family is thankful for the food they receive. Full bellies and no regrets: that's something everyone can be #thankFULL for.
Here's a fun video Feeding America created to showcase the #thankFULL message: