Viral Image Stirs Debate Over Whether Stores Should Use Super Skinny Mannequins

By
SheSpeaksTeam
Nov 07, 2014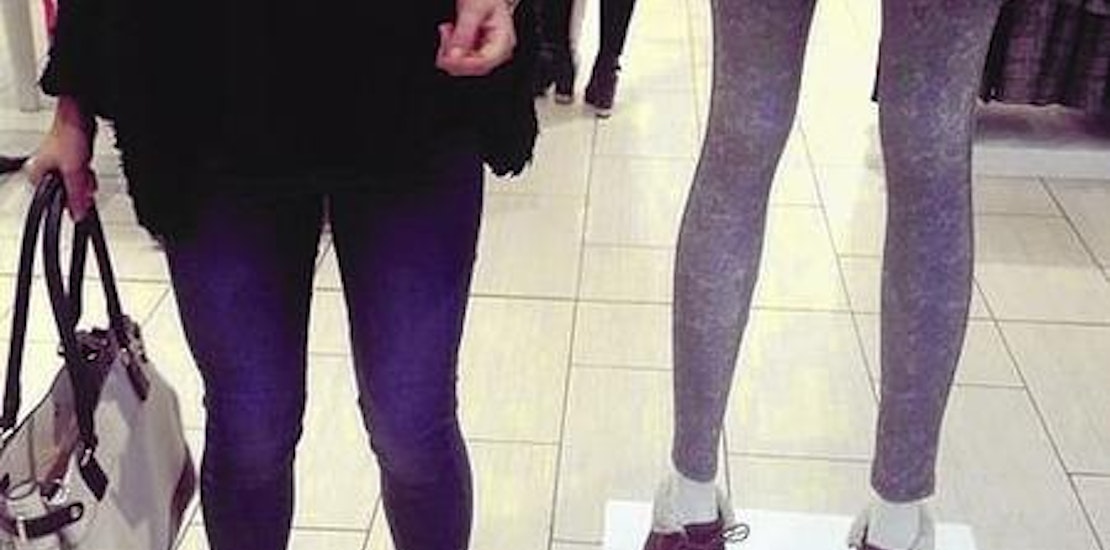 It's bad enough there are young girls attempting to fit some ideal body image as defined by airbrushed pages in magazines, but what about in the shops when they see the way mannequins look in their favorite styles. Two young women shopping in London's Topshop have caused quite a stir when they tweeted a photo comparing a mannequin's super skinny legs next to their own.
The Chicago Tribune reports about the controversy causing tweet and begs the question whether or not mannequins should be made to fit a more realistic image of what women actually look like. After Becky Leigh Hopper posed for the image that has now gone viral, her friend Georgia Bibby tweeted, "The girl on the left is a size 8/10. #Topshop #poorbodyimage #irresponsible #fashion #highstreet."
Hopper later explained in her blog that the purpose of tweeting the photo was to try and get Topshop to display more realistic and diverse mannequins in their store. She writes, "We walked into the shop and were in absolute shock at what faced us. The mannequins were thinner than any human being I have seen in my life. I decided to take a photo of my best friend stood next to it – she's a size 8/10 – to show the huge difference between her and the mannequin."
Topshop is quoted in HLNTV responding to the viral image saying, "The mannequin in question has been used in stores the past four years and is based on a standard UK size 10. The overall height, at 187cm, is taller than the average girl and the form is a stylised one to have more impact in store and create a visual focus. Mannequins are made from solid fibreglass, so in order for clothing to fit, the form of the mannequins needs to be of certain dimensions to allow clothing to be put on and removed; this is therefore not meant to be a representation of the average female body."
What do you think of the mannequins this store uses to display their clothing?
Would you prefer to see stores using more realistic sized display mannequins?