Veggie Pizza Bites
submitted by jintoki {1 Recipe}
Prep Time:
5 Mins
Cook Time:
10 Mins
Total Prep + Cook Time:
15 Mins
Level:
Easy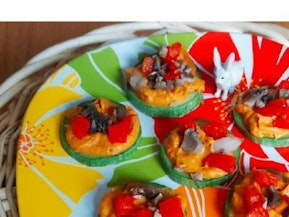 Makes: 10 servings
Description: A quick and healthy snack!
Ingredients:
1 Zucchini
1/2 cup Red pepper hummus
1 Red pepper
5 Button mushrooms

Instructions: 1. Slice the zucchini in 0.25 inch thick circles. Dice the red pepper and mushrooms into small pieces. Smaller the better, since they will be your toppings.
2. Toss everything into a boiling pot of water and cook for 2 to 3 minutes. This is to help make the vegetables tender for the toddler. If this is for older children and adults, you can skip this step. Drain the vegetables.
3. Place zucchini circles on a plate. Spread a small amount of red pepper hummus onto each circle. Red pepper hummus best imitates tomato sauce in real pizzas, but if color doesn?t matter to you, feel free to use any other flavor of hummus.
4. Sprinkle the diced veggies on top. Let cool and enjoy. You can use any other veggie toppings on your veggie pizza bites, too. Red pepper and mushrooms just happen to be the ones my daughter loves.
via Her Life Is Love
Other recipes in appetizers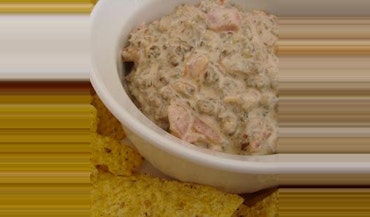 By
Doodles521
Jul 09, 2014
Always a party favorite!
Read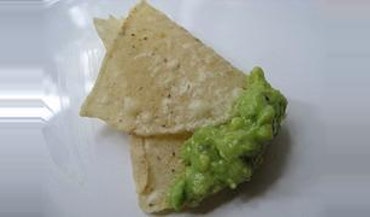 By
acohen
May 08, 2012
Delicious guacamole made with plain, nonfat Greek yogurt. image credit: flickr/ilovemypit
Read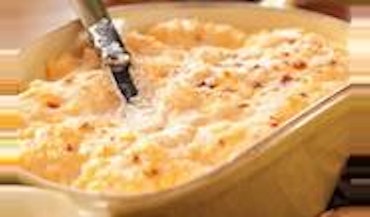 By
tammiehickey2012
Jul 23, 2014
This cheddar, Vidalia dip gets a nice kick from an added cup of pepper Jack cheese. It's fun to serve with an assortment of crackers and bread sticks.
Read