By
AnAmericanHousewife
Apr 07, 2012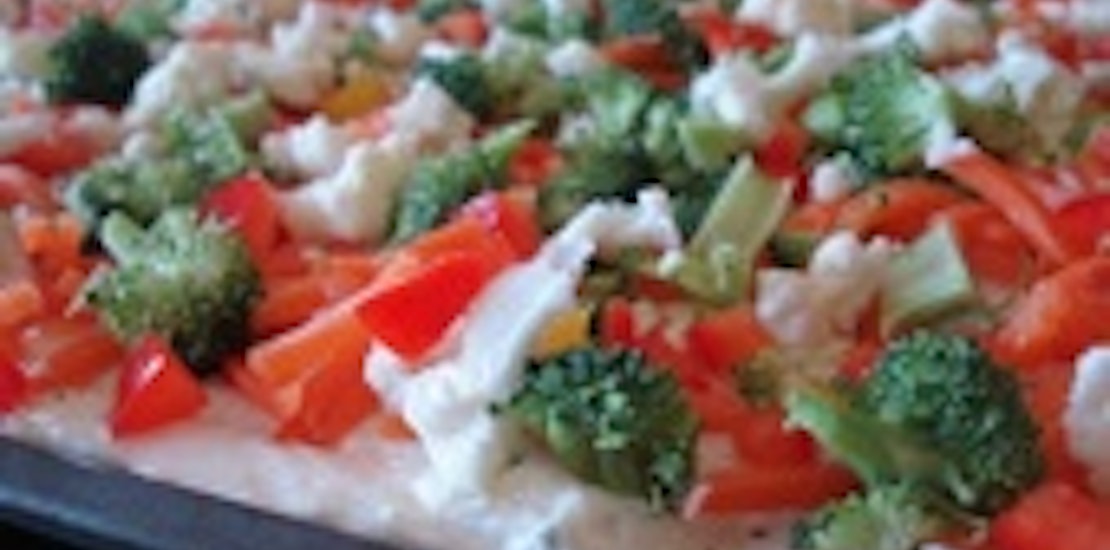 Full of vegetables but so light and delicious even picky eaters will ask for seconds. A thin crust, a mouth watering layer of seasoned cream cheese and topped with your choice of bright, nutritious and colorful vegetables. Serve as an appetizer, lunch or even a light dinner on a warm evening.
Vegetable Squares
1- 8 oz. pkg. cream cheese (regular or low-fat is fine)
1/2 dry package of Hidden Valley Ranch Dressing Mix
1/2 c mayonnaise
1 clove fresh minced garlic
Various vegetables* - chopped
1 can oven ready crescent rolls (regular or low-fat)

Open the can of crescent rolls and press the seams together to form one full crust on a baking sheet or pan. The size can be anywhere from 8X8 to 9X13. The size of the pan determines how thick you want your crust to be. I like a 9X13" pan. Bake at 375 for about 13 minutes as directed on the package. Let cool while you mix the cream cheese, fresh garlic, dressing mix and mayonnaise with an electric mixer until smooth.

Spread the cream cheese mixture on the baked crust. Top by sprinkling a variety of fresh vegetables on top. Almost any vegetable you would normally dip in a fresh dip or dressing would work. *Carrots, cucumbers, jicama, cauliflower, red, yellow and green peppers, tomatoes, broccoli, celery and more. Use at least 3 vegetables for best flavor. Eat immediately or chill to serve cold.
$PullQuote$