Understanding Digestive Healing & Giveaway

by
SheSpeaksTeam
is this the date @ED : BlogVO [categoryId=70165, blogId=145943, blogTitle=Understanding Digestive Healing & Giveaway , publishingDate=November 16, 2021 12:00 AM, maxResponses=null, noOfComments=null, fileId=42573, blogClosingDate=null, blogCommentClosed=null, blogCategoryId=70165, queryId=0, blogCategoryIdIndex=0, sharedCategoriesList=null, blogStatusId=34, commentsClosedFlag=false, categoryIdForLog=0, blogModuleCategoryId=0, blogFileVo=null, latestCommentsList=null, verticalCatSeoURL=null, currentDate=10/04/2023, blogLink=null, authorName=SheSpeaksTeam, authorLognId=SheSpeaksTeam, authorAcctId=67580, vosTypeid=3, searchTestId=0, searchStatusId=0, searchAuthorType=0, authorBlogNumber=0, surveyData1=null, surveyData1Desc=null, surveyData2=null, surveyData2Desc=null, pullQuoteMemberId=null, filePath=null, fileName=null, vosType=0, subhead=null, offerSubhead=null, description=null, creationTime=null, authorFname=SheSpeaks, verticalCategoryId=null, sectionId=0, imageFileVO=FilesVO [fileId=42573, filePath=null, fileName=null, fileLength=0, fileWidth=0, createdBy=0, createByUser=null, creationTime=null, lastModifiedBy=0, lastModifiedByUser=null, lastModifiedTime=null, mimeType=null, fileRef=null, fileSize=0, extension=null, title=null, body=null, completeFilePath=/pages/img/redesign/blogs/Podcast Giveaway Headers_11162021193356.jpg, height=540, width=1110, maxHeight=480, maxWidth=360, displayWidth=360, displayHeight=175, fileStatusId=0, searchKeyword=null, searchFlag=false, queryId=0, isExists=true], seoURL=Understanding-Digestive-Healing-Win-a-Teami-Blends-30-Day-Detox-Kit, seoTitle=null, pullQuotesList=null, pullQuote=The benefits [of detox] are giving your body a kick-start...and giving your gut health a chance to work..., pullQuoteId=1395, searchFlag=false, authorByLine=null, authorDesc=null, authorLink=null, authorFileVO=FilesVO [fileId=42371, filePath=null, fileName=null, fileLength=0, fileWidth=0, createdBy=0, createByUser=null, creationTime=null, lastModifiedBy=0, lastModifiedByUser=null, lastModifiedTime=null, mimeType=null, fileRef=null, fileSize=0, extension=null, title=null, body=null, completeFilePath=/pages/img/membersnaps/SheSpeaks_Logo_Symbol_Only_10182021080530.jpg, height=1777, width=1777, maxHeight=50, maxWidth=50, displayWidth=50, displayHeight=50, fileStatusId=0, searchKeyword=null, searchFlag=false, queryId=0, isExists=true], authorFileId=42371, authorType=0, storyImgFileVO=null, storyImgFileId=0, videoHtml=, authorImageFileId=0, authorImageFileVO=null, previousCategoryId=null, previousBlogStatusId=0, fromBlogDetails=0, blogCategoryName=Living, blogCategoryUrl=null, blogCategoryDesc=null, defaultImage=false, tags=null, optionIds=null, tagOptionId=null, tagId=null, tag=null, tagID=0, tagDetails=null, tagIds=null, testId=0, extBlogURL=null, extBlogStatus=0, bloggerSince=null, extBlogLimit=0, authorTestsList=[], blogURL=, blogName=, bloggerProfileId=0, sliderBlog=false, eventonHome=false, vosonHome=false, partyAndGiveawayDate=12/08/2021, imageCredit=null, pullQuoteMemId=Adi Arezzini , offerSubHead=, subHead=Episode 63, displayOrder=0,includeInGoogleSearch=false]
Nov 16, 2021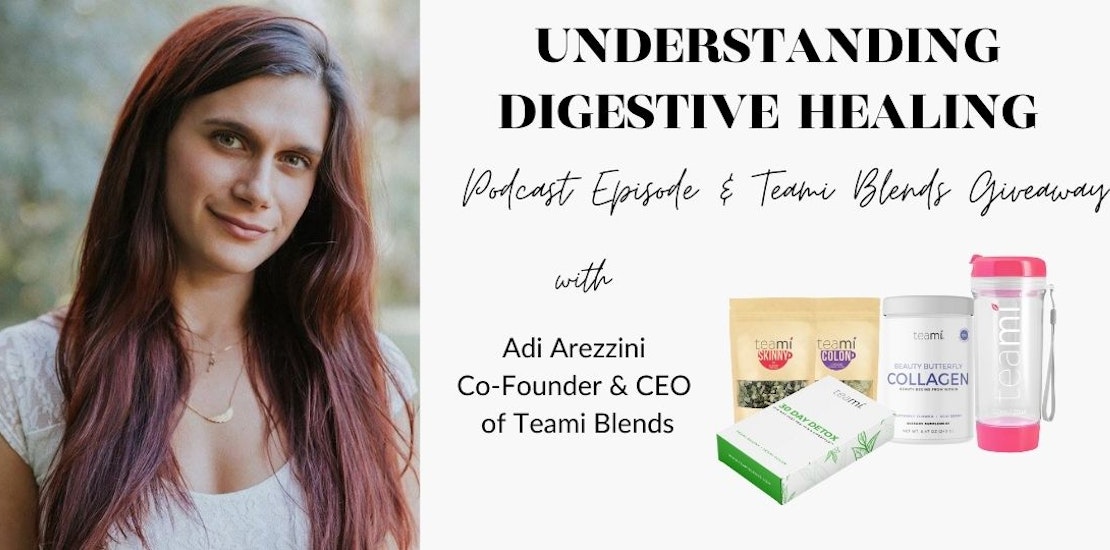 On a recent episode of the SheSpeaks podcast, we spoke with Adi Arezzini, the Co-Founder and CEO of Teami Blends, a brand dedicated to helping people live happier and healthier lives. Teami Blends uses the properties of tea in their approach to well-being, health & beauty. In the episode, you'll hear how Adi turned her search for alternative solutions to digestive issues into a thriving brand that provides natural answers to common digestive issues.
Read on to learn how you can win a Teami Blends prize package worth about $120!

Some Episode Highlights:
7:45 Hear how Adi discovered how Tea could help relieve her digestive symptoms & create the 30-Day Detox program.
10:05 Listen to how the 30-Day Detox works.
15:12 Adi explains how she grew her company and product offerings with the help of her social media community.
21:09 Adi discusses the challenge of failures as an entrepreneur
26:13 Listen to this advice for women who are ready to start or grow their business.
28:46 Adi provides some tips for growing your social media presence.
"The benefits [of detox] are giving your body a kick-start...and giving your gut health a chance to work..."
Giveaway:
Hoping to try out Teami Blends? You're in luck! We're giving away Teami Blends favorites in this prize package worth approximately $120!
30-Day Detox Pack
Beauty Butterfly Collagen Powder
Team Blends Tea Tumbler
Enter in the widget below!
Podcast Giveaway: Teami Blends Prize Package
One participant will be chosen at random to win a Teami Blends Prize Package worth $120, including Butterfly Beauty Collagen, 30-Day Detox, and Tea Tumbler. This giveaway is open through Dec. 7, 2021 to U.S. residents at least 18 years of age. Entrants must be a member of SheSpeaks. If you are not a member, click here to join. Winner will be notified by email.
Thanks to all who entered! Congrats to our winner, SheSpeaks member
user2626.