Twice Baked Potatoes
submitted by Savvyinkitchen {1 Recipe}
Prep Time:
15 Mins
Cook Time:
1 Hr 15 Mins
Total Prep + Cook Time:
1 Hr 30 Mins
Level:
Medium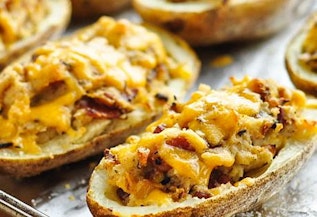 Makes: 4 4
Description: This is truly a show stopper in my family. It makes any baked potato feel restaurant style. My family likes them pretty plain, but you can add extra toppings if desired.
Ingredients:
4 Russet potatoes
6 Slices bacon
2 cups Shredded Cheddar
2 tbsp Butter
1 tbsp Olive Oil

Instructions: Preheat oven to 450
Wash potatoes with vegetable scrubber, rinse and pat dry. Rub potatoes with a bit of olive oil, then place in oven and bake potatoes for one hour. Remove potatoes from oven and carefully slice each potato in half length-wise.

Using a spoon, scoop out most of potato into large bowl. Be sure to leave enough potato to retain shell. Set potato shells aside. In bowl with potato filling, add two tablespoons butter. While potato filling is cooling down a bit, fry bacon slices until browned and drain on paper towel lined plate. Chop bacon into bits and toss bacon bits in with potato filling. Add two cups shredded cheddar to potato mixture along with a generous sprinkle of salt and pepper to taste.

Mix well to combine. Spoon mixture back into potato shells and sprinkle with more shredded cheddar. Place potatoes back into oven and cook for another 15-20 minutes or until cheese is melted.
Other recipes in side dishes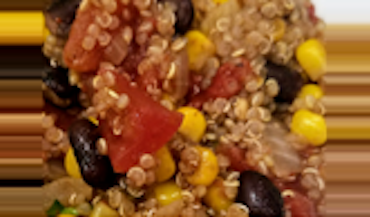 By
abenjam2
Apr 16, 2018
Use up those leftover grains with my pantry raid recipe for Naked Burrito Quinoa - no fill in trip to the grocery store required!
Read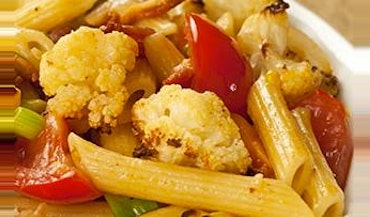 By
Unchained7783
Jul 01, 2014
I know this sounds too easy & simple to make a fuss over, but this is the MOST amazing pasta dish & side with a meal, especially grilled meats. The key t…
Read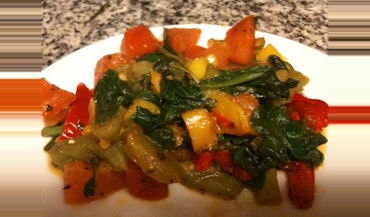 By
csherman
Sep 22, 2011
This is a great way to get in a variety of healthy vegetables and make a pretty side dish.
Read