Tori Spelling's Girls' Day Out: How Do You and Your Daughters Spend Time Together Over the Holidays?

By
drodriguez
Dec 09, 2011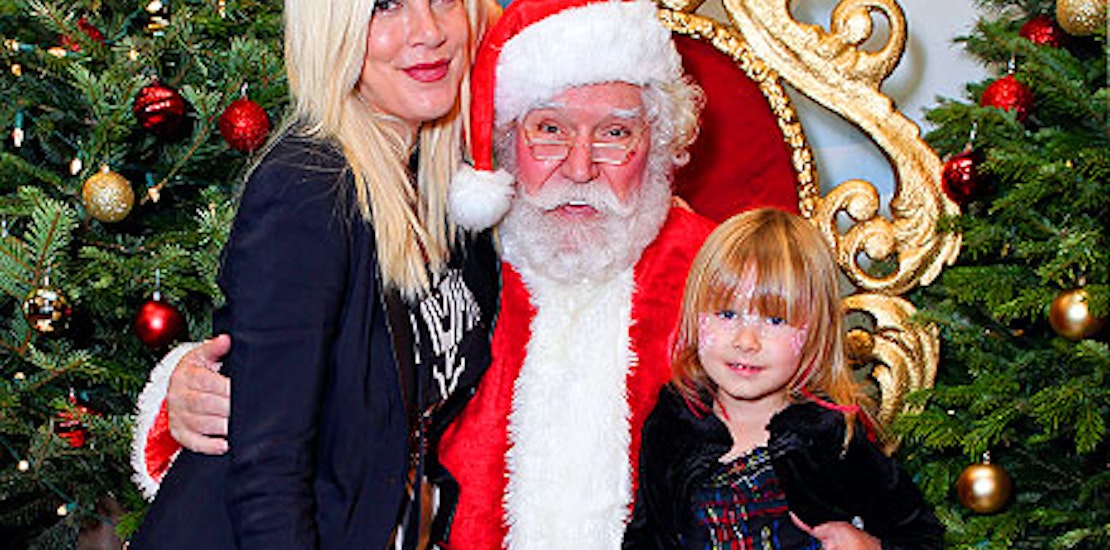 The holidays are here, a time for families to be together and enjoy the excitement of the season. If you've been busy shopping, baking, and planning get-togethers – you're not alone. But let's all make sure to plan some quality time with the people that mean the most.
Tori Spelling recently took her two daughters, Stella 3 and Hattie just 7 weeks, for a fun-filled girls' day where they got to meet Santa at his Secret Workshop. The Hollywood event featured all sorts of fun things for kids from face painting to decorating Christmas cookies.
Carving out some special bonding time with your kids early on can really help cement a stronger relationship as they grow. And what better time to have a mother/daughter day than the holidays when your little ones have the time off from school?
Here are a few ideas to get you started on your special holiday mother/daughter time:
Making it sparkle
Get crafty with your kids and save money on holiday decorations at the same time. Pick up some Styrofoam balls at your local craft store and let your girls go wild turning them into glittery sparkly ornaments for the tree. Or turn some plain candle holders into stylish festive decor with these simple tips on how to decoupage from blogger Ellen Christian.
Gifting with the girls
If your girls love to shop then take them out for a special day and let them choose gifts for the people in your family. Make sure to set a budget and try not to have high expectations for getting your own shopping done. Remember, this is a day to be with your girls, make it relaxing and let them take their time picking out the perfect thoughtful gifts. Don't forget to stop for hot chocolate and treats as you go!
Giving Back
It's important that we show our daughter's the real meaning of the holiday season. Teaming up with your daughters at a soup kitchen or even just going through their toys to make a donation to a toy drive is a great way to teach our kids about the importance giving back. Blogger Heather A. Monica has some great ideas on how you and your kids can get involved this holiday season.
Baking sweet treats with your sweeties
If you've got loads of baking to do before the holidays hit then set aside an afternoon and enlist your girls as helpers. Try these "mint chocolate delights" recipe from blogger Tara Pittman. The green chips and minty chocolate flavor in this indulgent dessert are perfect festive fun and much more unique than your everyday chocolate chip or sugar cookie.
Do you plan special days with just your daughters?
Tell us about your mother/daughter days during the holiday season!
*WireImage/Tiffany Rose*