Topping It All Off - Mashed Potato Martini Bar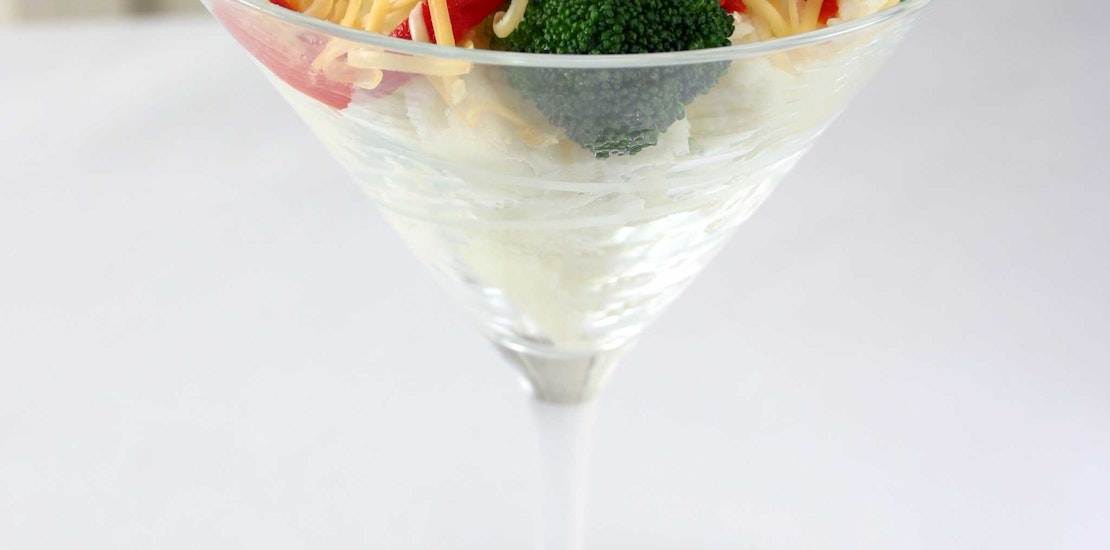 The holidays are usually a mix of family and friends. If you find yourself needing a crowd-pleasing party food, I've got just the ticket. A Mashed Potato "Martini" Bar! (Don't worry, I am not referring to potato vodka. This idea is kid-friendly.) I am talking about build-it-yourself party food.
Mashed Potato Martini Bars are a big trend right now. They're an inexpensive option but one you can make look elegant. And everybody loves mashed potatoes.
So what is a Mashed Potato Martini Bar? It's mashed potatoes served in martini glasses with a salad-bar-style collection of toppings. It's also super fun and interactive for guests.
Here's what you need:
Martini Glasses - make it fun and festive. It's not just a mashed potato bar, it's a mashed potato martini bar. If you don't own a set, pick up some mismatched ones at a thrift store.
Mashed Potatoes - your favorite recipe. You'll need about 1/2 to 1 cup per person, depending on what else you are serving. You can keep the potatoes warm in a chafing dish or slow cooker.
Now you just need to put out a bunch of your favorite potato toppings. Here are a few suggestions to get you started.
Freshly Grated Cheeses (Cheddar, Pepper Jack, Parmesan - Whatever You Like)
Sour Cream or Your Favorite Potato Chip Dip
Cottage Cheese
Whipped Butter or Flavored-Butter
Chives or Green Onions
Pesto Sauce
Gravy
Cheese Sauce
Cloves of Roasted Garlic
Chili
Beef Stew
Caviar
Minced Ham
Crumbled Bacon
Garlicky Sautéed Shrimp
Corned Beef Hash
Sun-Dried Tomatoes
Sour Kraut
Sliced Kielbasa or Polish Sausage
Steamed Broccoli
Roasted Red Pepper Strips
Sautéed Mushrooms
French Fried Onions
Topping ideas are limitless. Try to offer at least 5 or 6 different choices so you're guest can get creative. I've seen people top their mashed potatoes with cheese, and that's it -- and others go through like it's a sundae bar, putting everything on it.
When your guests arrive, give them a brief overview of how to make their mashtini or better yet, be the first to go through the line. It'll show your guests what to do, plus nobody likes to be the first to do something at a party.
Plan for people to have seconds. You may even want to enforce a "two drink minimum!"
Happy Holidays!