Top Five Reasons to Buy (or Gift) an Immersion Blender

By
savvyjulie
May 29, 2011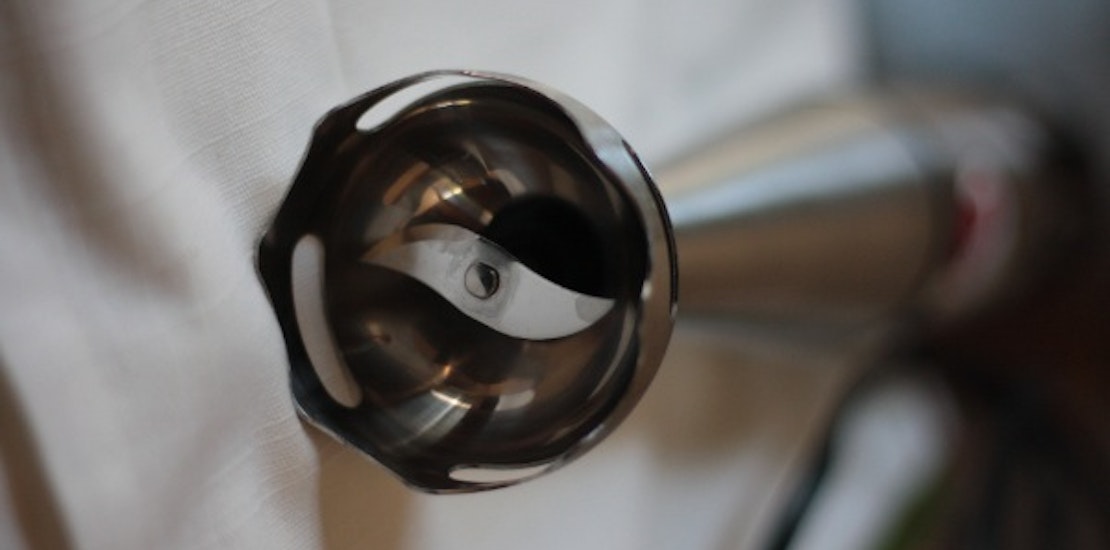 When I got married last May, my cousin was nice enough to gift us an immersion blender, which I quickly took to using at least once a day. Though my husband initially teased me about having "another appliance that chops and mixes things," he couldn't deny the fact that it was much more convenient and easy to clean than my stand mixer or 11-cup food processor. And now, I don't know what I ever did without it.
The immersion blender is the number one appliance I recommend to recent graduates, newlyweds and anyone else looking for a "starter" kitchen appliance. It is an affordable gift that is easy to store, has a quick clean-up time and has a wide range of applications.
Top Five Reasons to Buy (or Gift) an Immersion Blender
1. Easy clean-up. Lately, I only use my food processor if I'm making a big batch of something, like nut butter, pesto or veggie burgers. Otherwise, cleaning the huge bowl, sharp blade and the many other pieces just isn't worth the time and effort. The immersion blender, however, is a single easy-to-clean piece. Three max, if I'm using the attachments that came with my model.
2. Portability. Working in a small kitchen? No problem. An immersion blender takes up significantly less space than a full-sized blender or food processor. You can even travel with it if you want to be able to make smoothies on-the-go in your hotel room.
3. Single-serving size. When I'm making a single smoothie or milkshake, the immersion blender is much more convenient than a full-sized blender. It is also great for quickly chopping a small batch of nuts or chocolate for baking. And again, it provides easier clean-up!
4. Safety. Most creamy soup recipes call for you to pour batches of the soup into a blender to process until smooth. The problem is, if you fill up the blender too much, the hot liquid will spatter and burn you. It is both easier and safer to puree soup using the immersion blender instead. Just stick it in the pot and whir until smooth. This is also useful for cooking fruit butters and preserves for canning.
5. Useful attachments (does not apply to all models). My Cuisinart stick blender (the CSB-77 model) comes with a mini chopper and a whisk attachment. The mini chopper is perfect for chopping small amounts of nuts, while the whisk is great for little batches of whipped cream or whipped egg whites. Different immersion blenders come with different (or no) attachments, so do some research before you head out to the store to decide which is best for you.
What's your favorite small kitchen appliance?