New Podcast Episode with Top Chef's Tiffany Derry & Giveaway

by
SheSpeaksTeam
is this the date @ED : BlogVO [categoryId=70162, blogId=145850, blogTitle=New Podcast Episode with Top Chef's Tiffany Derry & Giveaway , publishingDate=April 07, 2021 12:00 AM, maxResponses=null, noOfComments=null, fileId=40439, blogClosingDate=null, blogCommentClosed=null, blogCategoryId=70162, queryId=0, blogCategoryIdIndex=0, sharedCategoriesList=null, blogStatusId=34, commentsClosedFlag=false, categoryIdForLog=0, blogModuleCategoryId=0, blogFileVo=null, latestCommentsList=null, verticalCatSeoURL=null, currentDate=01/28/2022, blogLink=null, authorName=SheSpeaksTeam, authorLognId=SheSpeaksTeam, authorAcctId=67580, vosTypeid=3, searchTestId=0, searchStatusId=0, searchAuthorType=0, authorBlogNumber=0, surveyData1=null, surveyData1Desc=null, surveyData2=null, surveyData2Desc=null, pullQuoteMemberId=null, filePath=null, fileName=null, vosType=0, subhead=null, offerSubhead=null, description=null, creationTime=null, authorFname=SheSpeaks, verticalCategoryId=null, sectionId=0, imageFileVO=FilesVO [fileId=40439, filePath=null, fileName=null, fileLength=0, fileWidth=0, createdBy=0, createByUser=null, creationTime=null, lastModifiedBy=0, lastModifiedByUser=null, lastModifiedTime=null, mimeType=null, fileRef=null, fileSize=0, extension=null, title=null, body=null, completeFilePath=/pages/img/redesign/blogs/Love at First Blog Post (6)_04062021181326.jpg, height=385, width=685, maxHeight=480, maxWidth=360, displayWidth=360, displayHeight=202, fileStatusId=0, searchKeyword=null, searchFlag=false, queryId=0, isExists=true], seoURL=Top-Chef-Tiffany-Derry-Talks-About-Her-Rise-to-Success, seoTitle=null, pullQuotesList=null, pullQuote=null, pullQuoteId=0, searchFlag=false, authorByLine=SheSpeaksTeam, authorDesc=Powered by women who love to share what's HOT in reviews, deals & recipes., authorLink=null, authorFileVO=FilesVO [fileId=42371, filePath=null, fileName=null, fileLength=0, fileWidth=0, createdBy=0, createByUser=null, creationTime=null, lastModifiedBy=0, lastModifiedByUser=null, lastModifiedTime=null, mimeType=null, fileRef=null, fileSize=0, extension=null, title=null, body=null, completeFilePath=/pages/img/membersnaps/SheSpeaks_Logo_Symbol_Only_10182021080530.jpg, height=1777, width=1777, maxHeight=50, maxWidth=50, displayWidth=50, displayHeight=50, fileStatusId=0, searchKeyword=null, searchFlag=false, queryId=0, isExists=true], authorFileId=42371, authorType=0, storyImgFileVO=null, storyImgFileId=0, videoHtml=, authorImageFileId=0, authorImageFileVO=null, previousCategoryId=null, previousBlogStatusId=0, fromBlogDetails=0, blogCategoryName=Entertainment, blogCategoryUrl=null, blogCategoryDesc=null, defaultImage=false, tags=null, optionIds=null, tagOptionId=null, tagId=null, tag=null, tagID=0, tagDetails=null, tagIds=null, testId=0, extBlogURL=null, extBlogStatus=0, bloggerSince=null, extBlogLimit=0, authorTestsList=[], blogURL=, blogName=, bloggerProfileId=0, sliderBlog=false, eventonHome=false, vosonHome=false, partyAndGiveawayDate=04/20/2021, imageCredit=null, pullQuoteMemId=null, offerSubHead=null, subHead=null, displayOrder=0,includeInGoogleSearch=false]
Apr 07, 2021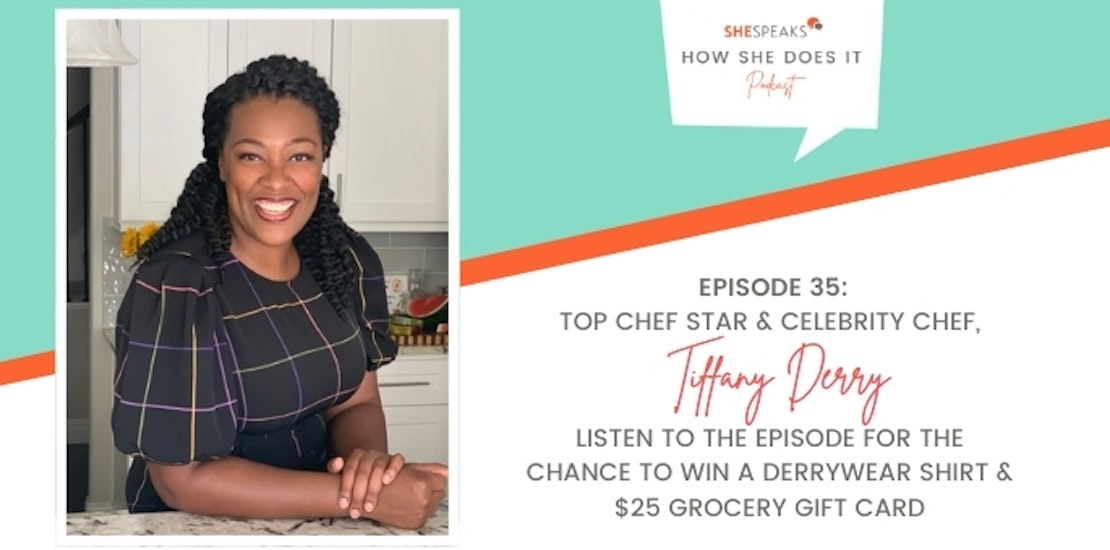 On Episode 35 of the #SheSpeaksPodcast, we sit down with Tiffany Derry, former fan-favorite Top Chef contestant who is currently appearing as a guest judge on the current season (18) of Bravo's Top Chef! Tiffany is a celebrity chef and restaurant owner who still finds the time to be an activist and give back to her community. Tiffany shares what it takes to run successful businesses and maintain a filming schedule.
Read on to see how you can WIN your choice of a shirt (up to $35 value) from Tiffany's DerryWear /'shef/ collection and a $25 grocery gift card to get cooking in your own kitchen!
Tiffany is funny, motivating, and inspiring in this episode. You will quickly see why she was voted the fan favorite contestant on Top Chef. You will learn about her rise to success and how she made her way to the top in a very male-dominated field. Tiffany also shares with us how the chance to appear on Top Chef came about and what it is like to come full circle and appear as a judge on the show, currently on Bravo.

Tiffany is a true star. We love that she extends her influence beyond the kitchen by helping to lobby in Washington D.C. for better food policies so no American goes hungry, and for helping mentor youth. Of her mission, Tiffany says she loves connecting with people. Once you listen to this episode, you'll see just how easy she is to relate to. If you like what you hear, consider leaving a review on our podcast.

"I've learned that food was just a gateway...what I learned that I love the most is the gift of people. Relationships; being able to talk with...my employees or the guests that come into the restaurant."
Inspired to start cooking in your own DerryWear /'shef/ shirt? Enter to win by listening to the podcast episode at shespeaks.com/Podcast. Then, in the gleam widget, tell us your favorite part of the podcast, something you were inspired by, or something that you took away from this episode.
If you like what you hear, consider following the podcast or leaving a review. We can't wait to hear what you think!
Podcast Giveaway: Tiffany Derry Episode
* One lucky participants will be chosen at random to choose a shirt from the /'shef/ collection from DerryWear (up to a $35 Value) and a $25 Grocery Gift card to the winner's choice of grocery store, provided that the gift card can easily be purchased online. This giveaway is open through April 20th to U.S. residents at least 18 years of age. Entrants must be a member of SheSpeaks. If you are not a member, click here to join. Winner will be notified by email.