By
savvyjulie
Sep 15, 2011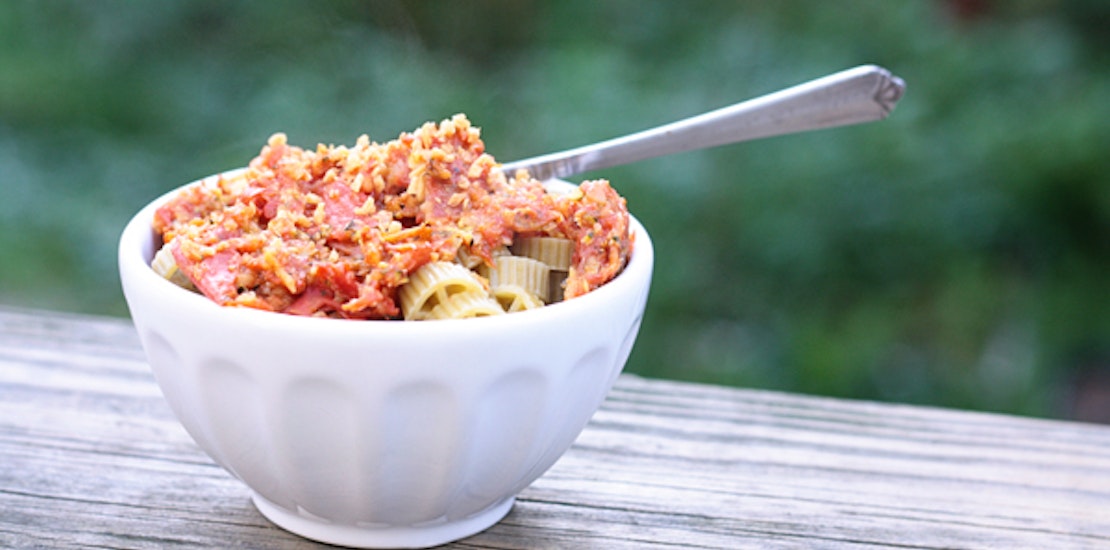 We're on the very tail-end of tomato season. Snatch up the last few fresh tomatoes you can find, and make this tomato-zucchini sauce for dinner this week. I love it over pasta, but it would also be excellent over grilled chicken, cooked quinoa or lentils.
No zucchini on hand? Replace it with a handful of fresh green beans or some spinach!
Tomato-Zucchini Sauce
This tomato-zucchini sauce adds even more veggies to your typical pasta sauce, and is perfect served over a variety of dishes. If you'd like, add your favorite dried or fresh herbs to taste when you season with the salt and pepper.
Serves 2
Prep Time: 15 minutes
Cook Time: 15 minutes
3 medium tomatoes
1 small zucchini
2 tablespoons olive oil
2 cloves garlic, minced
Salt and pepper to taste
In a food processor or blender, puree the tomatoes and shred the zucchini.
Warm the oil in a large skillet over medium heat and add the garlic, stirring until the garlic is fragrant and beginning to brown. Add the tomatoes and zucchini and cook, stirring occasionally, for 15 minutes, or until the juices from the vegetables begins to condense and thicken and a chunky sauce begins to form. Season to taste with salt and pepper, and serve over your favorite pasta, quinoa or chicken.