To Decorate or Not to Decorate THAT is the question.

By
tenkids2dogs
Jan 16, 2012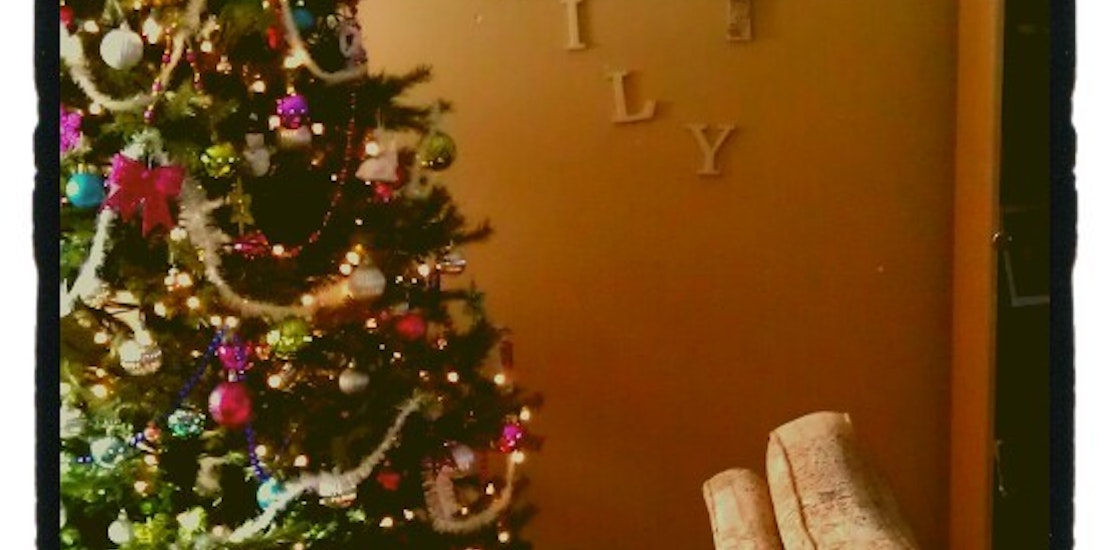 The weather is cold. Well, for today anyway. With this weather trend recently, NJ is 65 and sunny one day and 18 and gale force winds the next. Some of you may even have snow. But what is snow without Christmas decorations, right? The twinkling lights, the festive colors, ornaments from childhood on the tree, decked halls, poisonous plants sprayed with glitter and crèches, mangers, nativities, what ever the heck you want to call them, arranged delicately in places where the kids are tempted to play with them and the dogs are tempted to pee on them. The needles on the trees fall. Heck, my 3 fake ones shed worse than real trees this year! What's up with THAT?
The house smells like your cinnamon pine cones artfully arranged in a glass bowl by the front door, the fragrance of live Christmas trees waft through the house, and the aroma of cookies permeate every room. It doesn't matter the pine cones are plastic, you don't have a real tree, and you haven't "baked" since college. All the scents are available in oils, plug-ins, candles, filters, you name it, someone has made it smell good.
$PullQuote$Face it …. Christmas not only looks amazing. But it smells freakin fantastic too.
So, now what?
Its January. Any logical and or socially acceptable excuse to keep the decorations up have expired. And reluctantly, almost resentfully, you pack away all the holiday joy. Down come the boughs replete with gorgeous ribbons and glimmering lights, away go the crystal angels, the gold leafed glass decorations, the colorful stockings, the Santa and his reindeer. The holly branches, the icicle lights. Snowmen… no, you can leave snowmen and snowflakes too! I know because I asked.
What took a few days, or weeks to put up takes a few hours to get down. OK…ok… you got me… I was still decorating my trees on New Years eve before my guests arrived. Come on… I got AWESOME ornaments for 80% off the day before and I just couldn't wait till next year!
When you are decorating, you put on holiday music, wear some goofy ass hat (because you can get away with it!) and don your God awful holiday sweater that Mrs. Clause herself wouldn't be caught dead in. Your energy is immeasurable. Its like you have reindeer power! You sing and laugh and your kids look at you like an alien has taken over your brain and any minute now the worms will come from your ears. You're insanely happy and now…NOW… oy. Your hair is in an off kilter ponytail, your in your cleaning sweats, you can't seem to drink enough coffee to get you to fix that off kilter pony tail and the only music playing is in your head and it's a funeral dirge.
Its depressing!
The house is empty and it feels like your best friend has just moved out but you had to do all the packing for them.
You just want to drink wine straight from the bottle, get all melancholy and call them and beg them to come back home, or at least, return your favorite sweater they borrowed for that date with that jerk who showed up for the date with his cat and they never returned. I bet that cat ruined the sweater and she got rid of it and never told me. Forget her I'm glad she's gone…oh, wait, brain fart. Sorry. Christmas decorations. Where were we…..
Sad. SO SAD.
The house is naked. Your depressed. There's no wine and its only 10am anyway. So, what now?
Off to the store I shuffle, despondent and pathetic. I need to get more paper towels and Windex and maybe some healing chocolate when what to my wondering eyes should appear???
Isles and isles of Valentines and St Patrick's day decorations….a sea of pink and kelly green replete with sparkles, lights, plastic "KISS ME (who cares if I'm Irish or not)" signs and fat naked cherubs shooting flashing arrows at everyone and anyone its roly-poly little arms can reach.
COME TO MAMMA!!!!
Do you decorate for the other "holidays"?
Does your neighbor wrap her mail box in a new holiday cover every 2 weeks?
I mean, did you know Jan 7th was Old Rock Day? I did, because my neighbor enlightened me. I know.. I know… I'm blessed.
Do you consider August 8th Sneak Some Zucchini onto your Neighbors Porch Day a holiday? My neighbor does! I had to look it up… just to be sure. ITS TRUE!
What, to you, is a decoration worthy holiday?
What are some of your favorite and better yet, least favorite holiday decoration experiences.