Tips for Game Day Entertaining + a #SheSpeaksGameDay Giveaway

by
SheSpeaksTeam
is this the date @ED : BlogVO [categoryId=70162, blogId=145611, blogTitle=Tips for Game Day Entertaining + a #SheSpeaksGameDay Giveaway, publishingDate=September 18, 2019 12:00 AM, maxResponses=null, noOfComments=null, fileId=35225, blogClosingDate=null, blogCommentClosed=null, blogCategoryId=70162, queryId=0, blogCategoryIdIndex=0, sharedCategoriesList=null, blogStatusId=34, commentsClosedFlag=false, categoryIdForLog=0, blogModuleCategoryId=0, blogFileVo=null, latestCommentsList=null, verticalCatSeoURL=null, currentDate=06/09/2023, blogLink=null, authorName=SheSpeaksTeam, authorLognId=SheSpeaksTeam, authorAcctId=67580, vosTypeid=3, searchTestId=0, searchStatusId=0, searchAuthorType=0, authorBlogNumber=0, surveyData1=null, surveyData1Desc=null, surveyData2=null, surveyData2Desc=null, pullQuoteMemberId=null, filePath=null, fileName=null, vosType=0, subhead=null, offerSubhead=null, description=null, creationTime=null, authorFname=SheSpeaks, verticalCategoryId=null, sectionId=0, imageFileVO=FilesVO [fileId=35225, filePath=null, fileName=null, fileLength=0, fileWidth=0, createdBy=0, createByUser=null, creationTime=null, lastModifiedBy=0, lastModifiedByUser=null, lastModifiedTime=null, mimeType=null, fileRef=null, fileSize=0, extension=null, title=null, body=null, completeFilePath=/pages/img/redesign/blogs/Screen Shot 2019-09-18 at 10.39.59 AM (1)_09182019111842.png, height=342, width=350, maxHeight=480, maxWidth=360, displayWidth=350, displayHeight=342, fileStatusId=0, searchKeyword=null, searchFlag=false, queryId=0, isExists=true], seoURL=Tips-for-Game-Day-Entertaining, seoTitle=null, pullQuotesList=null, pullQuote=null, pullQuoteId=0, searchFlag=false, authorByLine=null, authorDesc=null, authorLink=null, authorFileVO=FilesVO [fileId=42371, filePath=null, fileName=null, fileLength=0, fileWidth=0, createdBy=0, createByUser=null, creationTime=null, lastModifiedBy=0, lastModifiedByUser=null, lastModifiedTime=null, mimeType=null, fileRef=null, fileSize=0, extension=null, title=null, body=null, completeFilePath=/pages/img/membersnaps/SheSpeaks_Logo_Symbol_Only_10182021080530.jpg, height=1777, width=1777, maxHeight=50, maxWidth=50, displayWidth=50, displayHeight=50, fileStatusId=0, searchKeyword=null, searchFlag=false, queryId=0, isExists=true], authorFileId=42371, authorType=0, storyImgFileVO=null, storyImgFileId=0, videoHtml=, authorImageFileId=0, authorImageFileVO=null, previousCategoryId=null, previousBlogStatusId=0, fromBlogDetails=0, blogCategoryName=Entertainment, blogCategoryUrl=null, blogCategoryDesc=null, defaultImage=false, tags=null, optionIds=null, tagOptionId=null, tagId=null, tag=null, tagID=0, tagDetails=null, tagIds=null, testId=0, extBlogURL=null, extBlogStatus=0, bloggerSince=null, extBlogLimit=0, authorTestsList=[], blogURL=, blogName=, bloggerProfileId=0, sliderBlog=false, eventonHome=false, vosonHome=false, partyAndGiveawayDate=10/16/2019, imageCredit=Amazon.com , pullQuoteMemId=null, offerSubHead=null, subHead=null, displayOrder=0,includeInGoogleSearch=false]
Sep 18, 2019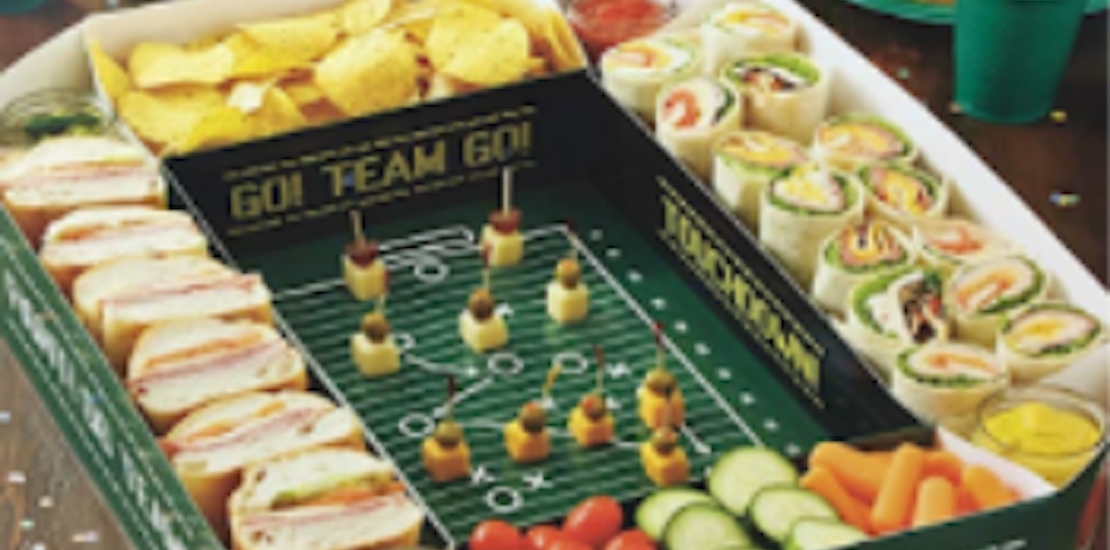 Amazon.com
Whether you are hosting a few people or a big crowd this football season, we've got some entertaining ideas that are sure to have your guests cheering! Our ideas will fit into just about any 'homegating' theme - for those who want to keep it simple or go all out.
Read on to check out our favorite Game Day Entertaining Tips & Enter to win a Snack Stadium & $25 Visa Gift Card to put towards your next Game Day gathering!
Game Day Menu
Let's be honest, the food is equally as important as the game itself. Consider your guests and have a mix of snacks to grab, hot and cold appetizers, and some sweets for half-time! Set up a station or food bar so guests can create a snack on their own. For example, make-your-own nachos or a mac and cheese bar are some popular choices.
It's also a great idea to have food in different places -- i.e. having a drink zone or placing nuts and chips on the coffee table, while hot foods are served buffet style. A DIY Snack Stadium is a memorable way to serve snacks and drinks.
Signature Football Drink
There's nothing better than cheering on your favorite team with a refreshing drink in hand. Stock up on grab-and-go drinks that you can keep on ice, but a signature drink is always a fun way for guests to enjoy! You can have your signature drink prepared ahead of time, make them to order, or have a make-your-own station.
Need a drink idea? Try the Touchdown Tornado!
Creative Tabletop
Cover your table with astroturf (which you can find at home improvement stores) for an authentic football vibe. You can also use green tissue paper or a green tablecloth and tape on yard-lines.
Team Colors
Get creative with team colors! Coordinate foods, drinks and decor to have the colors up against each other -- i.e. orange popsicles vs. red, or let your favorite team's colors be the star of the show. Balloons, tissue paper pom-poms and paper plates/utensils are all inexpensive and fun ways to bring the color in.
Game Day Fun
Consider game day props like clappers or small foam fingers to get your guests cheering. Have kids you need to entertain? Follow these instructions to make DIY pom-poms!
What are your game-day gathering must-haves? Share with us to win a Snack Stadium and a $25 Visa Gift Card to help shop for everything on your party checklist.
*One lucky contestant will be chosen at random to receive a snack stadium and a $25 Visa gift card. Giveaway is open through October 16th, 2019 to U.S. residents at least 18 years of age. Entrants must be a member of SheSpeaks. If you are not a member, click here to join. Winner will be notified by email.
Update: Thanks to all who entered! Congrats to our winner, SheSpeaks member RissaKCMO.