The Results Are In: Ethel M Chocolates

By
SheSpeaksTeam
Feb 07, 2014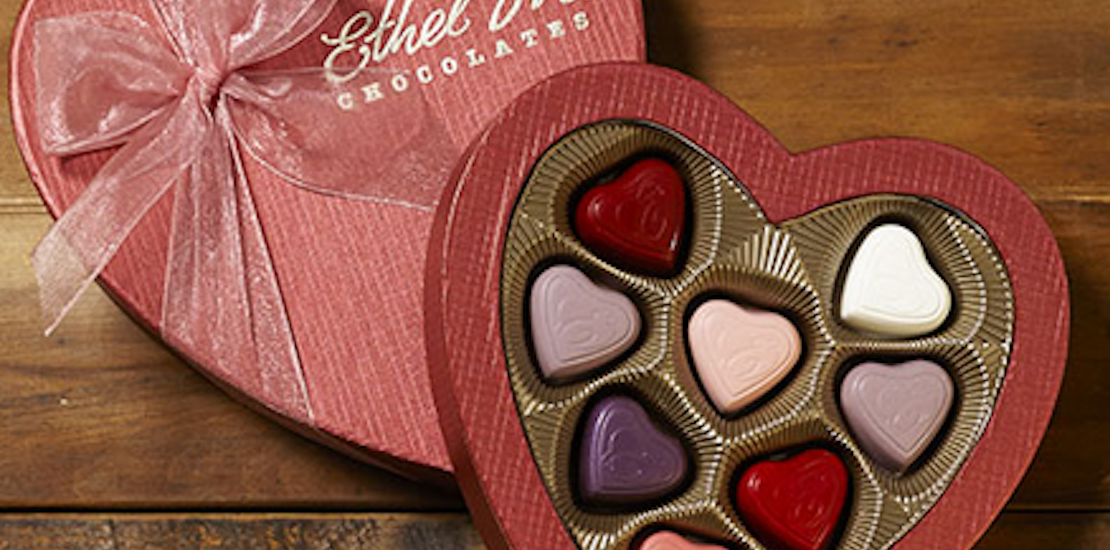 We're all chocolate lovers here in the office at SheSpeaks, so we jumped at the opportunity to work with Ethel M Chocolates
to promote their new Valentine's Day heart-shaped collection. We've also had several members blog about their love for the chocolate, and the posts are so sweet, we wanted to share a few highlights. Most of the blogs are hosting giveaways. Don't forget to enter their giveaways while you're stopping by.
"We fight over the box, ahem."

"Valentine's Day means chocolate for many people and my husband is definitely one of those people. He looks forward to those heart shaped boxes of candy as Valentine's Day draws closer. He doesn't want any box of candy. He knows what quality chocolates taste like and that is what he wants. I was able to introduce him to the Ethel M Chocolates this year and he's very glad I did."
"My husband and I have been together for a long time. He knew before gravity hit and the need for under eye concealer. I met him when he had frosted tips (ha!). We've been through everything together and I can honestly say I love him more today than yesterday (but not as much as tomohhhhroooowww). So you would honestly think the most romantic night of the year would be our cue to get all lovey dovey crazy. You, my friend, would be wrong. These two tired parents enjoy a quiet evening at home, relaxing on the couch, drinking a delicious glass of wine (that woud be me) and devouring delectable chocolates by Ethel M Chocolates (We fight over the box, ahem)."
"Hi, my name is Sammi and I'm a chocoholic. Yes, alert the press because it's absolutely true! I love chocolate and can't get enough of it. Give me a piece of smooth and creamy chocolate with a nutty filling and I'll love you forever. I don't discriminate against chocolate no matter what form it comes in. I'm a fan of chocolate cookies, brownies, candy, cake, and of course pie. There's nothing that would make your significant other happier this Valentine's Day than giving them a delicious box of Ethel M Chocolates. Go ahead and delight their taste buds."
"Who doesn't love chocolate? I mean, especially really good quality chocolate that is beautifully packaged for Valentine's Day?"
"My box of chocolates came in a beautiful heart shaped box with an assortment of Ethel M chocolates. It was very hard to choose from all the delicious looking chocolates . Every piece I tried was as great tasting as the last. Ethel M Chocolates really does have high premium chocolates."
"There were a lot of solid chocolate ones! Then a few peanut butter filled ones and ohMyWord the caramel ones! There were only a few that I let Josh eat – they had cherry filling. I just don't like cherries, even cherry pie. (I know. I am so un-American! But I like Apple Pie. So there).
Lucky you, you get to enter to win a box for yourself!"
"The key to my heart is not through flowers or expensive shiny gifts, fancy excursions or candlelight dinners it's through chocolate. Sounds so cliche – you know, a girl loving chocolate but it's true. There is something heart felt and obviously decadent about chocolate that gets me every time."
"My favorite piece (so far!) has been the Raspberry Satin Creme… I wish I had an entire box! But, nothing conveys "love" for Valentine's Day like the heart-shaped chocolates in six seasonal colors and flavors."
"This Valentine's Day consider sending someone a treat that is not only sweet but special. A delicious box of Ethel M chocolates. Sure, you can pick up a box of chocolates at any store, but a box of Ethel M chocolates really says you took that extra step to give someone an amazing, decadent experience."
"
My husband is a lemon lover, so it was no surprise that his favorite piece thus far was the light pink heart (which is dark chocolate with lemon). The piece I treasured most was the Pecan Toffee Crisp. This is especially stunning since I am usually not a toffee type of gal, especially over chocolate. It was truthfully the best toffee I have ever had. We have yet to finish our Ethel M Chocolates box, but our experience already has me wanting to make a short trip to the factory in Henderson and stock up on these scrumptious sweets!"
"

So many choices, so many hands to slap…no you may NOT have a piece of my chocolate. There are just some things I don't share: my toothbrush and my Ethel M Chocolates."