The Pulse | Damak Chocolate Review & Giveaway! #SheSpeaksTV

by
SheSpeaksTeam
is this the date @ED : BlogVO [categoryId=70164, blogId=144781, blogTitle=The Pulse | Damak Chocolate Review & Giveaway! #SheSpeaksTV, publishingDate=June 29, 2016 12:00 AM, maxResponses=null, noOfComments=null, fileId=27300, blogClosingDate=null, blogCommentClosed=null, blogCategoryId=70164, queryId=0, blogCategoryIdIndex=0, sharedCategoriesList=null, blogStatusId=34, commentsClosedFlag=false, categoryIdForLog=0, blogModuleCategoryId=0, blogFileVo=null, latestCommentsList=null, verticalCatSeoURL=null, currentDate=12/06/2023, blogLink=null, authorName=SheSpeaksTeam, authorLognId=SheSpeaksTeam, authorAcctId=67580, vosTypeid=3, searchTestId=0, searchStatusId=0, searchAuthorType=0, authorBlogNumber=0, surveyData1=null, surveyData1Desc=null, surveyData2=null, surveyData2Desc=null, pullQuoteMemberId=null, filePath=null, fileName=null, vosType=0, subhead=null, offerSubhead=null, description=null, creationTime=null, authorFname=SheSpeaks, verticalCategoryId=null, sectionId=0, imageFileVO=FilesVO [fileId=27300, filePath=null, fileName=null, fileLength=0, fileWidth=0, createdBy=0, createByUser=null, creationTime=null, lastModifiedBy=0, lastModifiedByUser=null, lastModifiedTime=null, mimeType=null, fileRef=null, fileSize=0, extension=null, title=null, body=null, completeFilePath=/pages/img/redesign/blogs/choco_06292016160307.jpg, height=350, width=350, maxHeight=480, maxWidth=360, displayWidth=350, displayHeight=350, fileStatusId=0, searchKeyword=null, searchFlag=false, queryId=0, isExists=true], seoURL=The-Pulse-Damak-Chocolate-Review, seoTitle=null, pullQuotesList=null, pullQuote=null, pullQuoteId=0, searchFlag=false, authorByLine=null, authorDesc=null, authorLink=null, authorFileVO=FilesVO [fileId=42371, filePath=null, fileName=null, fileLength=0, fileWidth=0, createdBy=0, createByUser=null, creationTime=null, lastModifiedBy=0, lastModifiedByUser=null, lastModifiedTime=null, mimeType=null, fileRef=null, fileSize=0, extension=null, title=null, body=null, completeFilePath=/pages/img/membersnaps/SheSpeaks_Logo_Symbol_Only_10182021080530.jpg, height=1777, width=1777, maxHeight=50, maxWidth=50, displayWidth=50, displayHeight=50, fileStatusId=0, searchKeyword=null, searchFlag=false, queryId=0, isExists=true], authorFileId=42371, authorType=0, storyImgFileVO=null, storyImgFileId=0, videoHtml=, authorImageFileId=0, authorImageFileVO=null, previousCategoryId=null, previousBlogStatusId=0, fromBlogDetails=0, blogCategoryName=Food, blogCategoryUrl=null, blogCategoryDesc=null, defaultImage=false, tags=null, optionIds=null, tagOptionId=null, tagId=null, tag=null, tagID=0, tagDetails=null, tagIds=null, testId=0, extBlogURL=null, extBlogStatus=0, bloggerSince=null, extBlogLimit=0, authorTestsList=[], blogURL=, blogName=, bloggerProfileId=0, sliderBlog=false, eventonHome=false, vosonHome=false, partyAndGiveawayDate=07/13/2016, imageCredit=null, pullQuoteMemId=null, offerSubHead=null, subHead=null, displayOrder=0,includeInGoogleSearch=false]
Jun 29, 2016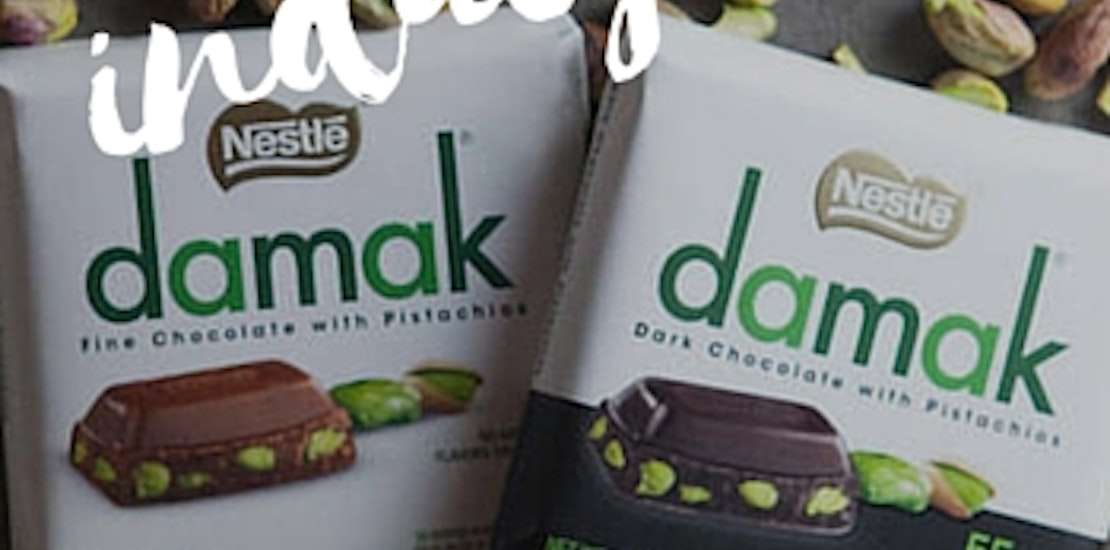 On SheSpeaksTV, you've seen traffic rants with Jenni Chiu, spectacular smoothie tutorials, bath time toy hacks, and more. But you haven't seen anything like this! We love products. You love products. So we decided to combine our love for all things new to bring to you reviews of the latest trends and products currently buzzing around cities! Each week tune into SheSpeaksTV to see video reviews for a variety of products. We'll review basic essentials, talk about our weekly obsessions, reveal up-and-coming trends, sample beauty products, and much more! From reviews of new chocolate bars to Nespresso machines, you won't want to miss a thing!
Have products you want us to try? Let us know! Want to try these products for yourself? Go for it! Be sure to let us know your thoughts- let's get the conversation going!
Introducing our very first product review- Nestle Damak Chocolate!
After a sudden need to add some excitement to our chocolate consumption, we decided to try out Damak Chocolate, Nestle's Turkish pistachio fine chocolate bar. We weren't exactly sure what it was at first glance, but we definitely wanted to know more. Available in both dark and milk chocolate, covered in a Wonka-style beautiful golden wrapper, and infused with Turkey's finest pistachios, it is not something you want to miss. See what we thought & try it out for yourself!
Enter for a chance to win a month supply of Damak Chocolate (Milk & Dark)!
Step 1: Watch the Video!
Step 2: Comment on the video and let us know what product you want us to review next!
(Only comments on the YouTube video will cound as entries, not comments on this post)
OR
Share the video with friends!
Click here to tweet: "Check out this #DamakChocoReview on #SheSpeaksTV for a chance to win a month supply bit.ly/29a0lOs"
About SheSpeaksTV: Our videos are created by women, for women. At SheSpeaksTV, we're handing you the microphone to talk about issues that are important to you and to provide you with lifestyle tips on everything from beauty to parenting. Stay for awhile & join the conversation!
One lucky YouTube Commenter (or Tweeter) will be chosen at random to recieve a month supply of Damak Chocolate (Milk or Dark Chocolate) prize will be sent as one package of 4 Damak Bars. Giveaway is open to U.S. residents 18 years or older. Enter through 7/13, winner will be chosen randomly by 7/15 and notified through email.