By
SheSpeaksTeam
Jun 13, 2013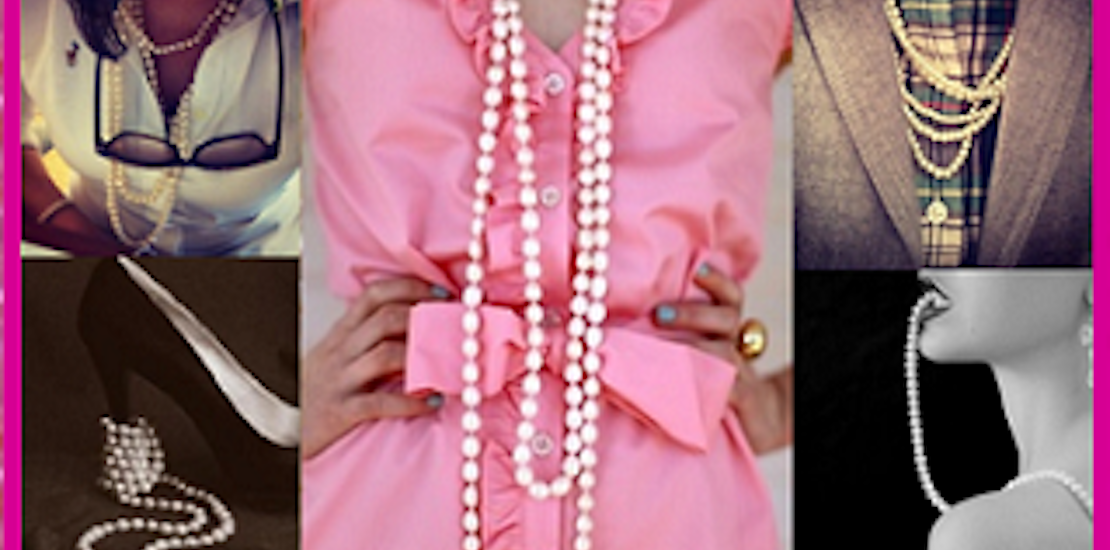 From Kate Middleton to Catwoman.. from Jackie O to Angelina Jolie.. from Coco to Oprah and Carrie to Rihanna.. women of allure wear pearls. To June brides they symbolize a new life, to June grads they symbolize wisdom. They are the queen of gems, and the gem of Queens, and now you can win them by commenting below!
$PullQuote$
Pearls are considered the most magical and feminine of all gems, prized for their beauty and rarity. They are the only organic gemstone. When a foreign substance enters the soft tissue of certain mollusks, they coat it with layers and layers of iridescent crystalline nacre, forming a pearl.
Natural pearls are extremely rare and valuable (only one in 10,000 oysters will naturally produce a pearl) and if Mikimoto hadn't come along, only the very wealthy would ever be able to afford a pearl. In the late 19th century he developed a technique for artificially stimulating (culturing) round pearls in Akoya saltwater oysters. He then revolutionized the industry so that these saltwater pearls could be farmed and harvested like a crop! It took approximately one year for each millimeter of nacre to be formed around his newly-cultured pearl.
Today, those techniques have expanded to freshwater pearls, making genuine pearl jewelry widely available. But Akoya saltwater pearls are still considered to be the gold-standard of cultured pearls because of their luster. The finest ones almost look electric, or 'plugged-in' and are classified as "mirror bright."
The most luxurious pearls in the world are South Sea, which come in white, silver, pink, gold, cream - followed by Tahitian pearls which are a dark mix of silver, green, blue, purple, red and sometimes look like 'peacock.' On the opposite end of the price scale are Keshi pearls (means 'accident' because they are the result of a mistake in the implantation process) which are almost all nacre and have extraordinary luster (which jewelers say is the most important attribute of a pearl) and can be found in beautiful, fanciful designs.
Spherical pearls (should roll in a straight line) are the most difficult to achieve and are much more expensive than semi-round, button, drop, pear, oval, circle or baroque shapes. 7.5mm was once the standard size, but as the industry changes we see pearls of all types and colors becoming the treasured heirlooms that are passed from mothers to daughters.
Pearl Necklace Lengths
| | | | | |
| --- | --- | --- | --- | --- |
| Collar | | 10-13" | | At throat with no drape |
| Choker | | 14-16" | | At base of neck |
| Princess | | 17-19" | | Just below collarbone; classic length |
| Matinee | | 20-24" | | At cleavage |
| Opera | | 28-35" | | At sternum |
| Rope | | 45"+ | | For layering and lariats |
Sometimes the value of pearls comes from more than just size and luster. According to lore, Marc Antony searched long and hard for the one he gave Cleopatra, and Krishna gave them to his beloved daughter on her wedding day. Even though no less than the Cartier Store on Fifth Avenue in New York City was purchased in full for just a double strand of pearls - we also value pearls because of a personal connection to someone precious or the remembrance of a special event in our lives. For many, they are the ultimate jewelry statement in grace and beauty hence the saying "All Girls Love Pearls."
Do you like pearls? If so, comment below by June 30th for a chance to win a strand of cultured pearls (necklace) or a pearl bracelet or pearl earrings - just tell us your favorite thing about pearls! The three winners will be randomly selected and notified via email by July 2nd.