Teens Read 'Mean Tweets' To Send A Message About Cyberbullying

By
SheSpeaksTeam
Mar 15, 2015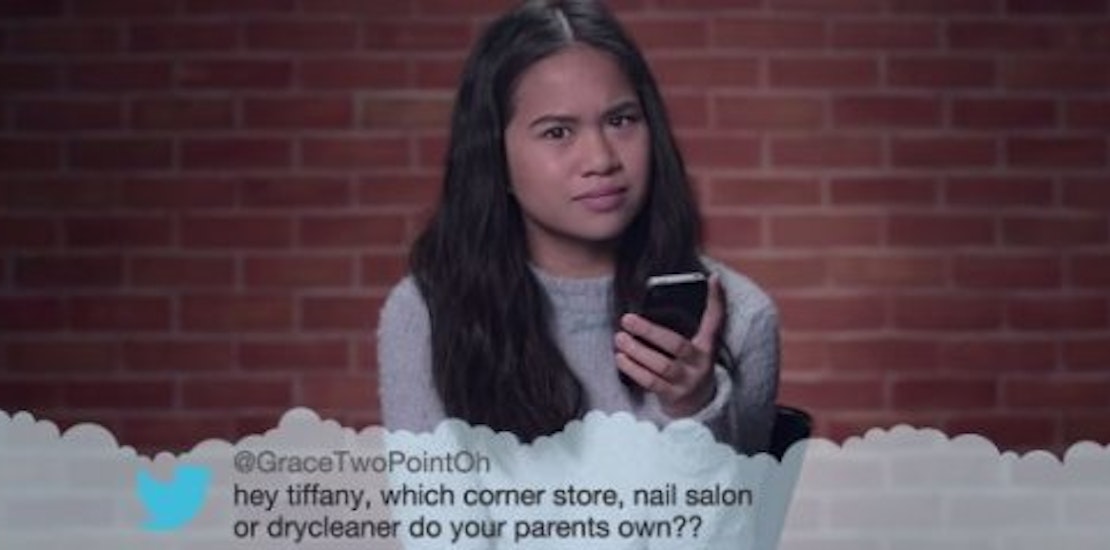 Most of us are probably familiar with the laugh-inducing "Celebrities Read Mean Tweets" segment from Jimmy Kimmel. After all, a few self deprecating jokes at the expense of a famous person would make anyone chuckle. But it turns out that when teens read taunting tweets meant for them it's anything but funny.
The video spot from the Canadian Safe School Network and the advertising agency John St. hopes to highlight the seriousness of cyberbullying. The Canadian Safe School Network is a charitable non-profit organization that works to reduce youth violence and make schools safer.
A statement from the organization is quoted in an Adweek report explaining the intention of the parody video saying, "It's easy to laugh at rich celebrities reading some of the terrible things people have said about them online. We condone it. We even revel in it. But this same behavior is turning almost 40 percent of Canadian kids into victims of cyberbullying. It's a growing epidemic that invades their lives and leaves many feeling like there's no way out."
As the video starts out a young woman named Jessica reads a tweet much like the celebrities on the Jimmy Kimmel Show. She says with a smirk, "I'm not saying Jessica's a whore, but if she were a video game she'd be rated E for everyone". This is followed by the sounds of a laugh track but as more teens read mean tweets and the video goes on the laughs die down to utter silence and the teen readers become more serious.
The spot ends with a very solemn tweet from a young woman named Dylan who reads quietly, "No one likes you. Do everyone a favor. Just kill yourself." before walking off set. The words, "Cyberbullying is no joke" then scroll across the screen reminding us how serious the subject matter truly is.
The president of the Canadian Safe School Network Stu Auty explains on the organization's blog why he believes using this parody is an effective way to drive home their message about cyberbullying. He says, "We wanted to use the 'Mean Tweets' model because in a way, those videos give the message that cyberbullying is OK -- even funny. But adult celebrities have the maturity and confidence to overcome these hurtful words. Children don't. For regular kids, words can cut like a knife."

What do you think of the video showing teens reading mean tweets?

Do you think this was an effective way to show how harmful cyberbullying can be?