Tasty Menu for the Big Game + $50 Gift Card Giveaway! #WalmartBigGameMVPs

by
SheSpeaksTeam
is this the date @ED : BlogVO [categoryId=70164, blogId=145821, blogTitle=Tasty Menu for the Big Game + $50 Gift Card Giveaway! #WalmartBigGameMVPs, publishingDate=January 25, 2021 12:00 AM, maxResponses=null, noOfComments=null, fileId=39734, blogClosingDate=null, blogCommentClosed=null, blogCategoryId=70164, queryId=0, blogCategoryIdIndex=0, sharedCategoriesList=null, blogStatusId=34, commentsClosedFlag=false, categoryIdForLog=0, blogModuleCategoryId=0, blogFileVo=null, latestCommentsList=null, verticalCatSeoURL=null, currentDate=12/07/2022, blogLink=null, authorName=SheSpeaksTeam, authorLognId=SheSpeaksTeam, authorAcctId=67580, vosTypeid=3, searchTestId=0, searchStatusId=0, searchAuthorType=0, authorBlogNumber=0, surveyData1=null, surveyData1Desc=null, surveyData2=null, surveyData2Desc=null, pullQuoteMemberId=null, filePath=null, fileName=null, vosType=0, subhead=null, offerSubhead=null, description=null, creationTime=null, authorFname=SheSpeaks, verticalCategoryId=null, sectionId=0, imageFileVO=FilesVO [fileId=39734, filePath=null, fileName=null, fileLength=0, fileWidth=0, createdBy=0, createByUser=null, creationTime=null, lastModifiedBy=0, lastModifiedByUser=null, lastModifiedTime=null, mimeType=null, fileRef=null, fileSize=0, extension=null, title=null, body=null, completeFilePath=/pages/img/redesign/blogs/Giveaway image jpg_01252021090206.jpg, height=385, width=685, maxHeight=480, maxWidth=360, displayWidth=360, displayHeight=202, fileStatusId=0, searchKeyword=null, searchFlag=false, queryId=0, isExists=true], seoURL=Tasty-Menu-for-the-Big-Game-WalmartBigGameMVPs, seoTitle=null, pullQuotesList=null, pullQuote=null, pullQuoteId=0, searchFlag=false, authorByLine=null, authorDesc=null, authorLink=null, authorFileVO=FilesVO [fileId=42371, filePath=null, fileName=null, fileLength=0, fileWidth=0, createdBy=0, createByUser=null, creationTime=null, lastModifiedBy=0, lastModifiedByUser=null, lastModifiedTime=null, mimeType=null, fileRef=null, fileSize=0, extension=null, title=null, body=null, completeFilePath=/pages/img/membersnaps/SheSpeaks_Logo_Symbol_Only_10182021080530.jpg, height=1777, width=1777, maxHeight=50, maxWidth=50, displayWidth=50, displayHeight=50, fileStatusId=0, searchKeyword=null, searchFlag=false, queryId=0, isExists=true], authorFileId=42371, authorType=0, storyImgFileVO=null, storyImgFileId=0, videoHtml=, authorImageFileId=0, authorImageFileVO=null, previousCategoryId=null, previousBlogStatusId=0, fromBlogDetails=0, blogCategoryName=Food, blogCategoryUrl=null, blogCategoryDesc=null, defaultImage=false, tags=null, optionIds=null, tagOptionId=null, tagId=null, tag=null, tagID=0, tagDetails=null, tagIds=null, testId=0, extBlogURL=null, extBlogStatus=0, bloggerSince=null, extBlogLimit=0, authorTestsList=[], blogURL=, blogName=, bloggerProfileId=0, sliderBlog=false, eventonHome=false, vosonHome=false, partyAndGiveawayDate=02/07/2021, imageCredit=electricmommy.com/not-your-average-fruit-punch/, pullQuoteMemId=null, offerSubHead=null, subHead=null, displayOrder=0,includeInGoogleSearch=false]
Jan 25, 2021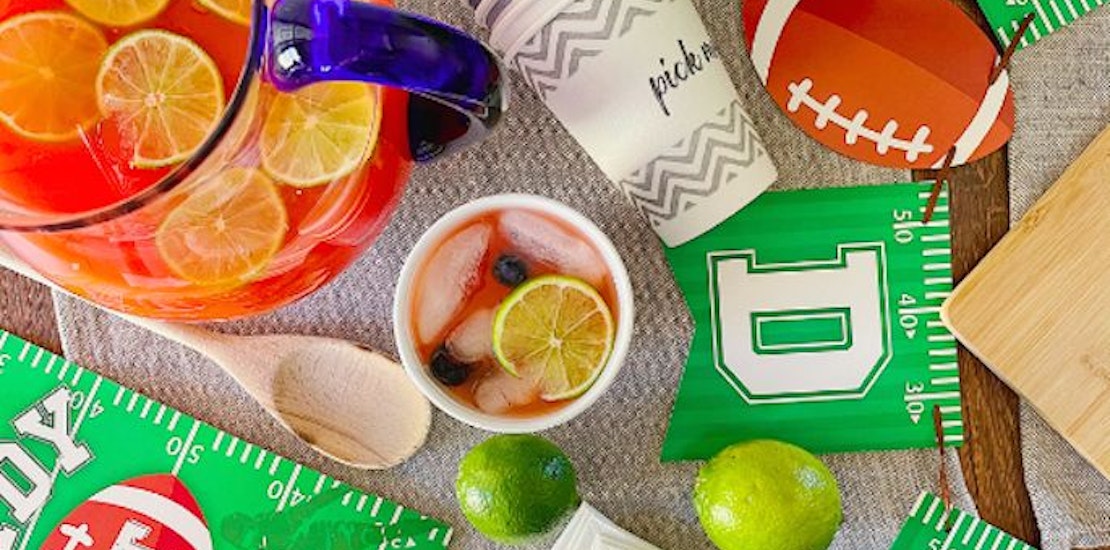 electricmommy.com/not-your-average-fruit-punch/
With the Big Game just around the corner, it's time to start planning! Planning your menu, that is. The football is great, but the food is better! Don't you agree? Rely on the MVPs (most valuable products) from Kraft Heinz, Dixie®, Vanity Fair®, and Sparkle® to make your job easy on the big day. Just head to your local Walmart and pick up what you'll need (or click here to place an online order, even easier!).
Not Your Average Fruit Punch
Let's kick things off with a
punch
, because nothing makes you thirstier than cheering for your favorite team, right?! The secret ingredient in this punch is MiO, which gives it a gorgeous color and fruit punch flavor, without adding sugar. Here's Meghan's busy mom pro tip: "To keep it simple and to cut down on dishes, set out a stack of
Dixie
® To Go Cups
. They're a great alternative to using (and washing) real dishes."
Click here
to toss the key items for this recipe into your Walmart cart.
BLT Pasta Salad
BLT, meet pasta salad. Now that's a winning team! Meghan made this recipe too (yes, we should all go to her house next year), and serves her
pasta salad
with a build-your-own sub station. Yum! And if you cook a little too much, this dish makes for great leftovers!
Caribbean Style Chicken Wings
Kristal says, "These
wings
are the perfect blend of sweet and spicy, and they are quick and easy to make for the Big Game (or any time)... Did you know that Dixie Ultra
®
Plates can hold up to two pounds of food?! You don't have to worry about the plate holding up - see what an awesome job it did with a full plate of wings!" Say no more, we're sold!
Football Pie Cookie Cups
No viewing party is complete without a
dessert
, and these are perfectly-themed! Part pie, part cookie, part football (just kidding), all delicious! Dianna's tip: "Make sure your ingredients, specifically the butter and Philadelphia
®
Cream Cheese are room temperature. This will make it easier to combine when you create your mini pie shells."
Even though your game day celebration might look different this year, it doesn't have to be any less delicious! What are you serving and who are you rooting for?
Click here to shop for all the essentials from Kraft Heinz, Dixie®, Sparkle® and Vanity Fair® for the Big Game at Walmart.
Enter our giveaway for a chance to win a $50 Walmart gift card.
#WalmartBigGameMVPs Menu Giveaway
* One lucky winner will be chosen at random to receive a $50 Walmart gift card Giveaway is open to U.S. residents 18 years or older. Enter through February 7, 2021. Entrants must be a member of SheSpeaks. Winner will be chosen randomly by February 9, 2021 and notified by email.