Target Tosses Gender Signage in Toy Department

By
SheSpeaksTeam
Aug 11, 2015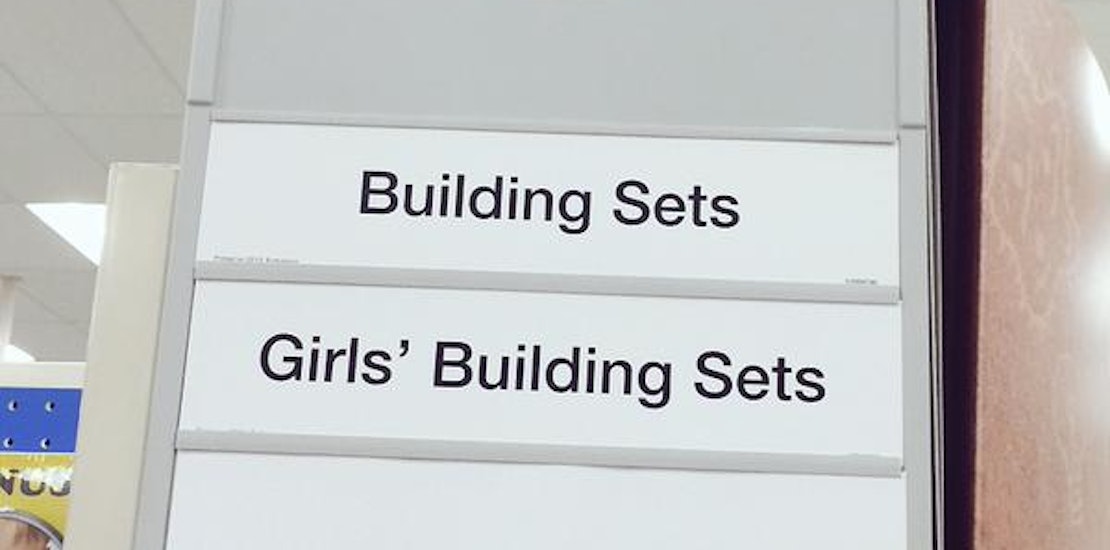 Labeling toys based on gender stereotypes may seem outdated to many parents, but getting department stores on board with this sentiment is sometimes a bit tricky. Target, on the other hand, appears to be an exception. The store has listened to the concerns of parents and announced it will change its ways regarding gender toy labeling.
A little over a month ago, Ohio mom Abi Bechtel took to Twitter to share a photo taken in Target of a sign that separated "girls' building sets" from "boy building sets". Thousands of parents retweeted with many agreeing that Target has missed the mark.
Target then made a statement in response to Bechtel's tweet assuring that they would share the concerns with their team. And it seems that they did just that. NBC News reports that Target plans to get rid of all gender labels in their Toy department as well as their Home and Entertainment section.
The store announced that they will begin working on phasing out gender-based signage in these departments as well as getting rid of the pink, blue, yellow and green paper that lines shelves. A statement from the store reads, "Over the past year, guests have raised important questions about a handful of signs in our stores that offer suggestions based on gender. We heard you, and we agree. Right now, our teams are working across the store to identify areas where we can phase out gender-based signage to help strike a better balance."
The apparel section labeled "girls'" and "boys'" is set to stay the same, but the company agrees that labeling products based on gender in some of their other sections is "unnecessary". A spokeswoman for Target, Molly Snyder explains, "We tried to look at what makes sense and what doesn't."
What do you think of Target's decision to remove gender labels on their signage in the toy department?
Do you think more stores should consider removing gender labels?