Take the Labor out of Labor Day Cooking & Win a $75 Grocery Store Gift Card! #SheSpeaksLaborDay

by
SheSpeaksTeam
is this the date @ED : BlogVO [categoryId=70164, blogId=145598, blogTitle=Take the Labor out of Labor Day Cooking & Win a $75 Grocery Store Gift Card! #SheSpeaksLaborDay, publishingDate=August 22, 2019 12:00 AM, maxResponses=null, noOfComments=null, fileId=35070, blogClosingDate=null, blogCommentClosed=null, blogCategoryId=70164, queryId=0, blogCategoryIdIndex=0, sharedCategoriesList=null, blogStatusId=34, commentsClosedFlag=false, categoryIdForLog=0, blogModuleCategoryId=0, blogFileVo=null, latestCommentsList=null, verticalCatSeoURL=null, currentDate=09/28/2022, blogLink=null, authorName=SheSpeaksTeam, authorLognId=SheSpeaksTeam, authorAcctId=67580, vosTypeid=3, searchTestId=0, searchStatusId=0, searchAuthorType=0, authorBlogNumber=0, surveyData1=null, surveyData1Desc=null, surveyData2=null, surveyData2Desc=null, pullQuoteMemberId=null, filePath=null, fileName=null, vosType=0, subhead=null, offerSubhead=null, description=null, creationTime=null, authorFname=SheSpeaks, verticalCategoryId=null, sectionId=0, imageFileVO=FilesVO [fileId=35070, filePath=null, fileName=null, fileLength=0, fileWidth=0, createdBy=0, createByUser=null, creationTime=null, lastModifiedBy=0, lastModifiedByUser=null, lastModifiedTime=null, mimeType=null, fileRef=null, fileSize=0, extension=null, title=null, body=null, completeFilePath=/pages/img/redesign/blogs/Everything Bars - blog_08192019140943.jpg, height=350, width=350, maxHeight=480, maxWidth=360, displayWidth=350, displayHeight=350, fileStatusId=0, searchKeyword=null, searchFlag=false, queryId=0, isExists=true], seoURL=Take-the-Labor-out-of-Labor-Day-Cooking-Win-a-75-Grocery-Store-Gift-Card-SheSpeaksLaborDay, seoTitle=null, pullQuotesList=null, pullQuote=null, pullQuoteId=0, searchFlag=false, authorByLine=null, authorDesc=null, authorLink=null, authorFileVO=FilesVO [fileId=42371, filePath=null, fileName=null, fileLength=0, fileWidth=0, createdBy=0, createByUser=null, creationTime=null, lastModifiedBy=0, lastModifiedByUser=null, lastModifiedTime=null, mimeType=null, fileRef=null, fileSize=0, extension=null, title=null, body=null, completeFilePath=/pages/img/membersnaps/SheSpeaks_Logo_Symbol_Only_10182021080530.jpg, height=1777, width=1777, maxHeight=50, maxWidth=50, displayWidth=50, displayHeight=50, fileStatusId=0, searchKeyword=null, searchFlag=false, queryId=0, isExists=true], authorFileId=42371, authorType=0, storyImgFileVO=null, storyImgFileId=0, videoHtml=, authorImageFileId=0, authorImageFileVO=null, previousCategoryId=null, previousBlogStatusId=0, fromBlogDetails=0, blogCategoryName=Food, blogCategoryUrl=null, blogCategoryDesc=null, defaultImage=false, tags=null, optionIds=null, tagOptionId=null, tagId=null, tag=null, tagID=0, tagDetails=null, tagIds=null, testId=0, extBlogURL=null, extBlogStatus=0, bloggerSince=null, extBlogLimit=0, authorTestsList=[], blogURL=, blogName=, bloggerProfileId=0, sliderBlog=false, eventonHome=false, vosonHome=false, partyAndGiveawayDate=09/08/2019, imageCredit=confessionsofacookbookqueen.com, pullQuoteMemId=null, offerSubHead=null, subHead=null, displayOrder=0,includeInGoogleSearch=false]
Aug 22, 2019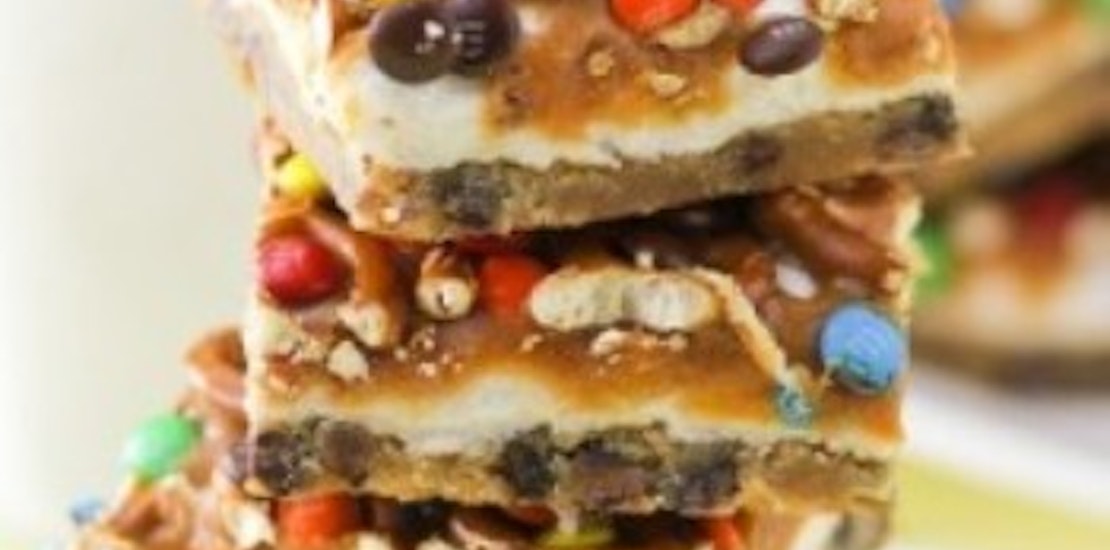 confessionsofacookbookqueen.com
Happy 125th anniversary to Labor Day! To celebrate, we'd like to do as little labor as possible, and we're starting in the kitchen.
Check out easy-peasy recipes that look and taste just as good as homemade. However, these dishes start with a store-bought item that you then add to, and in no time, you are ready to serve. Plus, enter to win a $75 gift card to your favorite grocery store, so you can purchase the ingredients.
Let's start with an appetizer...
Pigs in the blanket may be an old' fashioned treat, but they are still a favorite. Serve them up and you are practically guaranteed an empty plate at the end of the night. But did you realize just how easy they are to make? Follow this simple recipe submitted by SheSpeaks member lowgee82. Just buy crescent dough and your favorite hot dog (you can cut them if they aren't cocktail-sized), wrap them, bake them and serve them with mustard. Done.
And then an entree...
Our secret to dinner made in a snap? Store-bought rotisserie chicken. You can find them in most grocery stores for a reasonable price. Cut the meat off when it's warm (it's easier that way) and then use it in almost any recipe that calls for shredded or chunks of chicken. It will make meal-prep quicker and easier. We love this recipe for Chicken Tostadas from Chowhound that is great for a party or just dinner at home.
Other ideas: instead of pulled-pork sandwiches, you can mix rotisserie chicken with BBQ sauce to make chicken sliders. Or cover tortilla chips with beans, rotisserie chicken and cheese, then warm everything in the oven. Add some guacamole, and you have easy nachos. We've also used rotisserie chicken for recipes in stir-frys, soups and salads. Really, the possibilities are endless.
What about an easy side?
For many people, Labor Day is the perfect day for a BBQ. We couldn't agree more. A great way to spend less time prepping is to buy premade pasta salad from your local grocery store and just add in a couple of ingredients. Our favorite is this Penne Rigate Mozzarella Salad from Wegmans that comes with the cheese included. All you have to do is chop some grape tomatoes in half, mix them in, and you've got the perfect side dish to bring to any potluck. You can also add other veggies like peppers or olives. Want to make this salad into a main course? Just add - you guessed it - rotisserie chicken!
Another option? Premade salad bags. You can get amazingly tasty ones from Trader Joes, or almost any grocery store. The best thing about them is that you can use as is, or add in other ingredients you love, just to spice them up. We love the Trader Joe's Southwestern Chopped Salad - we add a little avocado and black beans to the top to make it feel even more fresh.
Top it off with dessert!
Every get together deserves a delicious dessert. And we have two perfect desserts that look professional, taste amazing, and are quick to make. This first recipe takes just five minutes to prepare, but you'd never know it by looking at the finished product. Just take store-bought ice cream sandwiches, crushed Oreos and cool whip and you have the World's Easiest Oreo Ice Cream Cake, thanks to SheSpeaks member Minx1982!
This second recipe has been passed around SheSpeaks staff and brought to several gatherings. They're called Everything Bars, though the name doesn't tell you enough. Start with refrigerated cookie dough, then add marshmallows, caramel, pretzels and mini-M&Ms. Thank you to blogger Confessions of a Cookbook Queen for publishing this recipe. It will be the hit of any party.
What are your favorite labor-less recipes? Enter for the chance to win a $75 gift card to your favorite grocery store!
*One lucky contestant will be chosen at random to receive a $75 gift card to the grocery store of their choice, provided the gift card is easily purchased online. Giveaway is open through September 8, 2019 to U.S. residents at least 18 years of age. Entrants must be a member of SheSpeaks. If you are not a member, click here to join. Winner will be notified by email.
Update: Thanks to all who entered! Congrats to our winner, SheSpeaks member smiling_mama.