Take Your Self-Care Game Up A Notch: Enter the #PhilipsSatinShaver Giveaway

by
SheSpeaksTeam
is this the date @ED : BlogVO [categoryId=70163, blogId=145689, blogTitle=Take Your Self-Care Game Up A Notch: Enter the #PhilipsSatinShaver Giveaway, publishingDate=March 04, 2020 12:00 AM, maxResponses=null, noOfComments=null, fileId=37715, blogClosingDate=null, blogCommentClosed=null, blogCategoryId=70163, queryId=0, blogCategoryIdIndex=0, sharedCategoriesList=null, blogStatusId=34, commentsClosedFlag=false, categoryIdForLog=0, blogModuleCategoryId=0, blogFileVo=null, latestCommentsList=null, verticalCatSeoURL=null, currentDate=01/24/2022, blogLink=null, authorName=SheSpeaksTeam, authorLognId=SheSpeaksTeam, authorAcctId=67580, vosTypeid=3, searchTestId=0, searchStatusId=0, searchAuthorType=0, authorBlogNumber=0, surveyData1=null, surveyData1Desc=null, surveyData2=null, surveyData2Desc=null, pullQuoteMemberId=null, filePath=null, fileName=null, vosType=0, subhead=null, offerSubhead=null, description=null, creationTime=null, authorFname=SheSpeaks, verticalCategoryId=null, sectionId=0, imageFileVO=FilesVO [fileId=37715, filePath=null, fileName=null, fileLength=0, fileWidth=0, createdBy=0, createByUser=null, creationTime=null, lastModifiedBy=0, lastModifiedByUser=null, lastModifiedTime=null, mimeType=null, fileRef=null, fileSize=0, extension=null, title=null, body=null, completeFilePath=/pages/img/redesign/blogs/Untitled design_04012020112426.png, height=385, width=685, maxHeight=480, maxWidth=360, displayWidth=360, displayHeight=202, fileStatusId=0, searchKeyword=null, searchFlag=false, queryId=0, isExists=true], seoURL=Take-Your-Self-Care-Game-Up-A-Notch-Enter-the-PhilipsSatinShaver-Giveaway, seoTitle=null, pullQuotesList=null, pullQuote=null, pullQuoteId=0, searchFlag=false, authorByLine=SheSpeaksTeam, authorDesc=Powered by women who love to share what's HOT in reviews, deals & recipes., authorLink=null, authorFileVO=FilesVO [fileId=42371, filePath=null, fileName=null, fileLength=0, fileWidth=0, createdBy=0, createByUser=null, creationTime=null, lastModifiedBy=0, lastModifiedByUser=null, lastModifiedTime=null, mimeType=null, fileRef=null, fileSize=0, extension=null, title=null, body=null, completeFilePath=/pages/img/membersnaps/SheSpeaks_Logo_Symbol_Only_10182021080530.jpg, height=1777, width=1777, maxHeight=50, maxWidth=50, displayWidth=50, displayHeight=50, fileStatusId=0, searchKeyword=null, searchFlag=false, queryId=0, isExists=true], authorFileId=42371, authorType=0, storyImgFileVO=null, storyImgFileId=0, videoHtml=, authorImageFileId=0, authorImageFileVO=null, previousCategoryId=null, previousBlogStatusId=0, fromBlogDetails=0, blogCategoryName=Beauty & Fashion, blogCategoryUrl=null, blogCategoryDesc=null, defaultImage=false, tags=null, optionIds=null, tagOptionId=null, tagId=null, tag=null, tagID=0, tagDetails=null, tagIds=null, testId=0, extBlogURL=null, extBlogStatus=0, bloggerSince=null, extBlogLimit=0, authorTestsList=[], blogURL=, blogName=, bloggerProfileId=0, sliderBlog=false, eventonHome=false, vosonHome=false, partyAndGiveawayDate=03/31/2020, imageCredit=@chicover50, pullQuoteMemId=null, offerSubHead=null, subHead=null, displayOrder=0,includeInGoogleSearch=false]
Mar 04, 2020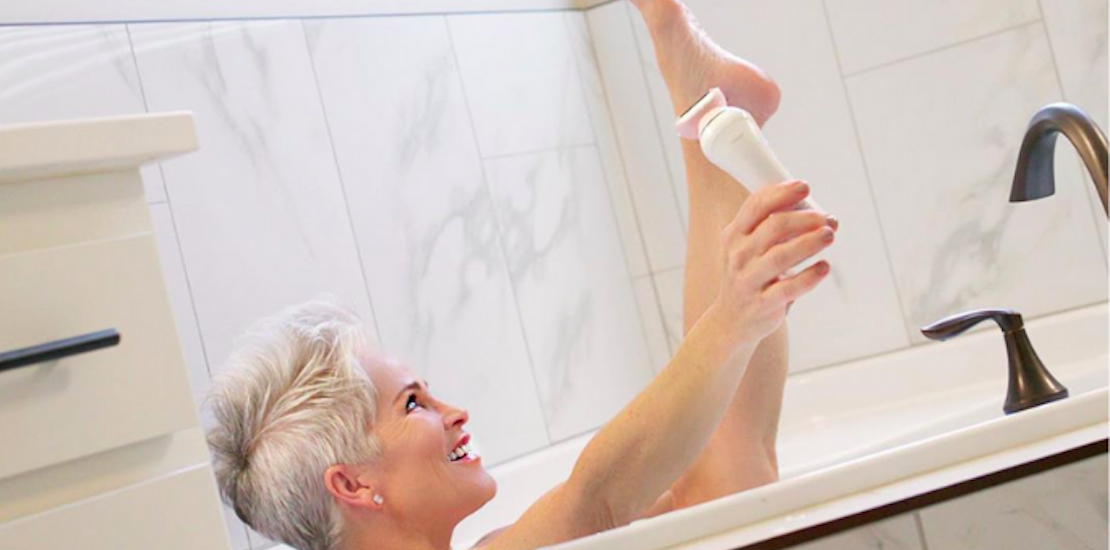 @chicover50
In 2020, we've put self-care at the top of our goal lists. For us, that means investing some time and money into the daily rituals that make us feel our best. Sometimes it's little things that can make you feel good – like climbing into bed with freshly shaved legs (and clean sheets!).

Last year, we got hooked on the Philips SatinShave Advanced – this electric shaver for women is a great way to take your shaving game to a new level. We're giving you the chance to win one!

If you haven't tried an electric shaver before – here's what you can expect! Philips SatinShave Advanced gives you a smooth shave with less nicks and cuts. It's especially good for sensitive skin (hooray!), because the pearl tip trimmers protect skin from irritation.

You can use it wet or dry, in or out of the tub – which makes it perfect for travel (it comes in a cute travel pouch!), or days when you're running too late for a shower, but still need to shave before you're out the door. Plus, it does double duty as a bikini trimmer.

We love finding quality tools that make our grooming routines better and easier, with smooth skin as a result.

We want you to prioritize your self-care– whether that means getting smooth legs with Philips SatinShave in a luxurious, long bath or by making your daily shaving easier on your sensitive skin.

Click here to purchase Philips SatinShave Advanced at Amazon, and use promo code SATINSHAVE for 10% off at checkout.
We're giving you the chance to enter to win a Philips SatinShave Advanced below!
Enter the #PhilipsSatinShaver Giveaway (DRAFT)


One lucky entrant will be chosen at random to receive a Philips SatinShave Advanced Wet & Dry Women's Rechargeable Electric Shaver ($39.99 value). Giveaway is open to U.S. residents 18 years or older. Enter through March 31, 2020. Winner will be chosen randomly by April 2, 2020 and notified by email.