Sweet Banana Pancakes
submitted by Iamrajaa {1 Recipe}
Prep Time:
5 Mins
Cook Time:
15 Mins
Total Prep + Cook Time:
20 Mins
Level:
Easy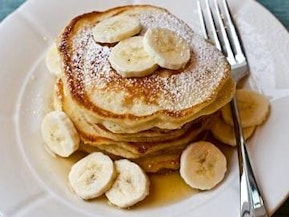 Photo Source: https://www.onceuponachef.com/recipes/banana-pancakes.html
Makes: 4 servings
Description: Fluffy on the inside, crispy on the outside, and delicately flavored with bananas and honey.
Ingredients:
1-1/2 cups flour
2 tablespoons sugar
2-1/2 teaspoons baking powder
2 bananas
2 large eggs
1 cup+2 teaspoons low fat milk

Instructions: In an electric mixer, mix all the Ingredients together.

Set a griddle or non-stick pan over medium heat until hot. Put a pad of butter and one tablespoon vegetable oil onto the griddle, and swirl it around. Drop the batter by 1/4-cupfuls onto the griddle, spacing the pancakes about 2 inches apart. Cook until a few holes form on top of each pancake and the underside is golden brown, about 2 minutes. Flip the pancakes and cook until the bottom is golden brown and the top is puffed, 1 to 2 minutes more. Using the spatula, transfer the pancakes to a serving plate.

Wipe the griddle clean with paper towels, add more butter and oil, and repeat with the remaining batter. Serve the pancakes while still hot sliced bananas and honey on top.

Bon appetite!
Other recipes in breakfast & brunch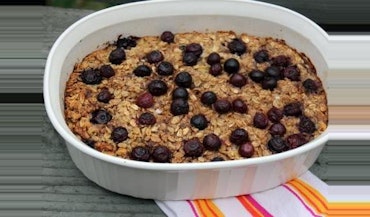 By
MeandMyPinkMixer
Apr 13, 2012
A cozy breakfast full of blueberry, banana and walnut goodness.
Read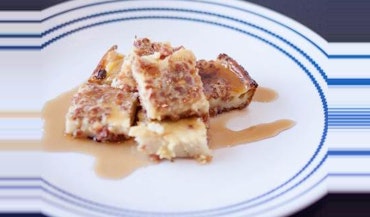 By
lacerab
Dec 12, 2017
A delicious and savory breakfast passed down from a family recipe.
Read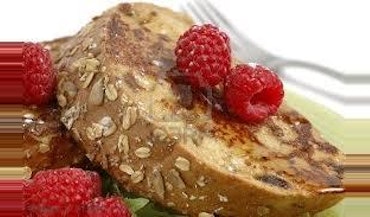 By
LatnCooknDiva
Feb 13, 2012
This is the perfect recipe to prepare for your special loved one. It only takes a matter of minutes and its ideal for serving breakfast in bed! I like to…
Read