Summer Snack Ideas with Fresh Gourmet + Win $50 GC to Sam's Club

by
SheSpeaksTeam
is this the date @ED : BlogVO [categoryId=70164, blogId=145872, blogTitle=Summer Snack Ideas with Fresh Gourmet + Win $50 GC to Sam's Club , publishingDate=June 16, 2021 12:00 AM, maxResponses=null, noOfComments=null, fileId=40995, blogClosingDate=null, blogCommentClosed=null, blogCategoryId=70164, queryId=0, blogCategoryIdIndex=0, sharedCategoriesList=null, blogStatusId=34, commentsClosedFlag=false, categoryIdForLog=0, blogModuleCategoryId=0, blogFileVo=null, latestCommentsList=null, verticalCatSeoURL=null, currentDate=06/10/2023, blogLink=null, authorName=SheSpeaksTeam, authorLognId=SheSpeaksTeam, authorAcctId=67580, vosTypeid=3, searchTestId=0, searchStatusId=0, searchAuthorType=0, authorBlogNumber=0, surveyData1=null, surveyData1Desc=null, surveyData2=null, surveyData2Desc=null, pullQuoteMemberId=null, filePath=null, fileName=null, vosType=0, subhead=null, offerSubhead=null, description=null, creationTime=null, authorFname=SheSpeaks, verticalCategoryId=null, sectionId=0, imageFileVO=FilesVO [fileId=40995, filePath=null, fileName=null, fileLength=0, fileWidth=0, createdBy=0, createByUser=null, creationTime=null, lastModifiedBy=0, lastModifiedByUser=null, lastModifiedTime=null, mimeType=null, fileRef=null, fileSize=0, extension=null, title=null, body=null, completeFilePath=/pages/img/redesign/blogs/Summer (1)_06152021172708.jpg, height=385, width=685, maxHeight=480, maxWidth=360, displayWidth=360, displayHeight=202, fileStatusId=0, searchKeyword=null, searchFlag=false, queryId=0, isExists=true], seoURL=Summer-Snack-Ideas, seoTitle=null, pullQuotesList=null, pullQuote=null, pullQuoteId=0, searchFlag=false, authorByLine=null, authorDesc=null, authorLink=null, authorFileVO=FilesVO [fileId=42371, filePath=null, fileName=null, fileLength=0, fileWidth=0, createdBy=0, createByUser=null, creationTime=null, lastModifiedBy=0, lastModifiedByUser=null, lastModifiedTime=null, mimeType=null, fileRef=null, fileSize=0, extension=null, title=null, body=null, completeFilePath=/pages/img/membersnaps/SheSpeaks_Logo_Symbol_Only_10182021080530.jpg, height=1777, width=1777, maxHeight=50, maxWidth=50, displayWidth=50, displayHeight=50, fileStatusId=0, searchKeyword=null, searchFlag=false, queryId=0, isExists=true], authorFileId=42371, authorType=0, storyImgFileVO=null, storyImgFileId=0, videoHtml=, authorImageFileId=0, authorImageFileVO=null, previousCategoryId=null, previousBlogStatusId=0, fromBlogDetails=0, blogCategoryName=Food, blogCategoryUrl=null, blogCategoryDesc=null, defaultImage=false, tags=null, optionIds=null, tagOptionId=null, tagId=null, tag=null, tagID=0, tagDetails=null, tagIds=null, testId=0, extBlogURL=null, extBlogStatus=0, bloggerSince=null, extBlogLimit=0, authorTestsList=[], blogURL=, blogName=, bloggerProfileId=0, sliderBlog=false, eventonHome=false, vosonHome=false, partyAndGiveawayDate=07/20/2021, imageCredit=instagram.com/thiswortheylife, pullQuoteMemId=null, offerSubHead=null, subHead=null, displayOrder=0,includeInGoogleSearch=false]
Jun 16, 2021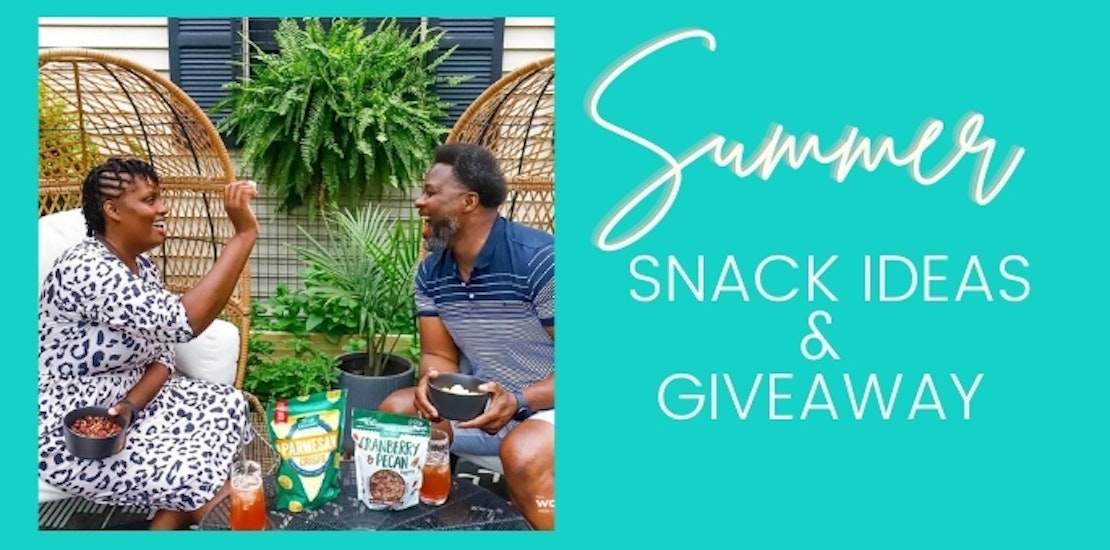 instagram.com/thiswortheylife
It's officially summer and after a hot day in the sun, what better way to enjoy it than with some ready-to-eat, light snacks! Fresh Gourmet Parmesan Crisps and Cranberry & Pecan Topping are two great options for any occasion. If you need something to top off your dish for the small family and friends gathering or just a simple, delicious on-the-go snack, check out these perfect options from Fresh Gourmet ® at Sam's Club.

Keep reading to see how you can enter to win the products to try, plus your choice of a Sam's Club Membership or $50 Sam's Club Gift Card.

We have some healthy and delicious ways to enjoy these snacks this summer brought to you by our SheSpeaks influencers!
Charcuterie Boards
When the weather is hot, who isn't in the mood for grazing and light snacking? This charcuterie board from @sarahfortune is perfect, giving plenty of options to guests when hosting friends and family, or just hanging out with the family by the pool.
Make Ahead Salads
It's so easy to pull into a drive-thru on days where we are going non-stop - but that can be hard on the wallet (and the waistline)! These fresh and healthy "make-ahead" salads from
Savvy Saving Couple
are a quick and easy alternative when we know we won't have time to prepare meals throughout the day. Use Fresh Gourmet Keto-Friendly Parmesan Crisps, made with 100% cheese, and Fresh Gourmet Cranberry & Pecan Topping to add the perfect crunch to your summer salad.
Grab & Go Snack
Who doesn't love a mid-morning snack to keep us energized throughout the day? Next time you are in your local Sam's Club pick up some Fresh Gourmet Parmesan Crisps and Cranberry & Pecan Topping, they won't disappoint! When craving something sweet or salty but trying to stick to a healthy eating routine, these snack options are the way to go because they are full of protein and low-carb. Take these hiking, to the beach or enjoy while enjoying the backyard with your favorite beverage.
Summer Bucket List
In need of some summertime fun ideas? While keeping busy with all these fun activities, it's always important to make time for some break to refuel. For all the vegetarian, keto-friendly, or gluten free snackers out there, don't walk - RUN - to Sam's Club for these Fresh Gourmet products - and then get out there and enjoy all that summer has to offer.
How would you enjoy Fresh Gourmet Parmesan Crisps or Cranberry & Pecan Topping? On a salad, in your favorite dish/recipe or on-the-go as a snack? Enter below!
One winner will receive:
One (1) Package of Fresh Gourmet Parmesan Crisps & one (1) package of Fresh Gourmet Cranberry & Pecan Topping
Choice of Sam's Club Membership (one year - $45 value) or $50 Sam's Club Gift Card.
Summer Snack Ideas with Fresh Gourmet

* One lucky winner will be chosen at random to receive one (1) bag of Fresh Gourmet Parmesan Crisps, one (1) bag Fresh Gourmet Cranberry and Pecan Topping and a $50 Sam's Club Gift Card (or Sam's Club Membership). Giveaway is open to U.S. residents 18 years or older. Enter through July 20, 2021. Winner will be chosen randomly by July 21, 2021 and notified by email. Entrants must be a member of SheSpeaks. If you are not a member, click here to join.