Struggling with Happiness? Podcast + Giveaway

by
SheSpeaksTeam
is this the date @ED : BlogVO [categoryId=70162, blogId=146011, blogTitle=Struggling with Happiness? Podcast + Giveaway, publishingDate=March 04, 2022 12:00 AM, maxResponses=null, noOfComments=null, fileId=43388, blogClosingDate=null, blogCommentClosed=null, blogCategoryId=70162, queryId=0, blogCategoryIdIndex=0, sharedCategoriesList=null, blogStatusId=34, commentsClosedFlag=false, categoryIdForLog=0, blogModuleCategoryId=0, blogFileVo=null, latestCommentsList=null, verticalCatSeoURL=null, currentDate=02/02/2023, blogLink=null, authorName=SheSpeaksTeam, authorLognId=SheSpeaksTeam, authorAcctId=67580, vosTypeid=3, searchTestId=0, searchStatusId=0, searchAuthorType=0, authorBlogNumber=0, surveyData1=null, surveyData1Desc=null, surveyData2=null, surveyData2Desc=null, pullQuoteMemberId=null, filePath=null, fileName=null, vosType=0, subhead=null, offerSubhead=null, description=null, creationTime=null, authorFname=SheSpeaks, verticalCategoryId=null, sectionId=0, imageFileVO=FilesVO [fileId=43388, filePath=null, fileName=null, fileLength=0, fileWidth=0, createdBy=0, createByUser=null, creationTime=null, lastModifiedBy=0, lastModifiedByUser=null, lastModifiedTime=null, mimeType=null, fileRef=null, fileSize=0, extension=null, title=null, body=null, completeFilePath=/pages/img/redesign/blogs/Podcast Giveaway Headers (1)_03032022175404.jpg, height=550, width=1110, maxHeight=480, maxWidth=360, displayWidth=360, displayHeight=178, fileStatusId=0, searchKeyword=null, searchFlag=false, queryId=0, isExists=true], seoURL=Struggling-with-Happiness-Nataly-Kogan, seoTitle=null, pullQuotesList=null, pullQuote=null, pullQuoteId=0, searchFlag=false, authorByLine=null, authorDesc=null, authorLink=null, authorFileVO=FilesVO [fileId=42371, filePath=null, fileName=null, fileLength=0, fileWidth=0, createdBy=0, createByUser=null, creationTime=null, lastModifiedBy=0, lastModifiedByUser=null, lastModifiedTime=null, mimeType=null, fileRef=null, fileSize=0, extension=null, title=null, body=null, completeFilePath=/pages/img/membersnaps/SheSpeaks_Logo_Symbol_Only_10182021080530.jpg, height=1777, width=1777, maxHeight=50, maxWidth=50, displayWidth=50, displayHeight=50, fileStatusId=0, searchKeyword=null, searchFlag=false, queryId=0, isExists=true], authorFileId=42371, authorType=0, storyImgFileVO=null, storyImgFileId=0, videoHtml=, authorImageFileId=0, authorImageFileVO=null, previousCategoryId=null, previousBlogStatusId=0, fromBlogDetails=0, blogCategoryName=Entertainment, blogCategoryUrl=null, blogCategoryDesc=null, defaultImage=false, tags=null, optionIds=null, tagOptionId=null, tagId=null, tag=null, tagID=0, tagDetails=null, tagIds=null, testId=0, extBlogURL=null, extBlogStatus=0, bloggerSince=null, extBlogLimit=0, authorTestsList=[], blogURL=, blogName=, bloggerProfileId=0, sliderBlog=false, eventonHome=true, vosonHome=false, partyAndGiveawayDate=03/19/2022, imageCredit=null, pullQuoteMemId=null, offerSubHead=, subHead=, displayOrder=0,includeInGoogleSearch=false]
Mar 04, 2022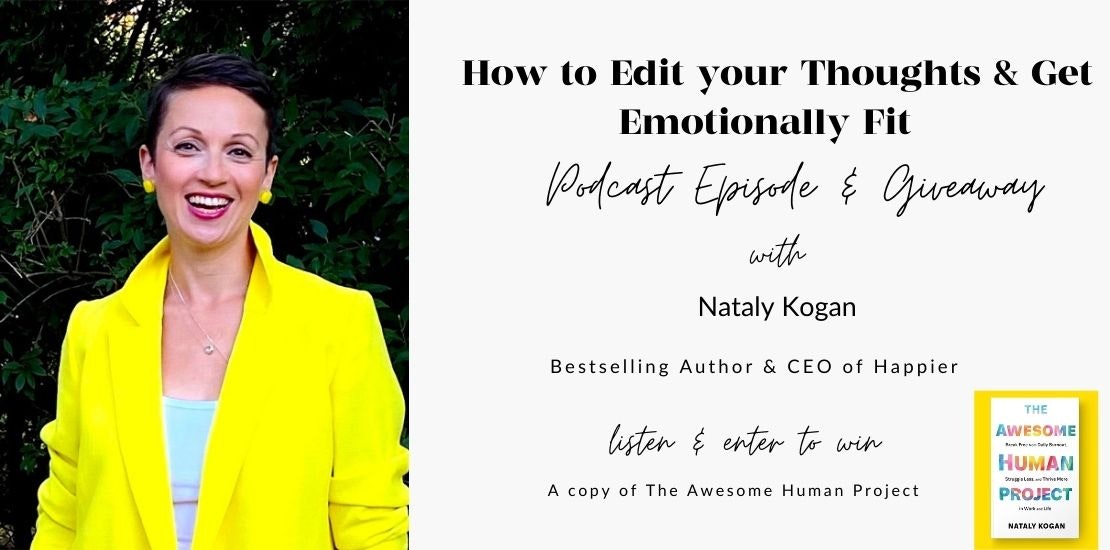 If you struggle with self-doubt, burnout, and a lack of happiness tune into our most recent podcast episode. In this episode, we spoke to returning podcast guest Nataly Kogan! Nataly is the Award-winning author of the book Happier Now and the CEO of Happier, a company dedicated to helping others learn the skills for emotional fitness.
Read on to see how you can WIN 1 of 3 copies of Nataly's book The Awesome Human Project: Break Free from Daily Burnout, Struggle Less, and Thrive More in Work and Life.

Listen as Nataly gives insight into the tools that helped free her from the constant struggle she shares impactful daily practices that can help you overcome your inner critique and get you on your journey to emotional fitness. There is something for everyone in this interview! Link to listen.

In this episode:
* Why that voice in your head doesn't necessarily care if you're happy.
* How to take control of that voice and edit your thoughts.
* Why emotional fitness is so important and how to build it.
* How to identify true burnout and what you do about it.
* How The Awesome Human Project will help you face your struggles and become happier.
More about The Awesome Human Project - Win 1 of 3 Copies
The Awesome Human Project is a book you DO, not just read. Buy it HERE.
Science-backed 5-week program to boost your emotional fitness
Bite-sized neuroscience lessons so you can learn to be the boss of your brain
What awesome leaders do differently and why it matters
Ways to get rid of guilt around self-care for good
An "SOS" section to help you get out of the Valley of Struggle
Notes to Self with inspiration to support your progress
Talk Back to Your Brain scripts to quiet (ok, shut up!) your inner critic and doubter
Three participants will be chosen at random to each win 1 of 3 copies of Nataly's Book, The Awesome Human Project. (Value of each book ~ $20) This giveaway is open through March 18, 2022 to U.S. residents at least 18 years of age. Entrants must be a member of SheSpeaks. If you are not a member, click here to join. Winner will be notified by email.
Thanks to all who entered! Congrats to our winners, SheSpeaks members: misti911, seekingserenity, and starzine.