Spring's Farmer's Market Finds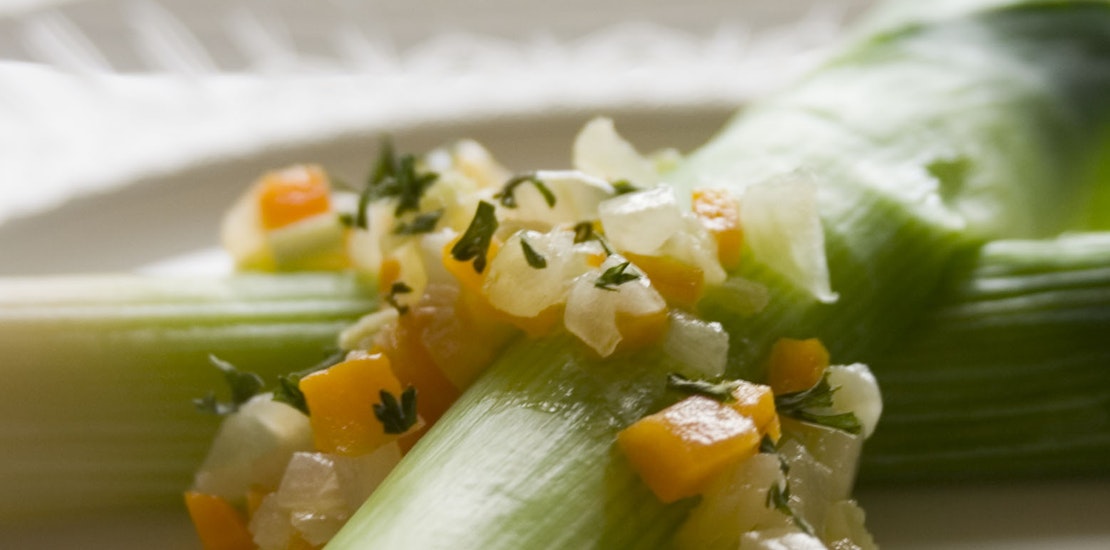 Last Sunday I took a walk through my local farmers market. We've had a mild winter and warm spring up here in the northwest and I wanted to see what was fresh. Among the many flower stalls, fish mongers, and bakeries were the first signs of spring. I found a plethora of spring greens including mizuna, arugula, and mache. Herbs were in abundance - fresh chives, sorrel, mint, and chervil, to name a few. There were a variety of new potatoes as well including dutch babies, red-skinned, and fingerlings.

I also found some young, tender leeks. We don't eat leeks as often in America as they do in Europe. It's a shame because they are a delicious vegetable; an elegant member of the onion family. Their flavor is more subtle and sophisticated than their strong cousins. Leeks are also an excellent source of vitamin c, iron, and fiber.

Inspired by my experience, I started to envision a spring menu. The lovely leeks, fresh spring herbs and greens, baby potatoes...the menu practically wrote itself.
Here's my farmers market-inspired spring menu:

Braised Leeks (recipe below)
Mixed Spring Greens with Fresh Goat Cheese
Steamed Baby Potatoes with Mint Butter
Herb-Crusted Rack of Spring Lamb

Braised Leeks
8 small to medium leeks
1/2cup finely diced onions
1/4 cup finely diced carrots
1/4 cup finely diced celery
2 Tbsp. butter
1 cup chicken broth
4 slices of French bread, optional
kosher salt and pepper to taste

Preheat the oven to 350 degrees F.

To prepare the leeks, trim off the dark green stalks. Without cutting entirely through the root, slit the leeks lengthwise and rinse under cold water to remove all of the dirt.

Blanch leeks for about 30 seconds and shock in an ice bath. Cut through the remaining tip of the leek and remove the roots.

Next, melt the butter in a small sauté pan. Add the onions, carrots and celery and cook over medium low heat until the onions become transparent, about 10 minutes. Spoon the cooked vegetable mixture into a medium-size casserole dish (one just large enough to accommodate your leeks). Place the blanched leeks on top of the vegetables and then add the chicken stock, and salt and pepper to taste. Cover with the French bread (delicious when the dish is finished) or foil. Bake until leeks are tender, about 35 minutes.

To serve, lift off the toasted bread, and spoon the leeks onto plates. Garnish by spooning the chopped vegetables over the leeks. Serve with the toasted bread. Serves 4.

Have you visited a farmers market yet this year? What inspired you? Please share your favorite spring dish or menu idea!