Spotlight on SheSpeaks Blogger: Tiffany Haywood of TheMrsTee

By
SheSpeaksTeam
Oct 04, 2016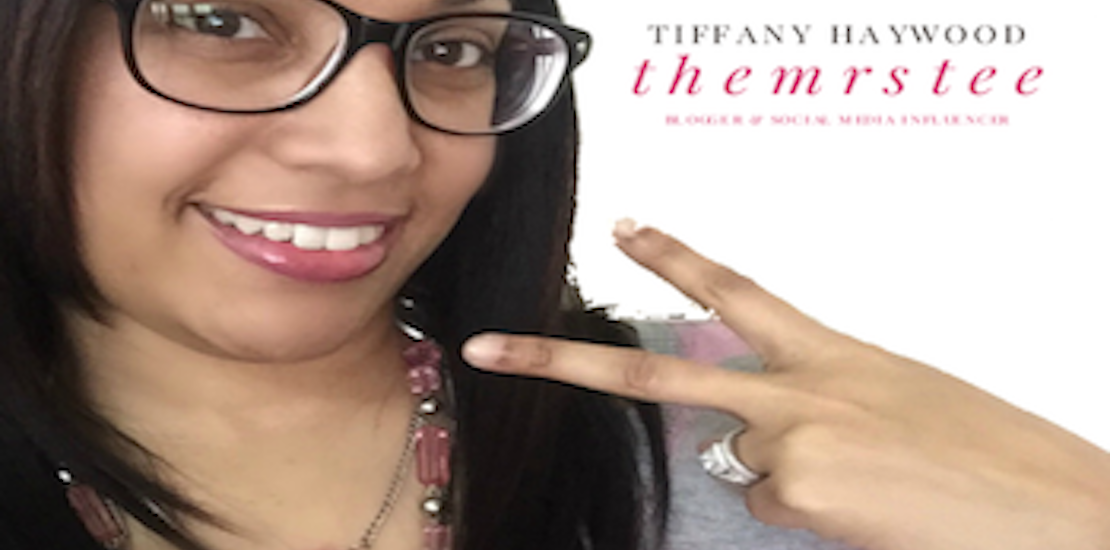 Tiffany Haywood is the 'Tee' behind TheMrsTee - a Lifestyle Blog created as a place to share her love of all things Family, Fashion, Food Tech & Travel. Her Writing, How To Guides, Event Reviews and YouTube Channel let her share each with her Readers... one click at a time.
She is an active member of our community and recently participated in our Walmart campaign. We wanted to get to know her better, so here is what we found out, in her own words.
Where you will find me: Twitter - Facebook - Google + - Pinterest - Instagram
I live in… Fayetteville, North Carolina
My niche is…It's really hard placing my site into a specific niche. I write about everything that's me being a woman, wife, mom, friend…BUT when asked to give it a category I guess it would be fit into lifestyle.
I write when.. Whenever the inspiration hits me. I have written waiting for my Kiddies to get out of an activity or in the middle of the night. It is really all about what's happening in my life at the time and getting it into words.
How has blogging changed my life... Blogging has given me an outlet for that inner voice. The one that used to write poetry and keep journals throughout middle and high school. I started blogging to have somewhere for my creativity to live as I stayed home with my kids as a military spouse but it has become so much more! Through Blogging I have been able to give my family experience we may have never had otherwise. I am also learning how to jump outside my comfort zone and network, connect and meet new people through new experiences. Can you tell I love this BlogLife I live? :)
A brand I have loved working with is…Oh my, are you asking me to pick just one? I would have to say Steel Matter was a big one. They gave my family and I the opportunity to experience our very first Nascar Race!
I started blogging in…July of 2013
How I think the blogging landscape haschanged…I don't feel it has changed too much since I started. You definitely have to be willing to try new things and learn constantly yet I think that is with anything you pursue.
How I see the future of blogging/social media... I really see a lot more video content emerging. I think brands and campaigns want to see the faces behind our words and video is the perfect way to connect the two.
Where I work... At home keeping my family organized and running as smoothly as possible!
I am connected…All the time! I am almost always reachable through social media or my phone. It's just a part of being a Mom and a Blogger. Access is everything!
When I'm stressed, I…Write. I pray. I write and pray. These are my releases and have always given me a way to maintain my sanity in even the most insane situations.
My favorite gadget is…My phone! I can literally do just about anything form there and it's awesome!
My favorite travel destination is...I'm gonna sound a bit lame but honestly anywhere my family is. I love making moments into memories and as long as we are together we can do that just about anywhere. That said, I would love another trip to Disney. We have gone once and are itching for a bit of that magic again :)
My favorite clothing brand is…American Eagle. I love their jeans. They fit this Mom Body perfectly and still let me feel sexy and attractive.
I do all my shopping…In store for myself. I just can't seem to buy clothes online….LOL
My favorite TV shows... Game of Thrones, Power, Gilmore Girls, Empire…way too many to name them all.
My favorite movie... Okay this is a hard one because I love so many. Right Now my favorite that I have watched over and over would have to be Ant Man…
Coffee or tea... Coffee but lately I have been on a detox tea and it's actually growing on me.
I love...My life. I have been Blessed with a life I never thought I would have and I am and will be forever grateful for my Faith, my Husband and my Children. They are my everything.
I dream about… How far I can go. I see nothing but possibilities from my Blog and I can't wait to discover, explore and experience all of what is to come.
Where you can find my writing... TheMrsTee.com first but I also contribute to BlogHer and I have two articles published with iBlog Magazine one in October and one in April.
What else I do... I am a member of my Kids PTA and a proud Girl Scout!
I've worked with and made a difference via blogging about…The ups, downs, joys, struggles and all that is being me. I find that people relate to each when they can sense the honesty in what you share. I share who I am and all that means and I've realized that most of the time I'm not alone in my experiences. There is almost always at least one somebody who needs to know someone else made it through to the other side of whatever it may be their going through. I want to be that person for them because there have been so many who have been that person to me.