Spice Up Your Sandwiches with Ball Park Buns & Takis

by
SheSpeaksTeam
is this the date @ED : BlogVO [categoryId=70164, blogId=145901, blogTitle=Spice Up Your Sandwiches with Ball Park Buns & Takis , publishingDate=September 10, 2021 12:00 AM, maxResponses=null, noOfComments=null, fileId=41447, blogClosingDate=null, blogCommentClosed=null, blogCategoryId=70164, queryId=0, blogCategoryIdIndex=0, sharedCategoriesList=null, blogStatusId=34, commentsClosedFlag=false, categoryIdForLog=0, blogModuleCategoryId=0, blogFileVo=null, latestCommentsList=null, verticalCatSeoURL=null, currentDate=02/02/2023, blogLink=null, authorName=SheSpeaksTeam, authorLognId=SheSpeaksTeam, authorAcctId=67580, vosTypeid=3, searchTestId=0, searchStatusId=0, searchAuthorType=0, authorBlogNumber=0, surveyData1=null, surveyData1Desc=null, surveyData2=null, surveyData2Desc=null, pullQuoteMemberId=null, filePath=null, fileName=null, vosType=0, subhead=null, offerSubhead=null, description=null, creationTime=null, authorFname=SheSpeaks, verticalCategoryId=null, sectionId=0, imageFileVO=FilesVO [fileId=41447, filePath=null, fileName=null, fileLength=0, fileWidth=0, createdBy=0, createByUser=null, creationTime=null, lastModifiedBy=0, lastModifiedByUser=null, lastModifiedTime=null, mimeType=null, fileRef=null, fileSize=0, extension=null, title=null, body=null, completeFilePath=/pages/img/redesign/blogs/Untitled design (3)_09082021141034.jpg, height=385, width=685, maxHeight=480, maxWidth=360, displayWidth=360, displayHeight=202, fileStatusId=0, searchKeyword=null, searchFlag=false, queryId=0, isExists=true], seoURL=Spice-Up-Your-Sandwiches-with-Ball-Park-Buns-Takis, seoTitle=null, pullQuotesList=null, pullQuote=null, pullQuoteId=0, searchFlag=false, authorByLine=null, authorDesc=null, authorLink=null, authorFileVO=FilesVO [fileId=42371, filePath=null, fileName=null, fileLength=0, fileWidth=0, createdBy=0, createByUser=null, creationTime=null, lastModifiedBy=0, lastModifiedByUser=null, lastModifiedTime=null, mimeType=null, fileRef=null, fileSize=0, extension=null, title=null, body=null, completeFilePath=/pages/img/membersnaps/SheSpeaks_Logo_Symbol_Only_10182021080530.jpg, height=1777, width=1777, maxHeight=50, maxWidth=50, displayWidth=50, displayHeight=50, fileStatusId=0, searchKeyword=null, searchFlag=false, queryId=0, isExists=true], authorFileId=42371, authorType=0, storyImgFileVO=null, storyImgFileId=0, videoHtml=, authorImageFileId=0, authorImageFileVO=null, previousCategoryId=null, previousBlogStatusId=0, fromBlogDetails=0, blogCategoryName=Food, blogCategoryUrl=null, blogCategoryDesc=null, defaultImage=false, tags=null, optionIds=null, tagOptionId=null, tagId=null, tag=null, tagID=0, tagDetails=null, tagIds=null, testId=0, extBlogURL=null, extBlogStatus=0, bloggerSince=null, extBlogLimit=0, authorTestsList=[], blogURL=, blogName=, bloggerProfileId=0, sliderBlog=false, eventonHome=false, vosonHome=false, partyAndGiveawayDate=09/30/2021, imageCredit=@sarahfortune, pullQuoteMemId=null, offerSubHead=, subHead=, displayOrder=0,includeInGoogleSearch=false]
Sep 10, 2021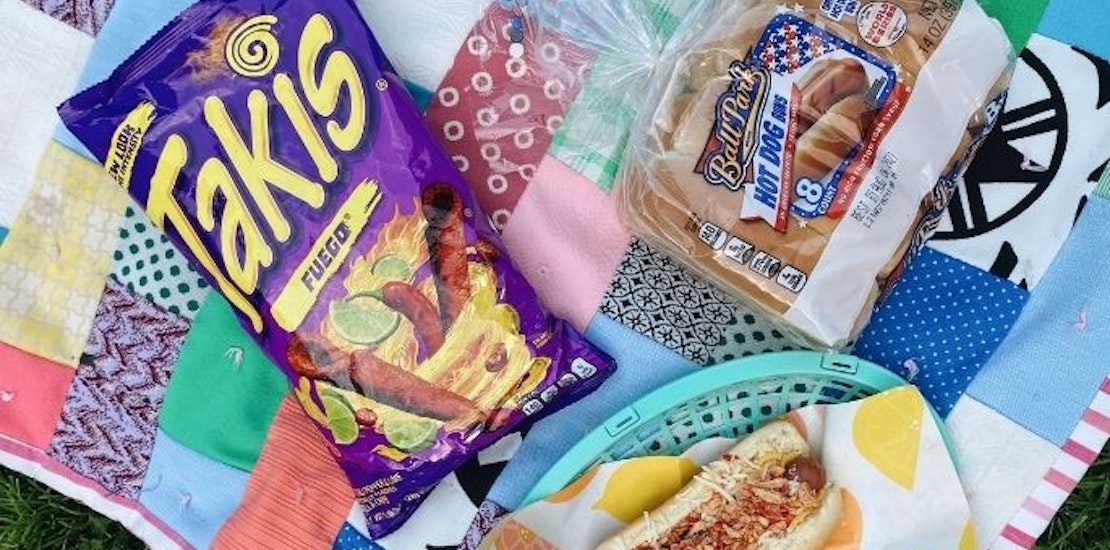 @sarahfortune
Bring some flavor and crunch to your next meal by adding Takis to your favorite sandwiches served on Ball Park Buns. Everyone can agree, Ball Park Buns are perfect for all those grilled favorites, like hot dogs and hamburgers, but you can also get creative and #SpiceUpBallPark by adding Takis.
Keep reading to see how you can enter to win a $50 Walmart Gift Card to stock up and try out your favorite ideas.

Takis Breaded Chicken Sandwich
Everyone loves a good chicken sandwich and this one brings the spice with a Takis breading, served on a perfect Ball Park Hamburger Bun.
Takis Cheesesteak
Reinvent the cheesesteak with a kick of flavor and crunch! Follow this easy recipe for an easy step-by-step from @noflakelysalt.

Spicy Chicken Salad Sandwiches
In this recipe, @tamaracamera shares with us how to add some kick to chicken salad. Served with cole slaw on a Ball Park Bun, it's the perfect combination.
How would you combine Ball Park Buns & Takis, or which of these recipes would you most like to try?
Enter below to win below! One winner will receive:
Spice up Ball Park Buns - Giveaway
One participant will be chosen at random to win a $50 Walmart Gift Card. This giveaway is open through September 29 to U.S. residents at least 18 years of age. Entrants must be a member of SheSpeaks. If you are not a member, click here to join. Winner will be notified by email.
Thank you to all who entered! Congrats to our winner, SheSpeaks member Onyisam.