Sky Dining: Would You Try This New Las Vegas Thrill?

By
SheSpeaksTeam
Jun 30, 2013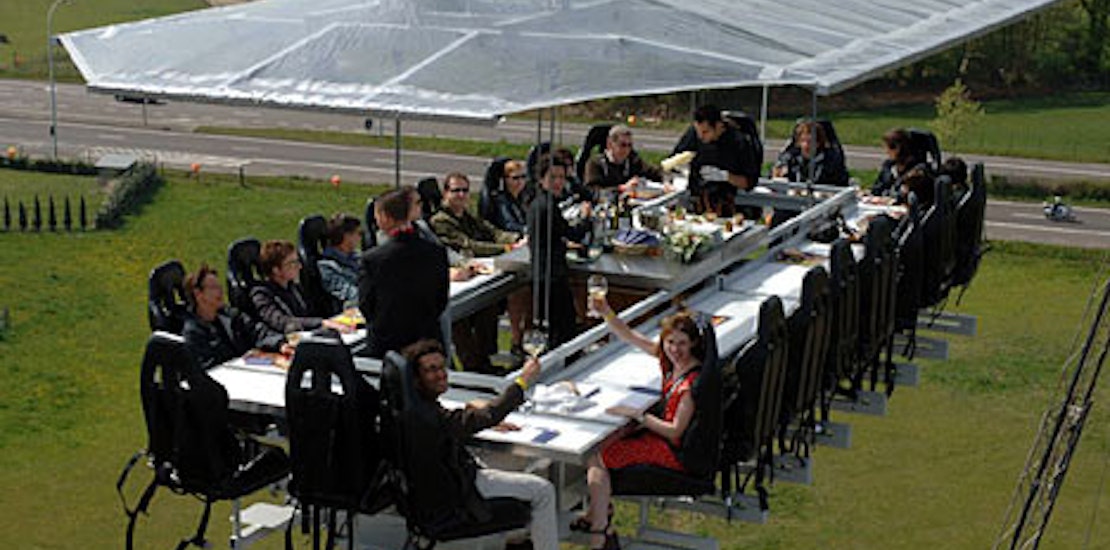 A breathtaking view is always a major plus when dining at a restaurant with great food, but a new Las Vegas restaurant is taking the diner's view to a whole new level suspended in the air inside of a platform sitting 180 feet above the ground.
USA Today reports about the dining experience, called Dinner in the Sky, which is sure to attract tourists looking for a thrill along with appetizers. The concept of fine dining in the sky is nothing new as Europe has been serving up dinners in the sky for a while now.
One of the partners involved in bringing Dinner in the Sky to Vegas, Kelley Jones, explains why he feels the city of lights is such a perfect venue for this dining experience. Jones says, "Las Vegas is already the dining and entertainment capital of the United States, so it seemed fitting to combine upscale dining with the ultimate entertainment thrill ride. We see Dinner in the Sky as something that will become part of the Las Vegas 'bucket list,' especially for special occasions like engagements, weddings and business meetings. We plan to introduce Weddings in the Sky, Team Building in the Sky, Bachelorette Parties in the Sky and other packages to add new heights, so to speak, to some of life's most memorable occasions."
How it works is diners are strapped to their seats seated around a large table before being lifted into the air to enjoy an hour long dinner. One of the first frequently asked questions on the Dinner in the Sky website is not surprisingly regarding toilet facilities. The site explains that a diner simply alerts a server of their need to use the restroom and the entire platform is lowered in under a minute for guests to take a bathroom break.
As for what guests will be chowing down on while suspended in midair; chefs have come up with a three course American artisanal menu that allows diners to choose from 2 appetizers, 3 entrees and dessert. Jones explains, "The chefs have paid special attention to the fact that this meal will be eaten 180-feet up in the air, and designed each course to be suitable to the conditions."

What do you think of Las Vegas' new Dinner in the Sky attraction?
Does this sound like something that would be on you Las Vegas bucket list?