Share Your Burger Masterpiece & Win

by
SheSpeaksTeam
is this the date @ED : BlogVO [categoryId=70164, blogId=145866, blogTitle=Share Your Burger Masterpiece & Win, publishingDate=May 28, 2021 12:00 AM, maxResponses=null, noOfComments=null, fileId=40862, blogClosingDate=null, blogCommentClosed=null, blogCategoryId=70164, queryId=0, blogCategoryIdIndex=0, sharedCategoriesList=null, blogStatusId=34, commentsClosedFlag=false, categoryIdForLog=0, blogModuleCategoryId=0, blogFileVo=null, latestCommentsList=null, verticalCatSeoURL=null, currentDate=03/25/2023, blogLink=null, authorName=SheSpeaksTeam, authorLognId=SheSpeaksTeam, authorAcctId=67580, vosTypeid=3, searchTestId=0, searchStatusId=0, searchAuthorType=0, authorBlogNumber=0, surveyData1=null, surveyData1Desc=null, surveyData2=null, surveyData2Desc=null, pullQuoteMemberId=null, filePath=null, fileName=null, vosType=0, subhead=null, offerSubhead=null, description=null, creationTime=null, authorFname=SheSpeaks, verticalCategoryId=null, sectionId=0, imageFileVO=FilesVO [fileId=40862, filePath=null, fileName=null, fileLength=0, fileWidth=0, createdBy=0, createByUser=null, creationTime=null, lastModifiedBy=0, lastModifiedByUser=null, lastModifiedTime=null, mimeType=null, fileRef=null, fileSize=0, extension=null, title=null, body=null, completeFilePath=/pages/img/redesign/blogs/Kelsey image_05272021155151.jpeg, height=385, width=684, maxHeight=480, maxWidth=360, displayWidth=360, displayHeight=202, fileStatusId=0, searchKeyword=null, searchFlag=false, queryId=0, isExists=true], seoURL=Share-Your-Burger-Masterpiece-Win, seoTitle=null, pullQuotesList=null, pullQuote=null, pullQuoteId=0, searchFlag=false, authorByLine=null, authorDesc=null, authorLink=null, authorFileVO=FilesVO [fileId=42371, filePath=null, fileName=null, fileLength=0, fileWidth=0, createdBy=0, createByUser=null, creationTime=null, lastModifiedBy=0, lastModifiedByUser=null, lastModifiedTime=null, mimeType=null, fileRef=null, fileSize=0, extension=null, title=null, body=null, completeFilePath=/pages/img/membersnaps/SheSpeaks_Logo_Symbol_Only_10182021080530.jpg, height=1777, width=1777, maxHeight=50, maxWidth=50, displayWidth=50, displayHeight=50, fileStatusId=0, searchKeyword=null, searchFlag=false, queryId=0, isExists=true], authorFileId=42371, authorType=0, storyImgFileVO=null, storyImgFileId=0, videoHtml=, authorImageFileId=0, authorImageFileVO=null, previousCategoryId=null, previousBlogStatusId=0, fromBlogDetails=0, blogCategoryName=Food, blogCategoryUrl=null, blogCategoryDesc=null, defaultImage=false, tags=null, optionIds=null, tagOptionId=null, tagId=null, tag=null, tagID=0, tagDetails=null, tagIds=null, testId=0, extBlogURL=null, extBlogStatus=0, bloggerSince=null, extBlogLimit=0, authorTestsList=[], blogURL=, blogName=, bloggerProfileId=0, sliderBlog=false, eventonHome=false, vosonHome=false, partyAndGiveawayDate=06/30/2021, imageCredit=null, pullQuoteMemId=null, offerSubHead=null, subHead=null, displayOrder=0,includeInGoogleSearch=false]
May 28, 2021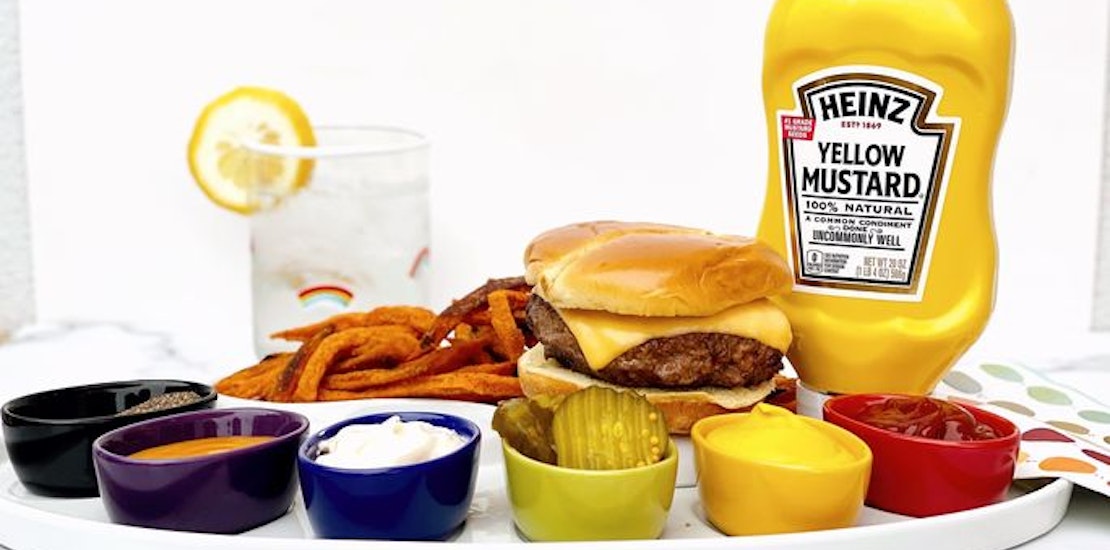 This is a sponsored post for Kraft Heinz Foods Company.

Are you ready to grill up greatness? SheSpeaks bloggers have made some serious burger masterpieces using tasty Heinz condiments that are inspiring us to fire up the grill, grab a cold drink, and enjoy an amazing BBQ meal outside.

You can easily pick-up Heinz condiments at Target to create your delicious burger masterpiece and submit it to the Heinz Art of the Burger contest for a chance to win. Click here to add Heinz condiments to your Target cart.

You'll have the chance to win hundreds of prizes (and the top winner will take home $25,000!). Click here to check it out and enter!



Image credit: klosandco.com

SheSpeaks influencer, Kelsey Klos said this about her burger:
"We have tried just about everything when it comes to a good burger, but you can't beat the CLASSIC. Grilled to perfection with a slice (or two) of Kraft Singles melted to perfection."



Image Credit: thiswortheylife.com/burger-board

Tatanisha Worthey, SheSpeaks influencer, wrote this:
"Did you know Heinz checks off the list of giving you a sauce you can use and pass on to the next generation? We tried Heinz Kranch (a mix of ketchup and ranch) on our burgers, and oh my goodness, it gave our burgers the extra oomph they needed to create the ultimate grilled burger."



Image Credit: everafterinthewoods.com

Jen Powell, SheSpeaks influencer says this:
"We love grilling season and grill at least two to three times per week and create fun recipes to try. Condiments are our favorite and we love to include dipping sauces with a variety of our recipes, and we always turn to Heinz for delicious condiments and sauces."
Enter our giveaway below for a chance to win a $50 Target gift card.
Target Art of the Burger Giveaway
* One lucky winner will be chosen at random to receive a $50 Target gift card. Giveaway is open to U.S. residents 18 years or older. Enter through June 30, 2021. Entrants must be a member of SheSpeaks. If you are not a member, click here to join. Winners will be notified by email.