Latest Podcast Episodes & WIN a Self-Care Bundle

by
SheSpeaksTeam
is this the date @ED : BlogVO [categoryId=70162, blogId=145854, blogTitle=Latest Podcast Episodes & WIN a Self-Care Bundle , publishingDate=April 17, 2021 12:00 AM, maxResponses=null, noOfComments=null, fileId=40568, blogClosingDate=null, blogCommentClosed=null, blogCategoryId=70162, queryId=0, blogCategoryIdIndex=0, sharedCategoriesList=null, blogStatusId=34, commentsClosedFlag=false, categoryIdForLog=0, blogModuleCategoryId=0, blogFileVo=null, latestCommentsList=null, verticalCatSeoURL=null, currentDate=01/20/2022, blogLink=null, authorName=SheSpeaksTeam, authorLognId=SheSpeaksTeam, authorAcctId=67580, vosTypeid=3, searchTestId=0, searchStatusId=0, searchAuthorType=0, authorBlogNumber=0, surveyData1=null, surveyData1Desc=null, surveyData2=null, surveyData2Desc=null, pullQuoteMemberId=null, filePath=null, fileName=null, vosType=0, subhead=null, offerSubhead=null, description=null, creationTime=null, authorFname=SheSpeaks, verticalCategoryId=null, sectionId=0, imageFileVO=FilesVO [fileId=40568, filePath=null, fileName=null, fileLength=0, fileWidth=0, createdBy=0, createByUser=null, creationTime=null, lastModifiedBy=0, lastModifiedByUser=null, lastModifiedTime=null, mimeType=null, fileRef=null, fileSize=0, extension=null, title=null, body=null, completeFilePath=/pages/img/redesign/blogs/Email Graphic (2)_04172021102356.jpg, height=275, width=685, maxHeight=480, maxWidth=360, displayWidth=360, displayHeight=144, fileStatusId=0, searchKeyword=null, searchFlag=false, queryId=0, isExists=true], seoURL=Self-Care-Products-Podcast-Episodes, seoTitle=null, pullQuotesList=null, pullQuote=null, pullQuoteId=0, searchFlag=false, authorByLine=SheSpeaksTeam, authorDesc=Powered by women who love to share what's HOT in reviews, deals & recipes., authorLink=null, authorFileVO=FilesVO [fileId=42371, filePath=null, fileName=null, fileLength=0, fileWidth=0, createdBy=0, createByUser=null, creationTime=null, lastModifiedBy=0, lastModifiedByUser=null, lastModifiedTime=null, mimeType=null, fileRef=null, fileSize=0, extension=null, title=null, body=null, completeFilePath=/pages/img/membersnaps/SheSpeaks_Logo_Symbol_Only_10182021080530.jpg, height=1777, width=1777, maxHeight=50, maxWidth=50, displayWidth=50, displayHeight=50, fileStatusId=0, searchKeyword=null, searchFlag=false, queryId=0, isExists=true], authorFileId=42371, authorType=0, storyImgFileVO=null, storyImgFileId=0, videoHtml=, authorImageFileId=0, authorImageFileVO=null, previousCategoryId=null, previousBlogStatusId=0, fromBlogDetails=0, blogCategoryName=Entertainment, blogCategoryUrl=null, blogCategoryDesc=null, defaultImage=false, tags=null, optionIds=null, tagOptionId=null, tagId=null, tag=null, tagID=0, tagDetails=null, tagIds=null, testId=0, extBlogURL=null, extBlogStatus=0, bloggerSince=null, extBlogLimit=0, authorTestsList=[], blogURL=, blogName=, bloggerProfileId=0, sliderBlog=false, eventonHome=false, vosonHome=false, partyAndGiveawayDate=05/08/2021, imageCredit=null, pullQuoteMemId=null, offerSubHead=null, subHead=null, displayOrder=0,includeInGoogleSearch=false]
Apr 17, 2021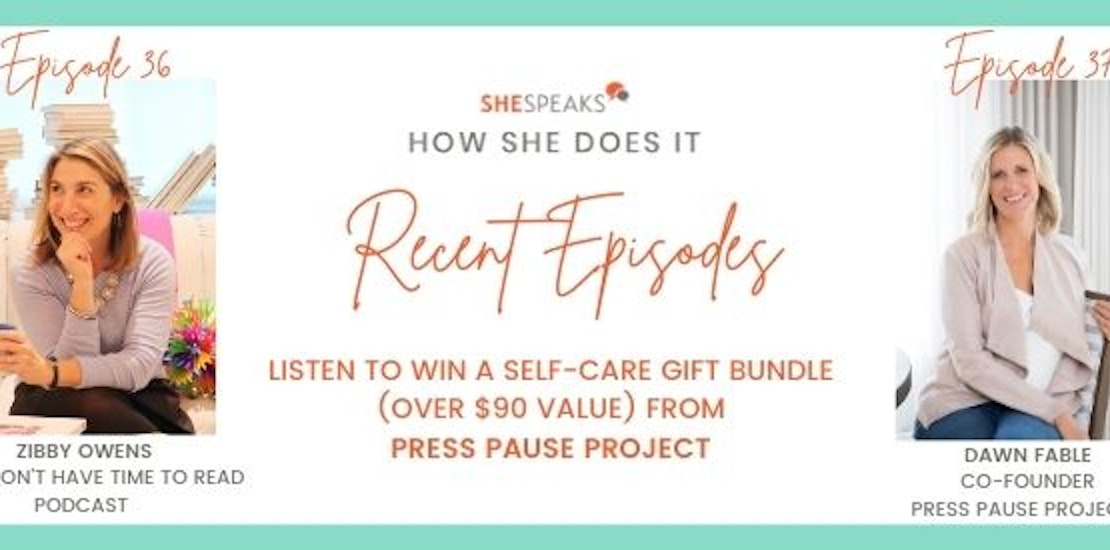 In case you missed the latest episodes of the SheSpeaks: How She Does It podcast, we're sharing all of the information you need to catch up. This week, we talked about prioritizing self-care. Both of our guests have a mission to encourage women to spend more time taking care of themselves.
Read on to find out how you can enter to WIN a self-care gift bundle from Press Pause Project (valued at over $90)!
Episode 36: Zibby Owens, Moms Don't Have Time To Read, shares how her podcast, book events, and anthologies have inspired women to take time for themselves by reading - even if only for 15 minutes a day! Zibby is passionate about her mission to help women discover and enjoy the benefits of reading. She shares how reading helped her to heal during difficult times and how the pandemic shifted her mission.
Episode 37: Dawn Fable, Co-Founder of Press Pause Project, talks about how she came to launch a line of CBD self-care products and educates us on the benefits, uses, and misconceptions. You'll hear Dawn's experience in overcoming anxiety and how she is now on a mission to help women 'press pause' and take care of themselves.
Self-Care Bundle Giveaway
Listen to the episodes to enter for the chance to win a Pause Gift Package ($91.38 value), featuring CBD tea, bath bomb, and healing balm.

Good news! SheSpeaks listeners can also get 20% off at Press Pause Project. Use code SHESPEAKS at checkout for the discount.
Podcast: Self-Care Bundle
Update: Thanks to all who entered! Congratulations to the winner, SheSpeaks member britney4!
One lucky winner will be chosen at random to receive a Press Pause Project - Pause Gift Package (value $91.38). The giveaway is open to U.S. residents 18 years or older. Enter through May 7, 2021. Winner will be chosen randomly by May 8, 2021 and notified by email.